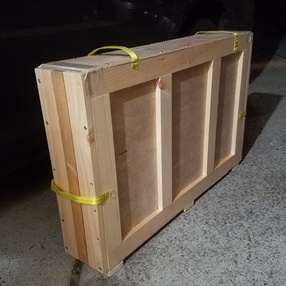 It is not a secret that most art and antique pieces are vulnerable to poor storage and inappropriate environmental conditions. However, when it comes to moving such items from place to place, you must also consider possible damage due to rough roads, bad weather, and certainly unprofessional handling. How to ensure your Old Master painting, antique sculpture, collectible porcelains, or any other valuable artwork arrives at its destination intact? The only right way to prevent all that accidents and protect your possessions in transit is to order packing and crating services from an experienced art shipping company!
At Fine Art Shippers, we have been moving artwork in New York, across the country, and internationally for many years, and we firmly believe that art shipping crates are a must-have. In fact, we do not move a single piece without a crate, which allows us to guarantee the safety of every art shipment we handle. Plus, we have our own warehouse located at McDonald Avenue, Brooklyn, New York, and a dedicated team of professional carpenters who can design and build an art shipping crate of any type quickly and efficiently. We can even offer you the same day service, which makes Fine Art Shippers stand out from many other New York art moving companies.
Why you need a custom crate for your artwork
Any custom crate or shipping container designed and built by Fine Art Shippers is intended to provide the ultimate safety for the artwork it contains. This may include additional protection from vibration, shock, water, moisture, light, weather fluctuations, and other potentially dangerous factors. Moreover, a custom crate also helps streamline the process of transportation and make it faster and more efficient.
You can expect from Fine Art Shippers:
20+ years of experience in art handling
High-quality materials intended to protect art in transit
Experienced and trained team of carpenters who love their job
Individual approach and on-time delivery
Sophisticated yet affordable art crating solutions
In this way, when it comes to custom art shipping crates in New York, Fine Art Shippers is the best place to come! We can make any crate to suit your particular artwork, including antiques, outdoor sculptures, and family heirlooms. From small crates built for fragile 3D artworks to large ones made for oversized items, our team of professional crate makers is always the right choice!