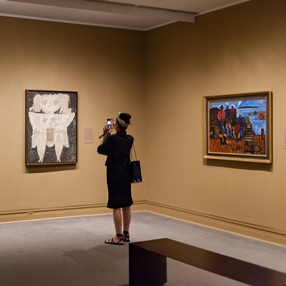 To ship fine art is not as easy as many people believe it to be. While some art pieces may seem portable enough, there are still so many things to consider if you want to get them in perfect condition. This is especially true when it comes to shipping framed art and other fragile artworks over a long distance. In fact, to purchase art from a gallery, auction house, or online store is always the easiest part. The real challenge comes when you face a problem of shipping fine art to your home. So what is the way out?
Shipping framed art, antiques, large sculptures, art installations, and other artworks that demand special handling is an art by itself. This process consists of many stages, and it is not exactly the same for each transported piece of art. From packing and crating artwork for shipping to its final delivery to the intended destination, every single step requires particular care and attention, not to mention professional experience, knowledge, and skills. For this reason, when it comes to shipping framed art or any other fragile artwork, it is of utmost importance to choose the right art transportation company for this job.
There are many professional art shippers who understand the intricacies of shipping framed art and other priceless objects that need to be properly packed and transported in climate-controlled conditions, but you will hardly find a more affordable option than the one we can offer you at Fine Art Shippers. Moreover, we try to give accurate quotes within a day. Besides, if you have ever worked with our team, you know that we ask for as many details about the shipment as possible. The fact is that at Fine Art Shippers, we provide binding quotes, which means that if the client comes back to us a few weeks later, we will still honor the same shipping quote as what has already been given before. For this reason, we ask about everything related to the transported artwork, including its size, height, weight, length, material, pick-up and destination requirements, how it is packed, etc. Every little detail is crucial as it may affect the cost of shipping. To give an accurate quote is also an art by itself, and we pay special attention to this important step of the art transportation process. Please feel free to contact Fine Art Shippers if you have any questions regarding shipping framed art or any other fragile artworks nationally or internationally!