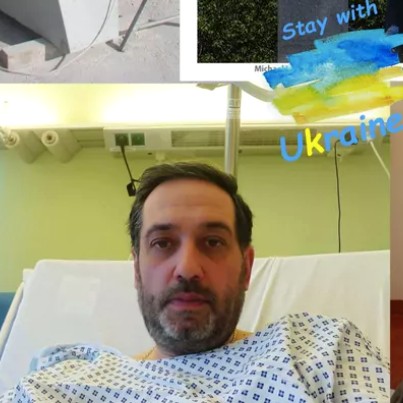 Ukrainian artist Michael Levchenko, a war refugee from Kyiv, needs money for medical treatment for a serious foot injury. He has launched a GoFundMe campaign where you can donate any amount that will be used for medical expenses and help him start a new life in a new country.
Since the beginning of March, Michael has been in the hospital in Colpach, Luxembourg, where he arrived with just one backpack.
He is currently working at the hospital. After his discharge, he will need to rent an art studio and buy materials to be able to practice his art.
You can support the artist here.
About Michael Levchenko
Michael is an award-winning sculptor and painter whose work has been exhibited worldwide, from Europe and Asia to North and South America. His sculptures are in permanent collections in Italy, Cyprus, and Argentina. In 2019, his work was presented in the Ukrainian Pavilion at the 58th Venice Biennale. In his art, Michael addresses painful issues of modern society such as false morals, racism, and media manipulation.
He was born in Kyiv into a family of an architect and a graphic designer. Growing up in an artistic environment in the then Soviet Union, he began painting as a child. Inspired by conversations about modern art, he developed a view of art as a space of freedom and self-expression.
Michael studied sculpture at the National Academy of Arts and Architecture in Kyiv. Trained as a figurative artist, he progressively moved to abstraction.
Sculpture being the heart of his practice, Michael Levchenko has also worked as a theater and cinema art director. In addition, his portfolio includes oil paintings and drawings.
The artist has been an active participant in international sculpture events, from exhibitions to festivals and symposiums around the world. He is a member of the International Association for Monumental Sculpture Events, Italy. Michael's awards include the Leonardo da Vinci International Art Prize (2018, Florence), prizes from International Monumental Sports Sculpture Competition (2013, Nanjing), International Monumental Sculpture Competition (2012, Jingpo), etc.
In a recent interview, the artist told Fine Art Shippers how he fled Ukraine in the early days of the war and made his way to Europe. We also spoke with him about his artistic practice, things that are important to him as an artist, and his view of the social process.
Read the full interview here.
Photo courtesy of Michael Levchenko