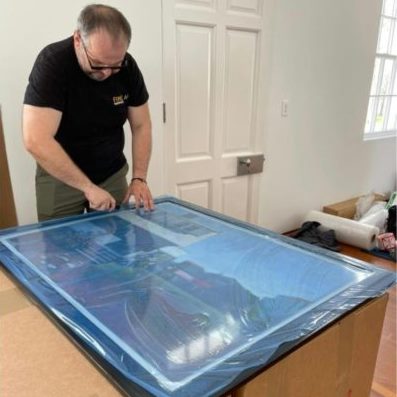 Most works of art are delicate and fragile, requiring careful handling. Thus, when you need to have your piece of art transported from one location to another, it's time to consider professional standards of art delivery and partner with a trustworthy provider of such services. Here are the key points to keep in mind when organizing an art shipment.
Key Quality Standards of Art Delivery
Proper container. The first step is to measure your artwork and select the proper type of container that suits its dimensions. When it comes to exquisite fine art, using a simple cardboard box is often not enough for end-to-end protection. We recommend crating for exclusive items that require additional protection and for items shipped internationally; for other cases, a secondary box may be enough for damage prevention, provided that you ship your art by a specialized art shuttle.
Secure packaging. Once you've determined the right container, it's time to package the item safely. We usually apply 4mil art plastic, kraft bubble, and cardboard for comprehensive fine art packaging and protection. After the artwork is wrapped in art plastic and kraft bubble, it's put into a cardboard container matching its size.
Method of transportation. Now it's time to plan the transportation mode you want to use. It depends on many parameters, such as the distance your artwork needs to travel, its weight, and dimensions. In some cases, you will need to pack the object for art delivery by sea, which is a lengthier journey that requires better protection from weather conditions and environmental fluctuations. Smaller and lighter objects may be shipped for large distances by air, and the time your object will spend in transit will be much shorter.
Insurance and documentation. Last but not least, you should take proper care of the object's insurance and accompanying documentation so that your belongings are fully secured during transportation. Though professionals like Fine Art Shippers always keep all security aspects under control, you'll surely sleep better at night knowing that your objects are insured.
Entrust Your Art to Professionals
It's time to take proper care of your artworks and delegate art delivery to professionals. Fine Art Shippers is a reliable company with over two decades of experience in the industry, handling all kinds of delicate art, from decorative clocks to fine art to antique furniture. Call us at (917) 658-5075 to discuss your shipment and get a free quote. We're ready to address any fine art shipping challenge and provide stellar service.