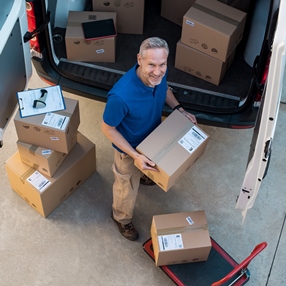 While fine art shipping is our major specialty, Fine Art Shippers also offers guaranteed day- and time-definite freight delivery service based on the client's requirements. Moreover, even though our shipping company is headquartered in New York City, our crating and freighting services can be originated anywhere within the United States and beyond. You can count on our freight delivery service to get your shipment to wherever it needs to be reliably, safely, and on-time!
As one of the best freight delivery companies in New York, Fine Art Shippers specializes in shipping and delivering items of any type, including art, antiques, furniture, museum-quality exhibits, and intricate equipment, such as computers, office appliances, and store displays. Plus, we offer all types of freight shipping options (e.g., partial truckload, LTL, FTL) to meet any need of our clients, not to mention that our freight delivery service also includes deliveries to foreign countries. In addition, we can take care of set-up, packing, and crating for shipping, as well as we can deal with difficult logistics and sensitive situations of any kind. No job is too complicated for Fine Art Shippers!
Why choose our freight delivery service?
Since there are many professional freight delivery companies in the United States, you have plenty of options to choose from. However, here are several reasons why you should opt for the freight delivery service offered by Fine Art Shippers.
First of all, dealing with Fine Art Shippers means to work with only trained and most reputable specialists proficient in shipping, crating, and freighting large, bulky, and odd-shaped items that are additionally highly fragile and sensitive to climate changes. Moreover, we offer unmatched customer service to provide our clients with the best shipping experience ever.
Secondly, Fine Art Shippers operates worldwide, with many trustworthy partners throughout the globe. So if you want your goods to be delivered to another country in the fastest and safest way possible, our comprehensive international shipping service is exactly what you need.
Finally, our freight delivery service is reasonably priced, meaning that we can help you even if you have a limited budget. Thus, working with Fine Art Shippers is not only the most convenient and safest way to ship freight to anywhere in the world but also the most affordable. Please do not hesitate to contact our team if you have any additional questions about our freight delivery service or any other service we offer!