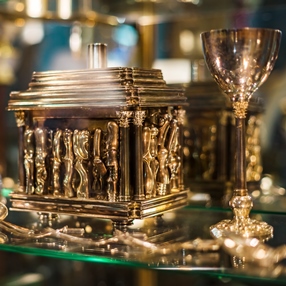 According to a common definition, an heirloom is a movable property that can be inherited through an estate. However, we all know that heirlooms mean much more, especially if they have been passed down through generations for many years. In fact, family heirlooms are true artifacts holding memories and stories from the past about the lives of our loved ones, becoming a somewhat link between the present and the family's heritage. Moreover, many heirlooms are actually very valuable in monetary terms, which additionally makes them highly coveted items among collectors of art and antiques. It is no wonder that when it comes to moving such heirlooms, people consider ordering secure art shipping services instead of handling this task on their own.
As a professional fine art shipping company, Fine Art Shippers offers a wide range of art and antique moving services in New York City, across the country, and internationally. Our experience gained through more than 20 years of handling art allows us to deal with orders of any complexity level, so we can certainly move your precious family heirlooms, no matter their value, size, and weight. Here is just a short list of heirlooms our team of dedicated New York art movers can deliver to the destination safely and securely.
Musical instruments. From vintage guitars to expensive violins to a huge grand piano weighing half a ton, we can handle any task related to moving modern and antique musical instruments.
Grandfather clocks. Our team of experienced art handlers can move even such delicate and sensitive heirlooms as antique longcase clocks, also known as grandfather clocks, without damaging their inner mechanism.
Framed photos. If you have a collection of framed family photos, be sure that we will treat them all as the most valuable paintings, ensuring their safe transportation and delivery.
Antique furniture. Fine Art Shippers has extensive experience in moving modern and antique furniture pieces, so you can trust our team with your cherished possessions – no matter their size and weight – via our reliable furniture moving service.
Jewelry. Whether it comes to diamond rings, earrings, pearl necklaces, brooches, hatpins, bracelets, cameos, or cufflinks, we can deliver any jewelry collection in the most secure way possible.
In general, whatever help or assistance you need with moving your precious family heirlooms, our secure art shipping services are exactly what you need. Moreover, since we provide a whole range of luxury shipping options, we can offer you an all-in-one solution to any moving problem!