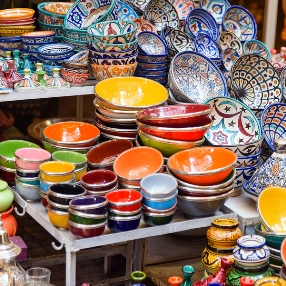 Whether tableware, sculpture, figurines, or any other form, ceramic art has always been an important part of our culture, known since ancient times. Moreover, such a beautiful way of artistic expression is now included in many prestigious exhibitions and art shows throughout the world, becoming one of the hottest trends in modern art. It is no wonder that artists, collectors, art dealers, and gallerists make every effort to protect their ceramics, no matter antique or contemporary.
Needless to say that when it comes to secure art shipping of ceramic art, the only right solution is to hire professional movers with extensive experience in moving this particular kind of art. As you already know, Fine Art Shippers has been shipping fine art, including porcelain and ceramics, since 1995. Our many years of experience and specialist knowledge have made our team the number one choice in New York for fine art shipping of ceramic art, regardless of its size and value. Besides, we provide comprehensive packing and crating services to ensure that every single piece is properly protected in transit.
However, what if you want to move dishware or certain family heirlooms without hiring professional New York art movers? It is certainly possible, but you should follow several simple packing tips.
Tips for packaging ceramics
When it comes to secure art shipping (please note that we are now not talking about museum quality, antique, or valuable ceramic art), there are actually many different approaches to choose from, but the most reliable includes three major steps:
1. Cover the entire object with several layers of bubble wrap, with bubbles facing toward the item's surface, paying special attention to handbuilt additions, lips, spouts, and handles. Secure the wrapping with blue painter's tape. Keep in mind that if your ceramic item has a delicate surface, it is better to wrap it with packing paper prior to using bubble wrap.
2. Use two sturdy shipping boxes that will serve as the first line of defense against damage. Place your wrapping in the smaller one and fill the box with packing peanuts (2–3 inches on all sides), then repeat the procedure with a larger box.
3. The last step is proper sealing and labeling the box. Choose only high-quality packing tape for this purpose and appropriate shipping labels you can find online.
Remember, if your ceramic items are very old or valuable, do not risk and order professional fine art packing services instead. Contact Fine Art Shippers for the initial consultation!