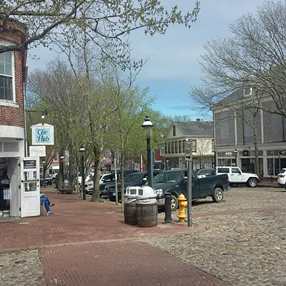 Located just about 15 miles southeast of Martha's Vineyard and 30 miles south of Cape Cod, Nantucket is an island, a county, and a town surrounded by 82 miles of beaches. Nantucket is indeed a very beautiful summer vacation spot, which is often called the second home to the world's richest. It is no wonder that this lovely small island is full of amazing art galleries offering great selections of modern and contemporary art. Fine Art Shippers knows that like no other as our team does frequent visits to Nantucket, providing local art business professionals and private collectors with safe art transport services of the highest quality.
Our safe art transport services include everything from picking up art to packing and crating to shipping the entire art collections to anywhere in the world. This allows us to work with many fantastic galleries located in Nantucket, including the renowned Casterline Goodman Gallery, which also has beautiful spaces in Aspen and Chicago. However, in this blog post, we want to tell you about several other great art galleries our team of art shippers was happy to visit during our last trip to Nantucket. Hopefully, we will have an opportunity to work with these galleries too and provide our safe art transport services to them and their clients!
Pierce Galleries
Incorporated in 1968, Pierce Galleries has become one of the most reputable and popular art galleries in the United States, offering an amazing selection of 19th– and 20th-century European and American paintings, with a focus on works from Modernism and American Impressionism to the Hudson River School.
Cavalier Galleries
With gallery spaces in Nantucket, Greenwich, and New York, Cavalier Galleries is known for its unparalleled selection of contemporary fine art for any taste, which includes a wide variety of paintings, photographs, and sculptures by both established artists and emerging young talents from around the world.
Hostetler Gallery
Located in downtown Nantucket, Hostetler Gallery is one more exceptional art gallery, offering exquisite works by professional artists. It is known for its gorgeous selection of sculptures in bronze and wood, photography, oil paintings, intaglio, lithographs, as well as aquatints, and mezzotints.
Nantucket is indeed a fantastic place, and we do enjoy being there and providing our safe art transport services to galleries and collectors. Here are several photos made by Fine Art Shippers several weeks ago when delivering valuable and unique art pieces to Casterline Goodman Gallery. Enjoy!