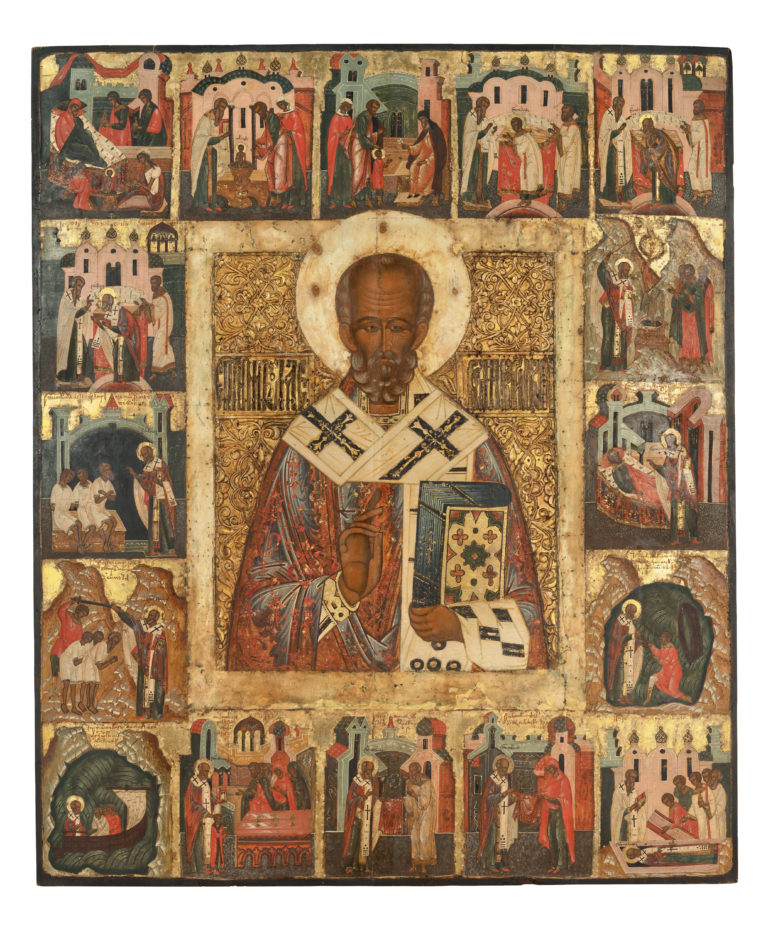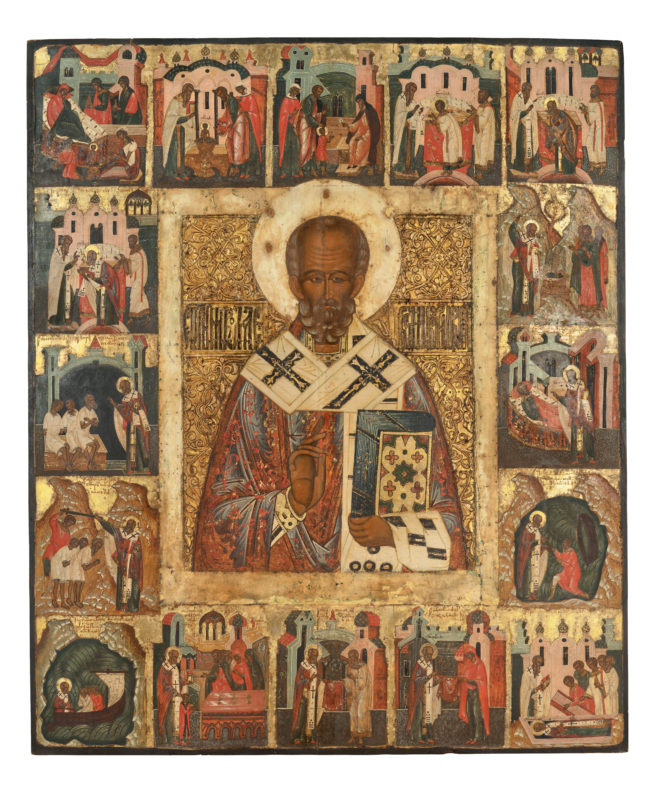 On December 24, 2022, the Museum of Russian Icon will open an exhibition of one masterpiece – an ancient icon of St. Nicholas of Myra (Velikoretsky) from the collection of Sergei Khodorkovskiy.
Rare Icon of St. Nicholas of Myra rom the collection of Sergei Khodorkovskiy
The icon was acquired a few years ago by the collector Sergei Khodorkovskiy. The original painting was completely hidden under a layer of darkened oil varnish, and only indirect signs indicated that the painting was ancient. The collector followed his instinct and was not mistaken. The restoration revealed a relic from the 16th century, exceptional for its artistic qualities and the preservation of the old color layer.
Although there is no information about the origin of the painting, due to its iconographic and stylistic features, it can be attributed to the Pskov icon painting school of the second half of the 16th century.
The epithet "Velikoretsky" refers to a famous icon found near Vyatka on the bank of the Velikaya River in the village of Velikoretsky. It became very popular during the reign of Ivan the Terrible in the middle of the 16th century and was copied in large numbers.
However, the icon from Sergei Khodorkovskiy's collection differs from the common replicas of the Vyatka relic by its larger size and the set of hallmarks. Its hagiographic cycle has sixteen episodes, while other Velikoretsky images traditionally include eight scenes.
"When Sergei first showed it to me in a poorly lit room, I thought I wanted to present this masterpiece in a solo exhibition without putting it in context or accompanying it with other exhibits and additional information," says Nikolai Zadorozhny, director of the Museum of Russian Icon. "I was sure that would distract from the dazzling spectacle that this icon represents."
The exhibition continues the project "Masterpieces of Ancient Russian Painting from the Collections of Russia," dedicated to little-known monuments of Russian icon painting, which have been in storage for many years or recently restored. The previous shows were organized in collaboration with public museums. The new exhibition extends the boundaries of the project by presenting a monument from a private collection.
The Museum of Russian Icon is a private museum founded in 2006 by the late businessman and art patron Mikhail Abramov. Today, its collection contains about 5,000 pieces. In addition to Russian icon painting, it includes Early Christian and Byzantine antiquities from the 6th to 14th centuries, Greek icons, and artifacts of Ethiopian Christian culture.
Photo courtesy of Sergei Khodorkovskiy