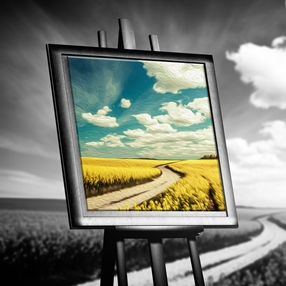 Be it a renovation, a move, or certain changes in taste, you may come across a situation in life when you need to store your artwork or even a collection of art for some time. Whether it comes to temporary or long-term storage, selecting the right facility for your possessions is very important. Above all, you need a climate-controlled, specially equipped art storage space that can protect your valuables against humidity, damp, cold, heat, and other unfavorable environmental conditions. Plus, it should also include measures to protect your art from pests. As you might have already guessed, such storage options are usually offered by professional fine art shipping and packing companies, but you can also create art storage in your home. Whatever you choose, there is one more crucial thing you should pay your attention to. Secure storage is impossible if your art is not properly packed. This is where the following tips on packing artwork may come in handy!
Tips on packing artwork for long-term storage
As a full-service fine art shipping company in NYC, Fine Art Shippers offers a variety of temporary and long-term storage options in the United States and beyond. It is needless to say that our team knows everything about packing artwork for storage, and in this blog post, we want to share several tips with you.
Use tissue paper, foam, blankets, or another breathable material for packing artwork for storage. The material should allow air to circulate while protecting the pieces from dust, bugs, and scratching.
Keep in mind that it is much better to store paintings when they are framed with glass. If it is not possible, separate your paintings with several layers of breathable material to ensure they won't get damaged from shifting.
Canvas paintings are better to support with a backing board of either sturdy cardboard or wood. However, if you decide to roll up your canvases for storage, make sure the paint is rolled to the outside. Otherwise, the canvas may crack or warp.
Avoid using bubble wrap and plastic wrap, as these materials will block trap condensation and air circulation, which will lead to water damage.
In addition to packing artwork with standard materials, consider ordering custom crates for the most valuable and delicate pieces. Wooden crates are the best way to ensure your collection is properly protected during the transportation and storage.
Do not forget that you can always hire professional art packers and crate makers for packing artwork that you need to store. Our diverse art packing and crating services are always at your disposal!