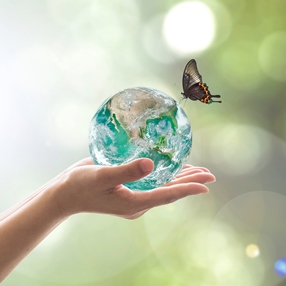 In one of our previous blog posts, we wrote about sustainability and arts, and how these two interact changing the modern world. As a result, we all can enjoy amazing art pieces that are created in harmony with the main principles of sustainability. How about sustainable art shipping? The process of transporting art and antiques has also changed drastically in recent years, largely due to the latest operational methods and technologies, which are now available to support the logistics services and the sustainable art shipping practices in particular.
As a professional fine art shipping company, Fine Art Shippers also tries to be as sustainable as possible, supporting eco-friendly actions related to packing, crating, and moving art and antiques both nationally and internationally. Moreover, our team of art shippers is not only committed to conducting our art logistics business in a sustainable manner, but we also work to promote the principles of sustainability with our partners, suppliers, and clients. Such an approach has long been an essential part of our company, and we are very proud to offer sustainable art shipping services to the art community and individuals throughout the world.
Every day, Fine Art Shippers deals with a whole range of valuables and collectibles, ranging from expensive paintings and sculptures to furniture pieces and musical instruments, and each time, we work hard to improve the sustainability of the shipping process. It is needless to say that this applies not only to protecting the safety and health of our employees but also to protecting the environment by using the right art packing and crating materials. For example, these include:
100% recyclable and biodegradable shipping boxes;
recyclable cardboard and kraft paper;
'lightweight' packing material made with the use of less plastic;
degradable and eco-friendly bubble wrap;
natural wood.
At Fine Art Shippers, we try to use recycled and recyclable materials when packing and crating art as much as possible, working toward expanding our range of sustainable art shipping solutions and reducing the environmental impact of our business operations. What is no less important, our services are not only eco-friendly but also budget-friendly, making them accessible to everyone looking for the safe and secure way to transport valuables at a reasonable price. You can check this out by requesting a free shipping quote online, or you can contact our team to discuss your shipment in person.