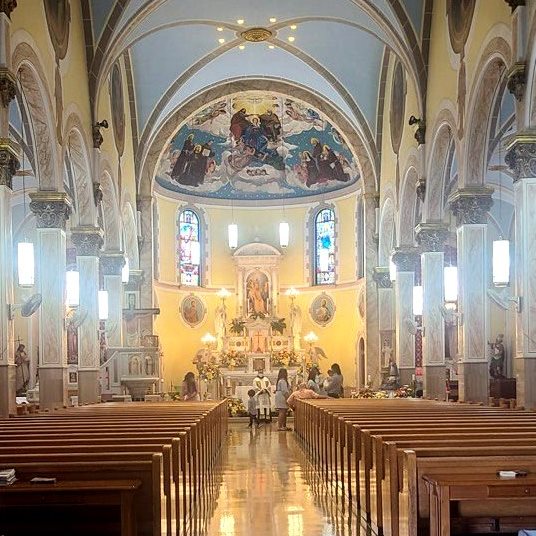 An observable fact: some of the most treasured and expensive artworks are usually found by accident. Just recently, Fine Art Shippers has had the chance to become part of a big find. Cesare Dandini's masterpiece, one of the most famous missing paintings, has been found in a 100-year-old church in New Rochelle. How on Earth did the work by the Italian painter of the Baroque period appear in New York? And what was our role in that? Read on to find out more.
One of the Most Famous Missing Paintings Has Been Found in the Church
Finding one of the most famous missing paintings in the Holy Family Church is a shocking thing indeed. Thomas Ruggio, the Professor of Fine Art and Art History at Iona College, was a person to notice the piece during worship. Hadn't he raised his head at the right moment, he wouldn't have noticed the artwork.
There is not so much information about Dandini's recently found 400-year-old painting. What we know is that the outstanding artist depicted the Holy Family with the infant St. John the Baptist. The chances are that it might be a commission from the Medici family, which was painted in Florence in the 1630s.
Before the piece was discovered, it was referred to in documentation as archives. For 60 years or so, no one knew that one of the most famous missing paintings resided in the church in New Rochelle. After the discovery, art experts authenticated it by comparing it to other Dandini's masterpieces at the Hermitage Museum and the Metropolitan Museum of Art. Now, this amazing painting is estimated at $800,000.
Fine Art Shippers was entrusted with moving this exceptional painting. We were pleased to provide our comprehensive art handling and moving services and ensure the safety of such a valuable and important piece of art. All in all, it was an honor for our whole team to be part of such a grandiose discovery. Dandini's painting is now on display at the Ryan Library at Iona College, so you can come and see it yourself.