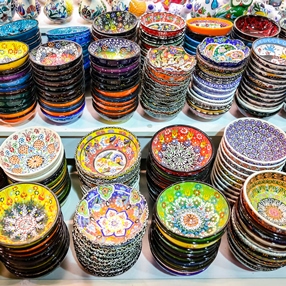 They say that if you want to keep your porcelain treasures safe, you should avoid handling them as much as possible. That's true. However, even if your collection stands on the shelf, you still need to move it around from time to time. In this blog post, our team of New York antique moving professionals will share with you several useful tips on how to handle collectible porcelain in a proper way.
As you know, at Fine Art Shippers, we ship fine art and antiques for galleries, museums, auction houses, dealers, and collectors on a daily basis. Our 20+ years of New York antique moving experience allow us to deal with many valuable artworks, including vintage and collectible porcelain pieces of any kind, and we know exactly how fragile these items are. They do require special handling, especially when it comes to their relocation, no matter local or long-distance. For this reason, it is always better to hire a trustworthy New York antique moving company able to provide the right level of protection to even the most delicate works of art. However, you should also know several essential things about moving and handling your treasured collection. Here are the most important of them.
Always separate porcelain plates when storing in order to protect them from getting scratched and chipped. Use felt, towels, or cotton flannel for this purpose as they work better than bubble wrap or any other plastic material.
Avoid extreme changes in temperature and direct sunlight. Whether you are looking for the right place to store or display your collection, always control the temperature level and the position of light sources.
Hold antique porcelain items by the base as their delicate and, in most cases, decorative handles, as well as other extremities, are not intended for this purpose.
Handle porcelain pieces with bare hands. While New York antique moving experts usually wear special gloves when handling different valuables, it is not the case for most porcelain items. It is better to handle them with bare hands to avoid dropping.
Be very careful when cleaning vintage porcelain. Use soft bristled brushes or canned air for dusting instead of immersing your treasures in water. If you need to clean stubborn dirt, use cotton swabs with some liquid.
Hopefully, these simple tips will help you preserve your collection of porcelain pieces for future generations. However, if you need any professional art packing or handling help from an experienced New York antique moving company, just give us a call. Fine Art Shippers is always here to solve all your problems!