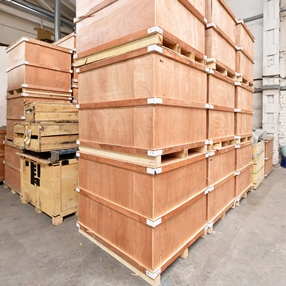 Not so long ago, shipping large packages was pretty costly, with only very few options available. However, everything has changed in recent years. For today, if you need to ship a large package, shipping companies can offer you a variety of options. Moreover, you can even request free quotes from different companies in order to choose the service that suits your budget and requirements best. However, what if you are shipping something that it not only large and bulky but also very fragile and delicate? What are your options in such a case?
It is needless to say that not every freight shipping company can ship truly valuable and expensive items like art and antiques. For example, if you want to ship a large sculpture or painting, you need a specialized company proficient in shipping fine art of any size and weight. The same applies to shipping electronics and musical instruments as these items are very sensitive and also require special handling and attention to detail. Thereby, when it comes to the safe delivery of any of these valuable objects, no matter in a small or large package, shipping companies should be chosen very carefully.
At Fine Art Shippers, we have years of experience in shipping and packing large, heavy, and odd-shaped items of any size. From moving a collection of fine art to shipping luxury furniture and concert grand pianos, no job is too big for our team of trained art shippers! Moreover, all our freight shipping services are very competitively priced, so you won't find a better option for shipping large art and antique pieces than Fine Art Shippers!
Who else can safely ship a large package? Shipping companies you can trust include:
Cadogan Tate
Crozier
Gander and White
Going Art
Red Hook Crating
Morgan Manhattan
Big John's Moving
Arthur Werner Moving & Storage
All of these shipping and packing companies have offices or representatives in NYC, so you can easily hire any of them for shipping valuable items of any size, even when it comes to a very large package. Shipping companies like the mentioned above are reliable and professional so that you are sure to receive your precious possessions in their perfect condition. If you have any additional questions, please feel free to contact Fine Art Shippers at any time!