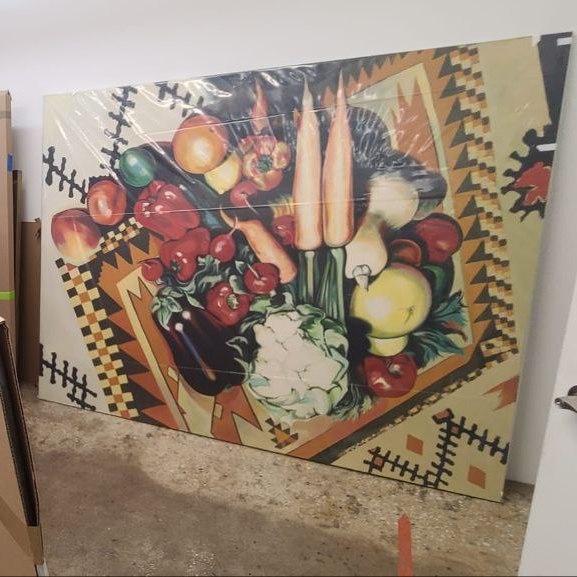 Fine Art Shippers is lucky to work with art pieces of any type, class, and configuration. In our practice, we stumble across both purely decorative objects and paintings and sculptures by some famous artists. Recently, we were involved in moving artwork by Lowell Nesbitt, a late American painter, printmaker, and sculptor. The masterpieces were picked up from our partner company, Capsule Auctions, and delivered to Scottsdale, Arizona. Our team successfully collected the paintings and safely transported them interstate to our clients.
Moving Artwork by Lowell Nesbitt from Capsule Auctions
As seen in the featured pictures, Lowell Nesbitt's large-scale oil paintings feature photorealistic vegetables. To keep them fresh and presentable on a canvas, we ensured their safety before pick-up and then loaded and secured them in our truck. Artworks were transported by our cross-country art shuttle that started at the beginning of the month. On October 10-11, we had a stop in Scottsdale, Arizona, where we were moving artwork to American Fine Art, the art gallery representing the works by 20th-century masters such as Andrew Wyeth, LeRoy Neiman, Andy Warhol, Norman Rockwell, and many others. It was not the first time Fine Art Shippers moved pieces from Capsule Auctions to American Fine Art, so our whole team deeply values the trust in our professional services.
What Is Known About Lowell Blair Nesbitt?
Moving artwork by such a prominent artist feels like a million dollars because you understand how important your job is. Everything depended on our expertise, so if we had done poor calculations and made mistakes, the freight could have been damaged. In the worst-case scenario, the world would lose some great pieces by Lowell Nesbitt. Who was he?
Lowell Blair Nesbitt represented American realism and photorealism. He was widely famous as the official artist for the NASA Apollo 9 and Apollo 13 space missions. When it comes to his art and style, Nesbitt was a master of genre painting. Throughout his career, he focused on flowers and depicted them in close-up so that petals seemed to fill the canvas. He also painted other objects and even created some landscapes. Fine Art Shippers was responsible for moving artwork dedicated to vegetables.
Right now, we are making our way across the US to deliver art to our clients. Whether you have some rare and exclusive items or you just want to move your favorite painting, don't hesitate to email us at info@fineartshippers.com or use a free shipping quote online for better convenience.