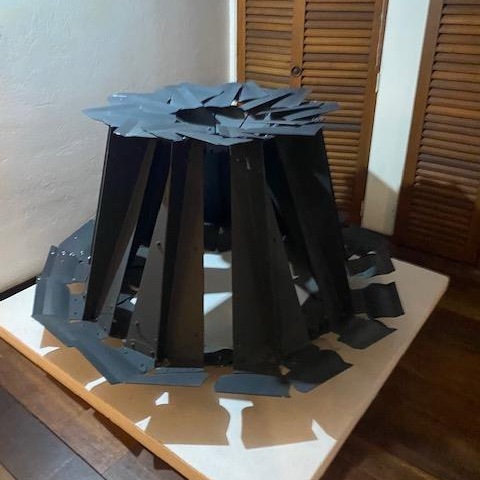 South America is a place practically exploding with vibrant cultures. No wonder, there are many talented people born in this region. Colombia, in particular, is home to many globally acclaimed artists. One of them was Edgar Negret, a constructivist sculptor who blessed this world with many eccentric pieces of modern Colombian art. On his last visit to Colombia, Ilya Kushnirskiy, the co-founder of Fine Art Shippers, was lucky to be introduced by the artist Alex Sastoque to the family of Negret that gave him a private tour of the official Edgar Negret Museum in Bogota. It was an absolutely one-of-a-kind experience. So let us tell you all about it!
Modern Colombian Art: Visiting Edgar Negret Museum in Bogota
The Colombian art scene is one of the most diverse in the world. We are extremely excited to have worked with many contemporary Colombian artists who are truly changing the current artistic landscape with their talented works.
One cannot speak about modern Colombian art without mentioning Edgar Negret. He and his colleagues were the first ones to bring the abstract sculpture to Colombia. Edgar Negret was known for his geometric pieces made from metal sheets that he joined together and bent into various shapes. The best thing is that his artworks are displayed not only at Latin American museums but also on the streets — the maestro's sculptures can be found in Bogota, Papayan, Medellin, Valencia, Venezuela, and other cities.
Thanks to Fine Art Shippers' client and friend Alex Sastoque, Ilya Kushnirskiy was able to join the Negret family for an exclusive tour of Edgar Negret Museum. The museum's building used to be Negret's house and was repurposed after his death in 2012. Since then, Edgar Negret Museum has accumulated quite a collection of artworks, including metal sculptures by the maestro and pieces from his private collection. Created by people who are closely related to the famous artist, this museum is truly a place where the history of Colombian art is preserved with great love and respect. We would like to wholeheartedly thank the family of Edgar Negret and Alex Sastoque for this amazing opportunity!