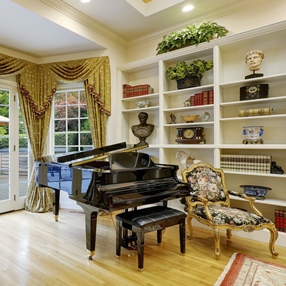 Whether it comes to the local or interstate move, most people have to deal with furniture that requires much attention and care during the whole relocation process. The problem is that some of the furniture pieces may be too large and heavy to handle them without extra help. Moreover, some of them may even be priceless antiques. At Fine Art Shippers, we have years of experience in shipping fine art; however, our expertise does not end with professional handling of oil paintings, figurines, and other fragile items. Our team is also proficient in moving expensive furniture of any value, size, and weight. So if you want your every furnishing to be delivered in its perfect condition, you won't find a better option than our luxury furniture moving services!
Why do you need our luxury furniture moving services?
Needless to say that luxury furniture, no matter antique or modern, is always an investment. Made of high-quality materials and decorated with unique detailing, it requires proper treatment and handling. In fact, no detail is too small when it comes to moving expensive furniture, so to hire experienced fine art movers in New York City is undoubtedly a wise solution. Our dedicated team of moving professionals will ensure that even the heaviest and most valuable pieces are moved safely and efficiently, no matter their destination. Thereby, whether it comes to modern exclusive furniture, antiques, or a delicate vintage piano, the only right way to protect them in transit is to hire Fine Art Shippers. Moreover, since all our luxury furniture moving services are tailored to meet our clients' needs, we guarantee the best customer experience ever.
What are your benefits from ordering our luxury furniture moving services?
Having been moving luxury items for 20+ years, we understand the careful construction and craftsmanship invested in expensive furniture and interior design pieces. However, our experience and skills are not the only benefits you get from dealing with Fine Art Shippers. Our team also provides:
a free quote you can request right from this website;
professional packing and crating with the use of high-quality materials;
careful loading and unloading of furniture, regardless of its weight and size;
furniture assembly and disassembly for both local and interstate moving;
luxury furniture storage options in the majority of US cities.
At Fine Art Shippers, we will help you protect your investment and make your move as hassle-free as possible. What is no less important, our luxury furniture moving services are reasonably priced, so you are sure to stay within your budget!