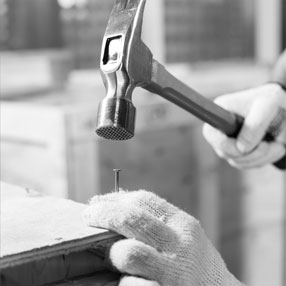 Sometimes we get requests from our customers to send their softpacked works of art to various destinations by freight or via FedEx and other package services that are, in fact, the same freight in terms of handling. Well, in most of the cases, we don't ship boxed or otherwise softpacked fine art objects by freight service, as there is one simple rule: if you need a freight shipment – you need a crate! The fact is that freight handling is a rather rough process capable of causing damage to improperly packed artwork. At Fine Art Shippers, we have repeatedly seen crates with different traces of inappropriate handling and even with footprints on them presumably from being "stood" on. In this way, just imagine what it would be like if it was a box or a softpack! What's more, many freight shipments may be fork lifted to and fro, not to mention the fact that they are usually handled multiple times enroute. Additionally, freight shipments are often not "tied in" within the aircraft or other means of transportation. It means that the items inside can turn over, shift, fall, as well as lean against each other.
Considering all of the above, it is much safer to use a properly built crate with the extra foam padding for freight shipment. It will definitely give better shock and damage protection than a standard box or a softpack. Certainly, even a study crate can be breached with a severe blow, however, its chances are still much higher for the positive outcome. Thereby, the more durable and rigid crate or container you have the better. It should be also noted that custom crates for shipping fine art objects can be constructed with the use of special tricks of the trade that make them suitable to be handled and ride only in a given orientation. Such crates are more appropriate for freight shipments, especially when it comes to the certain artworks with larger dimensions. Anyway, we will never recommend you to ship small items that can be easily damaged if turned upside down via package services or freight as most likely the orientation marks won't be observed regardless of the crate.
In fairness it should be noted, that there are some exceptions to the "if you need a freight shipment – you need a crate" rule. In today's market, there are special "strong boxes" or prebuilt containers that offer protection approaching that of a standard plywood crate. They are made of heavy corrugated cardboard with additional puncture proof linings and seriously foam lined. In some cases, such boxes may be suitable for shipping art if we are talking about very sturdy artworks, but they are still crushable. In this way, if you want to use freight shipment service and get your artwork safe and sound, think about a properly built crate that offers superior protection outside and in. Just call Fine Art Shippers for any help and advice!