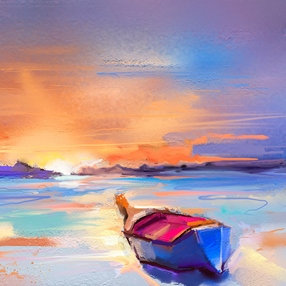 Whether you need to ship a painting or you are planning to move, packing the artwork correctly is crucial if you want to keep it protected from possible damage in transit. Thereby, it is very important to learn how to ship paintings so that they arrive at the destination intact. The following packing guide from Fine Art Shippers will help you pack your art and prepare it for the safe and secure relocation.
How to ship paintings?
1. Make sure your workspace is clean, and you have all the required materials for packing your painting. These include acid-free tissue paper, kraft paper, blue painter's tape, cushioning material, bubble wrap, cardboard box, and high-quality packing tape.
2. Take pictures of every stage of the packing process. You need close-up shots of both your painting, especially if it has pre-existing damage, and the box (inside and outside) for insurance purposes.
3. If your painting is framed with glass, place pieces of blue painter's tape across the glass to prevent it from being broken and damaging the artwork during the move. If not, wrap your painting in acid-free tissue paper.
4. Wrap your artwork in brown kraft paper and then in bubble wrap to provide padding between the painting and the inside edges of the shipping box. Carefully seal the wrapping with packing tape.
5. If you ask art handlers who know how to ship paintings safely, they will tell you that it is never superfluous to add more protection and stability to the artwork in transit. Thereby, it is also recommended to sandwich the painting in between two sheets of cardboard before actually packing it in the box.
6. Opt for a sturdy corrugated box that is appropriately rated for your artwork. For example, you can use a new TV box or telescoping box for shipping a painting.
7. Fill the bottom with cushioning material (e.g., packing peanuts, bubble wrap) and place your painting in the box. Fill the remaining space with more cushioning material to prevent the artwork from moving inside the box.
8. Carefully seal the box with high-quality packing tape and label it with special shipping labels for fine art.
Finally, hire reliable art shippers who know how to ship paintings safely and securely to any destination in the world. Fine Art Shippers is just a perfect company for this purpose, especially taking into account that all our art moving services are reasonably priced!