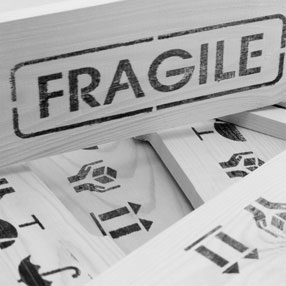 Shipping art and antiques is not as easy as many people might think. In fact, it can be a nerve-racking experience, especially if you are doing it for the first time. Even though the Internet is full of fine art packing and shipping tips (we have plenty of them on our website too), the truth is they cannot be used for transporting very valuable or too heavy items in most cases. So what to do if you need to ship artwork of exceptional value like an Old Master painting, or something you cannot handle on your own like a large sculpture? The answer is obvious: you need to hire a reliable art shipping company!
At Fine Art Shippers, we provide a variety of art shipping options for any need. Furthermore, we offer packaging, insurance, storage, and art installation services to meet the needs of the most demanding clients. Thereby, if you are looking for professional art delivery help, you are exactly where you have to be, as Fine Art Shippers is the best place to order:
Statues shipping services
Due to many years of experience in moving large sculptures and statues, we can guarantee the safe transportation of your artwork, no matter how large, heavy, or fragile it is. Thereby, whether you need your sculpture to be delivered to your client or want to transport several statues from one gallery to another, our company should be first on your list.
Paintings shipping services
Fine Art Shippers also specialize in shipping paintings across the US and worldwide. We work with some of the best galleries and famous artists, constantly improving the process of fine art transportation. Moreover, we offer custom packing and crating services to ensure safe shipping of even the most valuable paintings.
Antiques shipping services
If you need to ship vintage furniture, an old Steinway grand piano, or any other antiques, we can help you with that too. Rather than attempting to move such unique items on your own, entrust this job to Fine Art Shippers, the same company that moves antiques and art for museums and art dealers from all over the world.
In this way, if you need to ship artwork of any kind, the best you can do is hire our team of experienced art movers. It is the only way to transport valuable items without getting them damaged in transit!