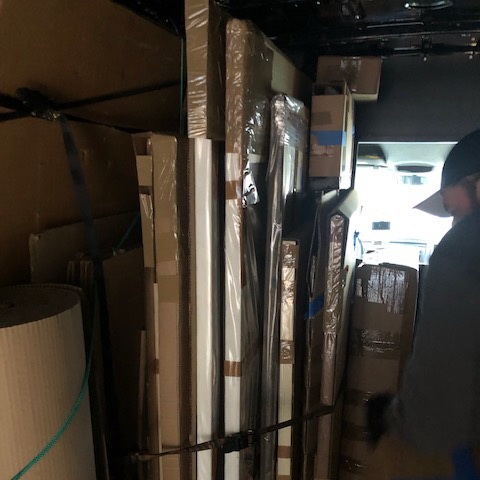 Moving to another city or state is never easy. However, moving fine art, antiques, and other objects of value is even a bigger challenge. There are so many things to consider and so many choices to make. For example, do you know how to pack artwork for moving? Who can transport your super heavy yet delicate antique furniture and piano? Or where to store your precious art collection while your home is being prepared for move in? Fine Art Shippers can give you answers and solutions you are looking for! As a professional art logistics company, we can handle absolutely any task related to packing, moving, and storing fine art and antiques.
How to pack artwork for moving?
It is needless to say that proper packing is critical to a successful move. Moreover, proper packing is essential when moving paintings, sculptures, porcelain, glassware, and other delicate and fragile objects. So how to pack artwork for moving across the state so that it arrives at the destination without a scratch? The only right way is to entrust this job to experienced art packers who have been doing this for years!
At Fine Art Shippers, we have been providing fine art packing services since 1995, and we know all the packaging methods and techniques used to protect fine art, antiques, and other valuables during the move. We select only the most durable materials for soft packing and only those that are actually needed to keep the packaging process as sustainable as possible. Besides, when it comes to packing super fragile and sensitive items for moving over a long distance, we build custom wooden crates for each of them. Our crates are sturdy and made-to-measure to ensure proper fit and the utmost protection of the items inside throughout the entire process of transportation. At Fine Art Shippers, we know how to pack artwork for moving, and we would be happy to share our knowledge and experience with you!
In addition to packing and moving fine art, we also specialize in the transportation of antique furniture and pianos of any size and weight. Besides, Fine Art Shippers offers art storage services in New York, Miami, Chicago, Boston, Denver, Los Angeles, Washington, D.C., Houston, and many other cities across the United States, so if you need to store your art collection before or after the move, please feel free to contact our team! You will love our professionalism and competitive rates!