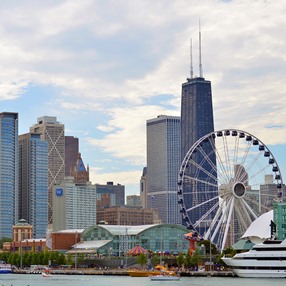 It is a great pleasure for Fine Art Shippers to work with art business professionals based in the New York metropolitan area! For today, we are very proud to ship fine art and antiques for Shapiro Auctions, Roland Auctions NY, Peanut Gallery, Nye & Company, Ashville Fine Arts & Antiques, and many other reputable galleries and auction houses in New York, New Jersey, and Connecticut. However, while fine art shipping in NYC and the Tri-State area is our major specialization, we also operate all over the United States, providing our clients with comprehensive art logistics services on a national level. For example, we are happy to offer high-quality art shuttle services and our regular art shuttle Chicago – New York in particular.
Art Shuttle Chicago – New York
If you need to ship fine art and antiques from Chicago to New York or vice versa, you won't find a more affordable option than our reliable art shuttle Chicago – New York, which goes between the cities once a month. This allows us to offer cost-effective shipping options while providing our clients with safe and secure art transportation services of the highest quality. As a result, we work with many Chicago-based galleries and auction houses, including Leslie Hindman Auctioneers, which is currently one of the nation's foremost auction houses with offices all over the United States. Besides, our art shuttle Chicago – New York is also an excellent way to ship modern and contemporary art to and from various art fairs, shows, and exhibitions held in the "Windy City." For instance, we will be pleased to deliver your art to the upcoming EXPO Chicago!
EXPO Chicago
EXPO Chicago is a renowned annual international modern and contemporary art exhibition hosting the world's leading art galleries to the delight of professional dealers, collectors, and enthusiasts. This year's edition will be held on September 27-30, marking the opening of the fall art season in Chicago, and we will be happy to deliver your art to this important event. Moreover, our art shuttle Chicago – New York is an excellent option for absolutely any shipment, no matter whether it is a single painting or an entire collection of art. In other words, if you are looking for the safest and most affordable way to ship fine art to EXPO Chicago, our art shuttle Chicago – New York is exactly what you need. Just contact our team or request a free shipping quote to know the details!