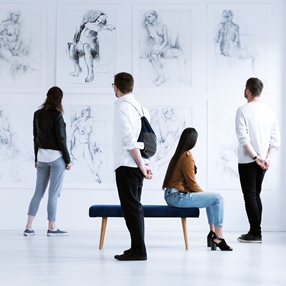 For any museum and gallery moving services, always turn to Fine Art Shippers, a professional fine art shipping company in NYC! Our art and antique moving specialists are adept at handling, packing, crating, and shipping valuables of all kinds. Moreover, no job is too big or too small for Fine Art Shippers, so whether you need to ship a single painting or you are moving the entire gallery collection, we are your best option. After all, fine art moving in NYC and the surrounding areas is our specialty, and we have all the required expertise and resources to get this job done right and on time!
At Fine Art Shippers, we employ a dedicated team of art handlers proficient in moving fine art and antiques between the venues with the respect and care they deserve. Fine art moving in NYC and across the Tri-State Area is actually one of the major services we offer, which allows us to work with many art business professionals who need artwork transport assistance on a daily basis. We are very proud that our gallery moving service is chosen by Impact Art Gallery, Peanut Gallery, Agora Gallery, David Ashville Galleries, and other reputable galleries with impressive collections of art. Besides, Fine Art Shippers works with many auction houses and contemporary artists who also require professional help with fine art moving in NYC.
For today, Fine Art Shippers is one of a few family-owned branded companies with extensive experience in relocating entire collections and estates, and you could not wish for a team more committed to and passionate about fine art moving in NYC. Our specialized art handlers have a whole arsenal of special techniques intended to protect valuable and delicate art during the entire process of moving, from packing and crating to transport and installation. Moreover, all our gallery services are customized and tailored to meet the needs of both the client and the transported items, not to mention that in most cases, we can pack, crate, and deliver art even within a single day.
At Fine Art Shippers, we believe that no piece is too fragile to be safely transported so that you can contact us with literally any problem related to fine art moving in NYC you have. We will take care of your art and ensure that every single piece of your collection arrives at the destination safe and sound!