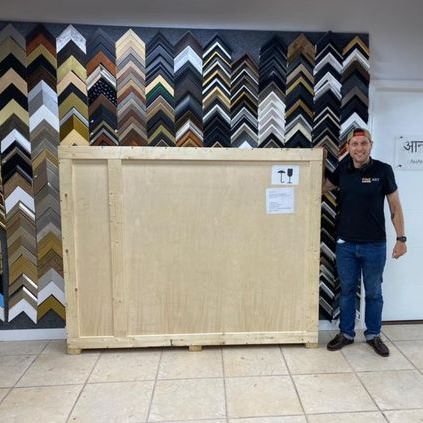 Fine art transportation is a separate sphere in the shipping industry sector. It involves many nuances and specifics, with regular shipping workers often unable to treat fine art items with due care. Therefore, fine art courier services are our top recommendation for everyone concerned about their belongings' safety. Art couriers can collect your objects from your location and assume full responsibility for their intactness until the moment they are delivered to and installed at the destination point. Here are the details of courier service provision for fine art objects.
What Does a Fine Art Courier Service Cover?
As soon as you use a specialized fine art courier service, you may expect safe and professional handling of your art at all stages of transportation. Here are some service aspects we cover for clients:
packaging of your artworks using professional-standard materials and techniques;
onsite handling of art without extra effort on your part;
white glove delivery services of artworks of all types;
hand-to-hand delivery of all shipped items, which excludes any risks and dangers of unprofessional handling;
installation and deinstallation of art objects on demand;
crating of your art objects onsite or in our specialized warehouse after the courier picks your objects from your location.
This is not an exhaustive list of our services; once our courier gets your objects for shipment, we can package them for art storage or organize the fine art insurance procedures for items that will travel a long distance or will be shipped by third-party transportation providers.
Art Couriers at Fine Art Shippers
How do we hire fine art courier staff, and what excellence criteria should they meet? As our company has been operating since 1995, we've refined our hiring requirements and designed a comprehensive in-house training program for fine art handlers. At Fine Art Shippers, we always ensure our couriers exhibit professional conduct and meet the following parameters:
comprehensive understanding of duties and responsibilities art courier services entail;
ability to link theory and practice of safe art handling;
several years of experience in fine art handling;
robust social skills, punctuality, and politeness in communication;
a desire to grow and improve professional skills.
That's why ordering fast fine art courier services from us is always a safe bet. Your art is in the safe and reliable hands of our experts with proven credentials and an excellence-oriented mindset. Call us at (917) 658-5075 or send us an email inquiry to order top-notch courier services for your art objects.