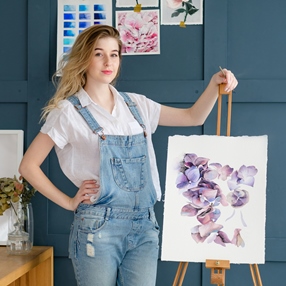 Whether it comes to an expensive painting by a renowned artist or an old framed picture that has sentimental value to your family, you want to make sure it arrives at your new home safe and sound. It goes without saying that the best you can do in such a situation is to hire professional shippers of fine art, who know everything about packing artwork for moving. After all, the process of shipping and packing paintings, sculptures, and other pieces of fine art has a unique set of problems that require their own countermeasures. For example, do you know that parchment paper and wax paper can damage the painting? Or what is the best way to protect the glass from getting broken during the move? The truth is that packing artwork for moving can be pretty challenging, so if you do not want to risk the safety of your precious possessions, to hire professional art shippers specializing in moving fine art and antiques is always a smart decision.
However, if to hire an art moving company for packing artwork is not an option for you, then pay your attention to the following guide. It will help you properly pack the painting yourself.
Guide to packing artwork
1. Use blue painter's tape to make a large "X" across the glass to keep it in place if it cracks in transit. Plus, protect the frame with special corner protectors.
2. Cover both sides of the artwork with protective cardboard. If the painting is not framed with glass, it is highly recommended to place glassine paper between the cardboard and the canvas first.
3. Wrap your artwork with two layers of bubble wrap to provide it with the best protection against potential mechanical damages.
4. Choose a sturdy box of the appropriate size and fill its bottom with dunnage. Place your painting inside and fill in the extra space with more dunnage to keep the artwork in position during the move.
5. Properly seal the box and mark it "Fragile" on all sides to let freight shippers know what they are moving.
This simple guide to packing artwork can help you protect your painting in transit. However, if you need to transport something truly valuable, expensive, or unique, it is still better to hire an experienced art moving company offering packing and custom crating services professionally.