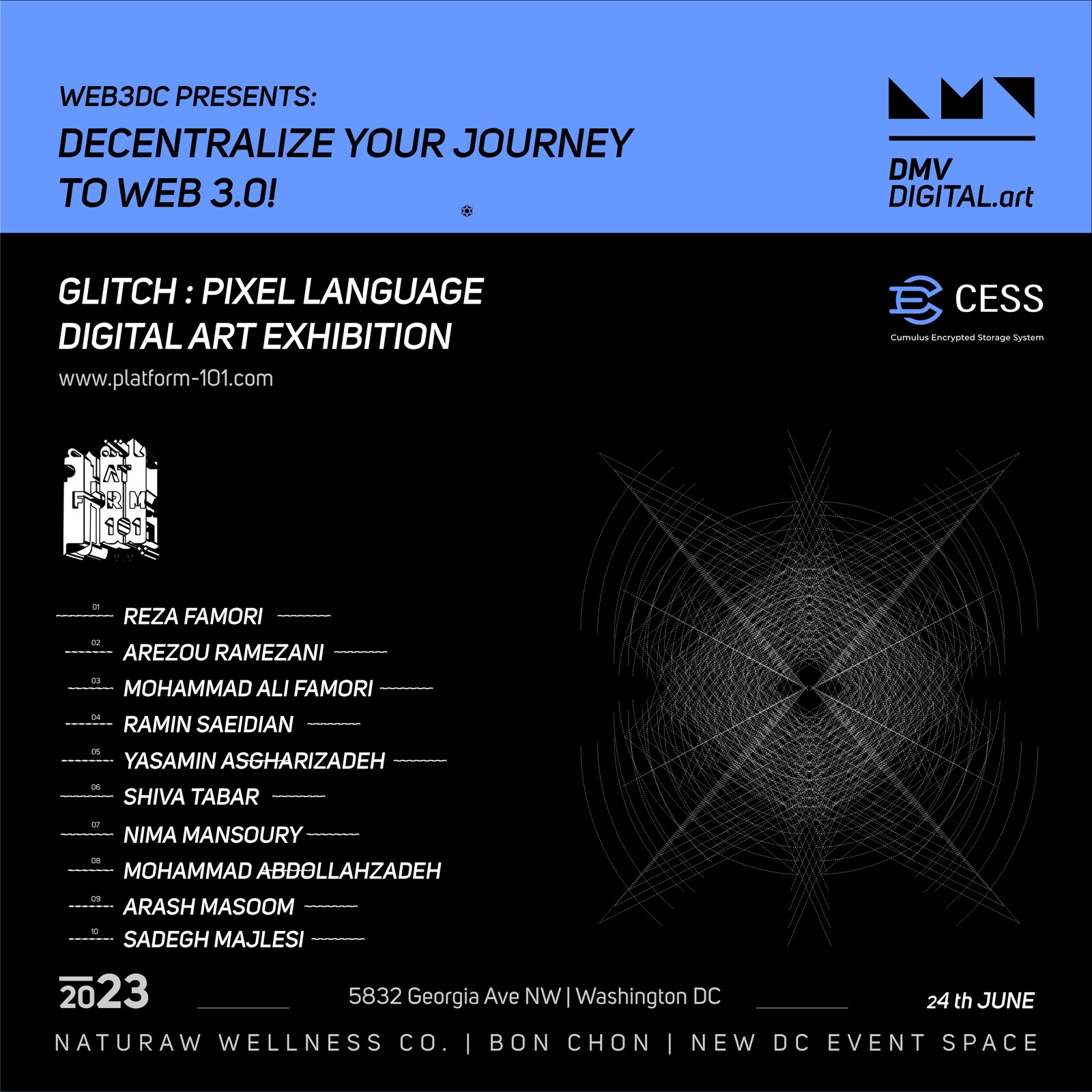 On Saturday, June 24, the non-profit art institution Platform 101 presented its new "Digital Artists" exhibition, which was held at NW DC Event Space in Washington, DC. The event was centered around the exploration of possibilities that lay within the realm of digitalization of art, in particular, NFTs and Web 3.0. It featured digital works by prominent contemporary artists who offered their interpretation of the concept of glitch art, a term that became central to Platform 101. The innovative exhibition provided the audience with an opportunity to experience the future firsthand. Fine Art Shippers is excited to tell you more about this truly unique project.
Digital Artists: An Innovative Exhibition by Platform 101 in Washington, DC
Platform 101 stands out among other art projects due to its unique approach to the roles of artists and the audience. It aims to create a stage-like space where the artists act as directors or stage managers who guide the onlookers. This Saturday, Platform101, Web3DC, and DMV Digital Art joined efforts to present "Digital Artists," providing a truly one-of-a-kind space for the audience to experience leading-edge technology.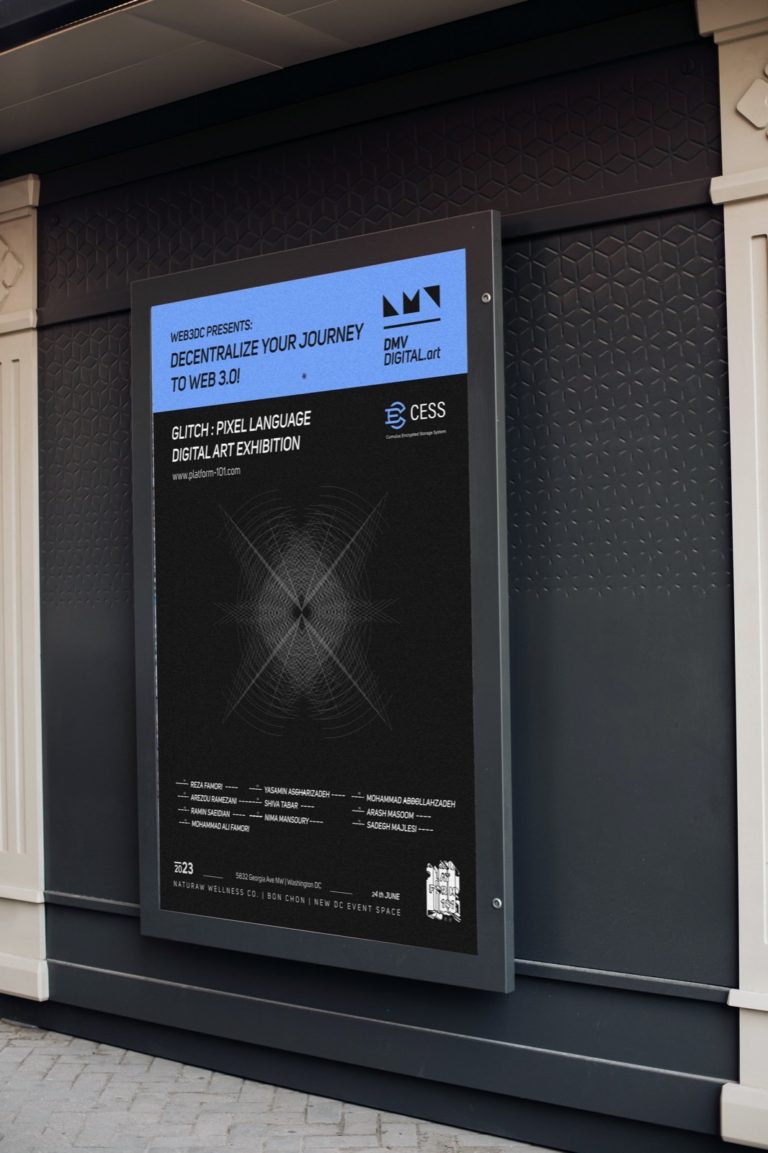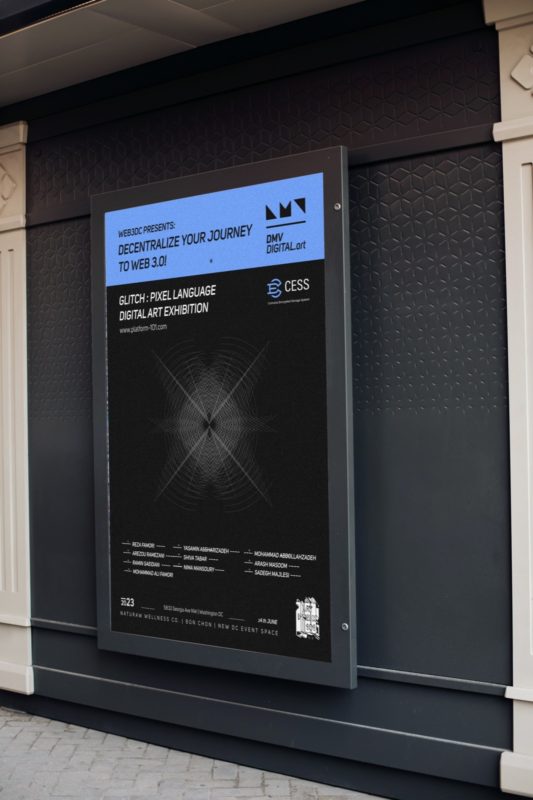 The institution is purposefully avoiding color in its exhibitions, focusing on the form and content of digital pieces instead. Platform 101 has already organized several successful exhibitions revolving around the concept of glitch art. Over the past several years, we have seen a number of innovative video art pieces infiltrated by distortions and errors, embodying the main idea of the Manifesto of Iranian Glitch Art by Mohammad Ali Famori, the founder of Platform 101. Famori is an award-winning artist, art director, and a major moving force in the development of digital art in Asia. In his thinkpiece, he conceptualizes a pixel as an element that has its own aesthetic identity and value.
The event featured works by Arezou Ramezani, Reza Famori, Mohammad Ali Famori, Yasamin Asgharizadeh, Shiva Tabar, Ramin Saeidian, Nima Mansoury, Arash Masoom, Sadegh Majlesi Pour, and Mohammad Abdollahzade. Works by international digital artists from DMV Digital Art were also presented at the exhibition.
It is exciting to see that Platform 101 continues to follow its own route, revolutionizing digital art as we know it. Its unreplicated perspective on the future of visual art allows the organization to pursue new heights and achieve the levels of innovation that are yet to be seen at major art institutions around the world.
Photo courtesy of Platform 101