What does it take to build an auction department from scratch, and how does it operate? Fine Art Shippers delves behind the scenes of this fascinating world with Beatrice Campi, Head of the Islamic and Indian Art Department at the London-based Chiswick Auctions.
Delving into Islamic and Indian Art at Chiswick Auctions
What inspired your passion for Islamic and Indian art?
Beatrice Campi: My passion for art and history goes back to my high school days. Studying in Italy meant that these two subjects were inescapable in our curriculum. I was fortunate to study under a renowned professor from the esteemed University 'Cattolica' in Milan, who also taught at high school level.
In our final year, she challenged us with an unusual assignment, asking us to present on a topic we hadn't studied together. The aim was to encourage us to think creatively and independently. Inspired by her teaching style, I was determined to impress her with a unique choice of topic.
My initial ideas revolved around ancient Egypt or Asian empires, given Italy's rich collection of Egyptian artifacts and my proximity to a substantial collection in Turin (Museo Egizio). However, my classmates had already claimed these subjects. So I decided to explore the Mughal period (1526–1851) in North India. I developed a fascination with Mughal art and jewelry and based my presentation on it.
The professor appreciated my effort, awarding me a perfect score and advising me to think about this newfound interest as a potential career path. The idea resonated with me, so I decided to pursue my bachelor's degree in Venice, spending three years studying Persian and Hindi alongside culture, literature, art, and philosophy.
In 2012, I won a scholarship to study in London. I completed a post-graduate program and a master's degree at the School of Oriental and African Studies (SOAS), followed by four years working at Christie's. Eventually, I was offered the chance to start and lead a new department of Islamic and Indian art at Chiswick Auctions. It was an extraordinary opportunity to build something from the ground up, implement my own vision, and continue to grow professionally. So I accepted the offer, and the rest is history. It truly amazes me to see how far the department has come.
That's a fantastic story. Can you tell us about your role at Chiswick Auctions? What responsibilities does it involve? 
At the beginning of my role here at Chiswick Auctions, I was tasked with creating the Islamic and Indian Art Department from scratch.  I needed to set ground rules, decide the number of sales per year, and understand how many lots I had to consign and sell to meet the given target. Initially, I was the sole member of the department, managing all tasks single-handedly; now, we've grown into a team of two and are currently recruiting for a third member, with consultants lending their expertise during peak times or in specialized areas.
A head of department at an auction house like ours is responsible for a range of tasks including business getting both locally and internationally, valuing, researching and cataloging lots in the sales, and of course, selling them, often being the very auctioneer that brings the hammer down on them.
Our department has two major sales cycles: one in spring during Islamic Art Week in London and another in fall, usually coinciding with Asian Art Week. These events draw in numerous collectors and both private and public buyers. To make things more exciting, I decided to introduce another sale in the summer, usually smaller but very quirky and decorative, targeting those who stay in the city. This themed auction, called "A Middle Eastern Journey," usually follows the Olympia Fair and Masterpiece Fair and features more decorative pieces, thus attracting a lot of interior designers.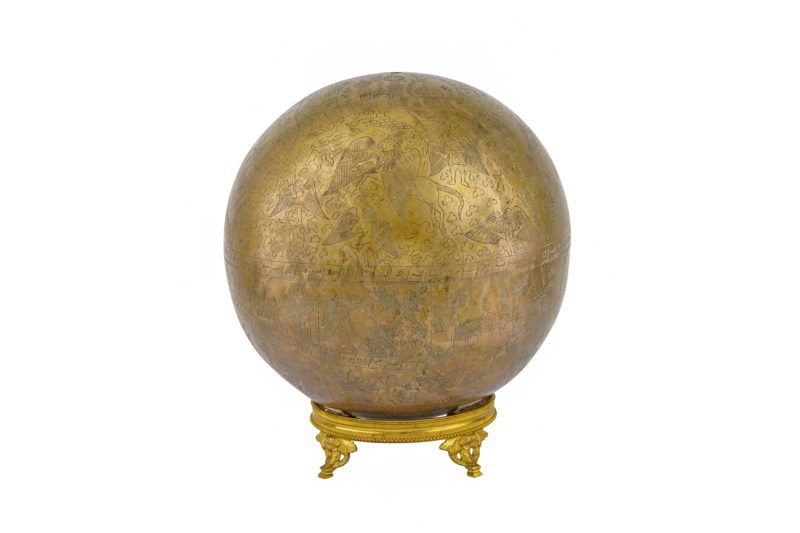 What does the process of preparing an item for auction involve – from initial acquisition to final sale?
Regarding the process of evaluating an item, there are several ways it can unfold. A person may walk in without an appointment, or they could contact us beforehand via phone or email, sending us pictures in advance, or filling up an online form on our website. In this post-pandemic world, we also handle evaluations through video calls. Regardless of how a client reaches out, I'm the one who interacts with them to provide them with estimates and information about their artworks. By being able to evaluate pieces online, we're not limited to local clients; we can assess items from all over the world. If I recognize the item, I can provide an immediate estimate. If not, I inform the client that I'll need time to carry out comparative research.
Could you recall a few of the most interesting or sophisticated pieces that you've worked with?
There've been so many, it would be too hard to choose! I think it would be best to narrow it down to some recent lots. I would cite two artworks from our sales at the end of April. The first is an exquisite polychrome-painted Safavid cuerda seca tile. All the pigments are separated on the surface of the tile by a cord (cuerda in Spanish) dipped in manganese, which prevents the pigments from bleeding into each other, leaving a stunning black contour around geometric or figural designs. This tile, with its vibrant yellow color and intricate design, is very similar to a large Safavid figural panel presenting an analogous torso at the V&A Museum. It sold for £20,000, ten times its original estimate of £2,000 to £3,000. 
The second fascinating piece was a celestial globe featuring an image of the mythical creature, Buraq, who is said to have transported the Prophet Mohamed on his Night Journey (Mi'raj) from Mecca to Jerusalem and back The globe also depicted holy sites and mosques. Interestingly, this functional scientific instrument was imbued with religious and mythological symbolism. Despite dating back to only 1836, it exceeded its original estimate of £500 to £700, fetching a remarkable £17,000 at auction.
Interview by Inna Logunova
Photo courtesy of Chiswick Auctions
Images in the order of appearing
-A large engraved brass celestial globe with Buraq and views of Islamic holy cities sold at Chiswick Auctions. Possibly Deccan or Northern India, dated 1252 AH (1836 – 1837 AD)
-A Safavid cuerda seca pottery tile sold at Chiswick Auctions. Safavid Iran, 17th century