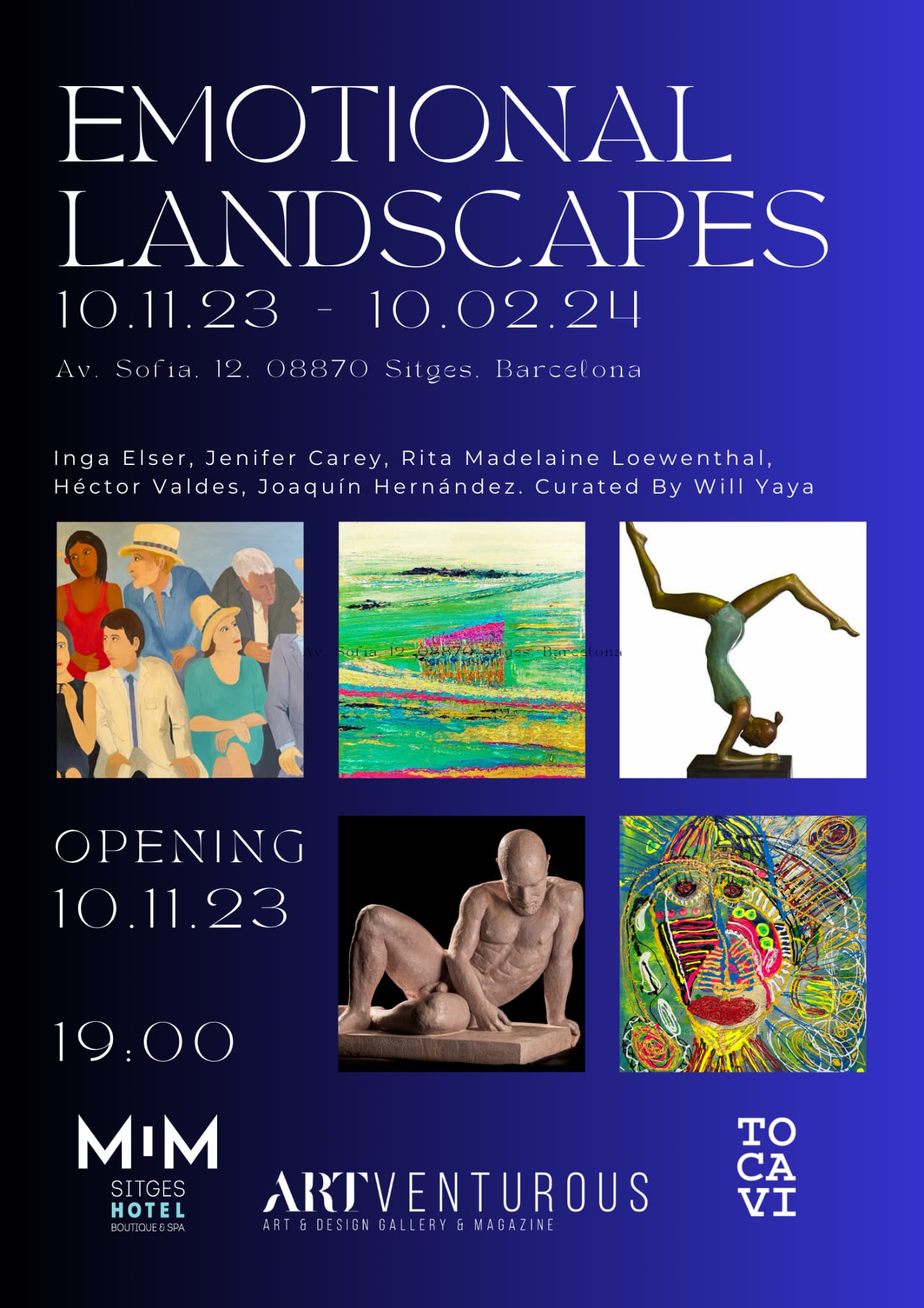 At Fine Art Shippers, we are always excitedly looking forward to projects by the company's long-term partners and clients. Our close friend Will Yaya is a multimedia artist whom we have collaborated with on multiple occasions, from helping prepare for Art Basel 2023 to sharing his amazing art. This time, we are proud to invite you to the new contemporary art exhibition curated by Will Yaya, which is titled "Emotional Landscapes." The show will take place in the picturesque environment of the Sky Bar located right at the very top of the Hotel MiM in Sitges, Barcelona, Spain.
Contemporary Art Show Curated by Will Yaya to Open in Barcelona
Will Yaya is a multi-faceted artist known for his paintings, sculptures, designer accessories, and exclusive wine collection, Author Wine, dedicated to the greatest artists of all time, which was created in collaboration with his brother, Alexander Yaya. Will Yaya also owns two gallery spaces in Barcelona and one in New York City.
"Emotional Landscapes," an upcoming exhibition curated by Will Yaya, features paintings, sculptures, and mixed-media pieces by five artists from all over the world. Inga Elser (Switzerland), Jenifer Carey (England), Rita Madeleine Loewenthal (Switzerland), Héctor Valdes (Chile), and Joaquín Hernández (Spain) will bring their best work to the top floor of the Hotel MiM in Sitges, Barcelona. The audience can expect to see a wide range of styles, subjects, and mediums, with each artist presenting their authentic artistic vision. The show invites you to peek inside the minds and souls of the featured artists and venture on a journey through their "emotional landscapes."
The Hotel MiM is perfectly suited for hosting "Emotional Landscapes," a contemporary art exhibition that transcends physical and mental borders. Not only is it a gorgeous space always overflown with natural light and situated right next to the beach, but it also has access to a magnificent view of the city and sea. On the very top of the hotel, in the Sky Bar, the new show will open its doors to people looking to relax and run away from the busy city life while enjoying exquisite artwork, food, and drinks.
From realistic figurative sculptures by Hector Valdes to abstract colorful paintings by Rita Madeleine Loewenthal, you will be blown away by the diversity of the carefully curated selection of contemporary art. The Hotel MiM is located at Calle Sofia 12, Sitges, Barcelona, Spain. "Emotional Landscapes" will open on November 10, 2023, at 7pm, and continue through February 10, 2024. Do not miss it!