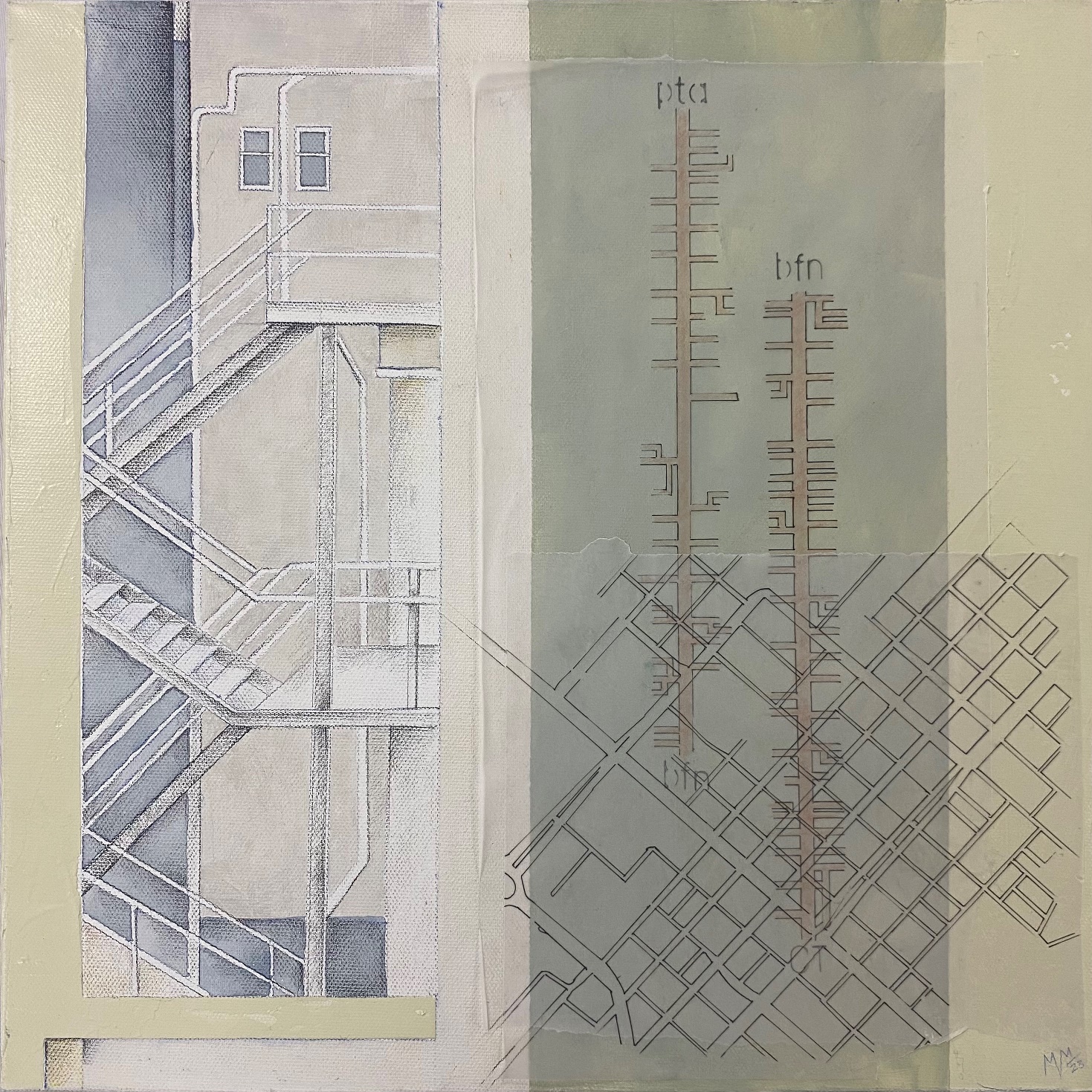 How often do you find yourself in the middle of a silent city? Early mornings and late nights are the only time we can experience the total absence of sound in urban areas. Madeleine van Manen has managed to capture what we imagine a completely people-less cityscape would look like. Her first solo painting exhibition at the contemporary art gallery Nel, titled BUILT, focuses on skyscrapers, administrative buildings, abandoned roofs, and other components of urban architecture. The artist depicts places where one can fully submit to the solitude and isolation they cannot help but feel sometimes, even surrounded by constant noise and visuals.
BUILT: The First Painting Exhibition by Madeleine van Manen at Nel
Madeleine van Manen is a Cape Town-based artist who confidently mixes various mediums to create a complex and multi-layered experience. She works in oils, gouache, watercolor, pastel, and printmaking. With a background in graphic design and advertising, van Manen became a full-time artist in 2009. In her pieces, she investigates silence and isolation within rural and urban spaces. Her new painting exhibition, BUILT, continues the artist's ongoing exploration of those themes.
"Escape," "Eviction," "No Entry," "Private Parking" — these are the words and phrases Madeleine van Manen uses to name her pieces. The titles of her paintings refer to the hostility of many urban environments. One either feels like they must run away from the constrictions that architecture imposes. A city in van Manen's work becomes a space of non-belonging and consequently isolation. However, no one can get away from constant monitoring and surveillance presupposed by hostile architecture.
Rigid lines or buildings, fences, and barbed wire separating the viewer from the vast cityscape remind us that, in the end, with no background sound of the city, we are both completely alone and are constantly supervised. Van Manen's mixed-media piece titled Stacked illustrates the battle between the desire for self-expression and belonging represented by graffiti and the view of the city, which appears to be fully obscured by wire.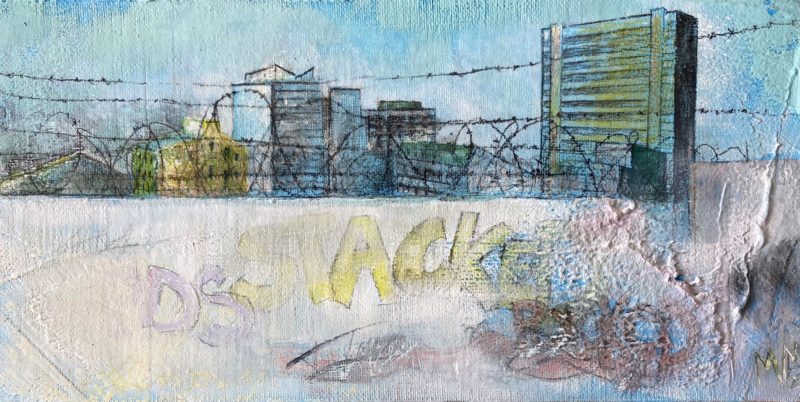 With that, one cannot help but feel calm when looking at these serene landscapes. Madeleine van Manen chooses a muted pastel palette, directing our attention from colors to the structure represented by engraved three-dimensional details and exposed through cross-sections of buildings. In addition, the perspective, which only seems correct at first glance, is just twisted enough to transport the viewer from the real city into an imagined surreal space.
BUILT opens on October 18 at 117 Long Street, Cape Town, with the preview at 12pm and the exhibition opening at 6pm. Do not miss the first painting exhibition by Madeleine van Manen at Nel!
Photo courtesy of Nel