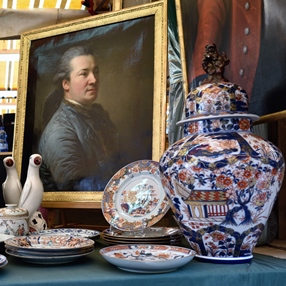 Whether you are shipping goods within the United States or internationally, you want to deal with only the best freight companies. This is especially true if you are shipping fragile items like a collection of fine art or a set of antique sculptures. After all, such cargo requires special handling and care, and, therefore, it is so important to find the right shippers for this job.
At Fine Art Shippers, we not only ship fine art on an ongoing basis, but we are also one of the best freight companies in NYC, which means that we can ship almost any cargo, no matter its size and weight. Moreover, we can ship it to any location in the world. As a result, many professional dealers, gallerists, artists, and collectors hire our team each time they need their collections of art and antiques to be delivered to the intended destination safely and securely. Fine Art Shippers is proficient in shipping fragile items of any kind and in any quantity, and we have all the necessary knowledge and equipment to handle even the most challenging task. Besides, whether it comes to national or international transportation of art and antiques, you will definitely love our attractive prices. Fine Art Shippers is not only one of the best freight companies in NYC but also one of the most affordable!
Shipping fragile items with Fine Art Shippers
As one of the best freight companies in NYC, we successfully operate all over the United States and internationally, providing a whole range of art logistics services to galleries, auction houses, dealers, artists, museums, cultural centers, and private collectors. For today, Fine Art Shippers can ship art and antiques of any type, but our specialty is shipping fragile items that range from porcelain and various glass objects to Old Master paintings and museum-quality artifacts. We pride ourselves on providing comprehensive art packing and crating services in-house, which allows us to guarantee that every single piece we are trusted to ship is properly protected to withstand a long-distance move. Besides, we also take care of art insurance and art storage, making the entire process of shipping fragile items as easy and convenient as possible.
Fine Art Shippers is indeed one of the best freight companies specializing in the transportation of art and antiques, so feel free to contact our team if you need to ship really valuable and fragile items to wherever they need to be in the world safely and securely!