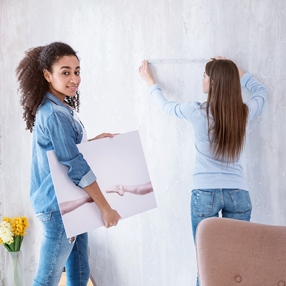 As you know, Fine Art Shippers is a full-service art moving company serving the art community on a professional level. This means that we are not only experienced shippers of fine art, but we are also experienced art packers, crate makers, and even interior designers in a certain sense. Thus, in addition to our many shipping and packing services, our art moving company is also known for providing an extensive range of art installation services, from hanging paintings and mirrors to mounting sculptures and setting up the entire art exhibitions for galleries and auction houses. Thereby, if you are aimed at arranging art in your home yourself, do not miss the following tips from our art moving company!
1. Don't try to line the bottom or top of your artwork with furniture and door frames in the room. Even though this may sound like a good idea, the result is usually not very pleasing aesthetically.
2. Consider the sizes and frames of your paintings. Before to hang a group of paintings on a single wall, make a layout to find out the best way of their arrangement.
3. Install the artwork at the right height. According to the generally accepted museum standards, the right height is 156cm from the center of the image to the floor.
4. Consider the colors of the walls. Every interior designer or art moving company will tell you that colors play a very important role. So if you want to create harmony in your home, always consider the colors of the walls to choose the right background for your artworks.
5. Avoid damp areas. It is needless to say that most paintings and other works of art are vulnerable to damage from moisture, so it is better to avoid such areas as your bathrooms and kitchen, as well as spaces with poor ventilation.
6. Never hang paintings over direct heat sources. If you do not want to restore your artworks damaged by fluctuations in temperature, do not hang them over electric heaters, radiators, and other heat sources.
7. Avoid direct sunlight. Just like artworks can be damaged by moisture and heat, they can be damaged by direct sunlight, so avoid ultraviolet light as much as possible.
Hopefully, these simple art installation and picture hanging tips will help you properly organize art in your home! If you need any specialist help, please feel free to contact our art moving company for consultation of professional assistance!