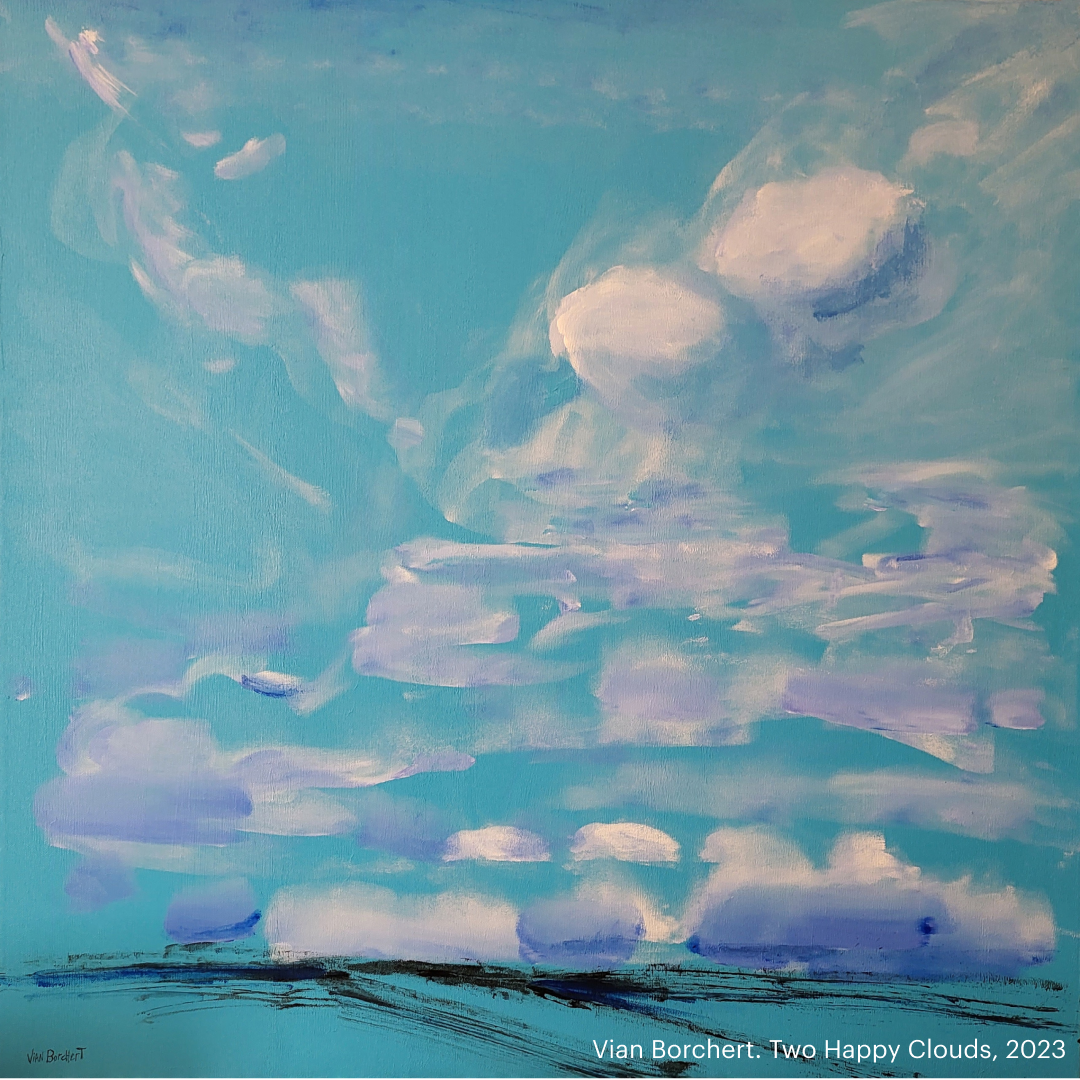 Artist Vian Borchert, a long-time friend of Fine Art Shippers, has created a new body of work that has been featured in several shows across the United States. We met up with Vian Borchert to discuss her latest artworks, the inspiration behind them, and the ongoing exhibitions you can view this fall.
Artist Talk: Vian Borchert on the Healing Power of Art
Congratulations on your selection for the "Art=Healing" exhibition in New York, presented by Emerge Gallery and ShoutOut NY Saugerties. This show celebrates the life of the legendary performance artist Linda Mary Montano? How does it feel to be associated with such an exhibition? What does Montano mean to you as an artist?
Vian Borchert: I feel very honored to be selected for this significant art exhibition dedicated to esteemed performance artist Linda Mary Montano and her guiding principle Art=Healing. Linda Mary Montano, who is now 81 years old, had a long career as a performance artist in New York City and San Francisco, among other locations. The exhibition is in New York's Hudson Valley area in Saugerties, which is her current address. Besides the art exhibitions, it features performance art, guided meditations, processional and music performances, and video screenings.
Linda Mary Montano became a performance artist in the early 1970's encompassing feminist performance art. She undertook projects like "Three Day Blindfold," where she spent three days living blindfolded. In another performance, she was tied to artist Tehching Hsieh with an 8-foot rope for an entire year. She also provided five-minute counseling sessions to people from the window of the New Museum in New York City over a span of seven years.
The murder of her husband marked a pivotal moment in both her life and career. It shifted her artistry towards seeking methods of healing. In 1978, she produced a film titled "Mitchell's Death." Montano's videos, which have demonstrated healing properties, have been exhibited in museums and galleries ranging from MoMA to the Dorsky in New Paltz. The theme of art as a healing mechanism has been a consistent thread throughout Montano's extensive artistic journey spanning over forty-five years.
In my view, Linda Mary Montano is the mother of all performance artists, especially women. She has paved the way through her bravery and strength, empowering women to embrace performance art. I believe she is different from other performance artists not only because of her pioneering endeavors and long career but also because of the sufferings she endured in her life.
Yet, it is through intense agony and unfortunate circumstances that she transformed her tragic experience, finding a renewed direction focused on healing and self-care. I find this transition particularly empowering for artists and individuals who have faced challenging situations, turning to their art as a means to navigate paths of healing and find inner peace. Much like Linda, I have always turned to art as a sanctuary throughout my life. From my childhood and continuing to the present, art has been a profound source of therapy for me, leading to self-discovery and, eventually, self-love.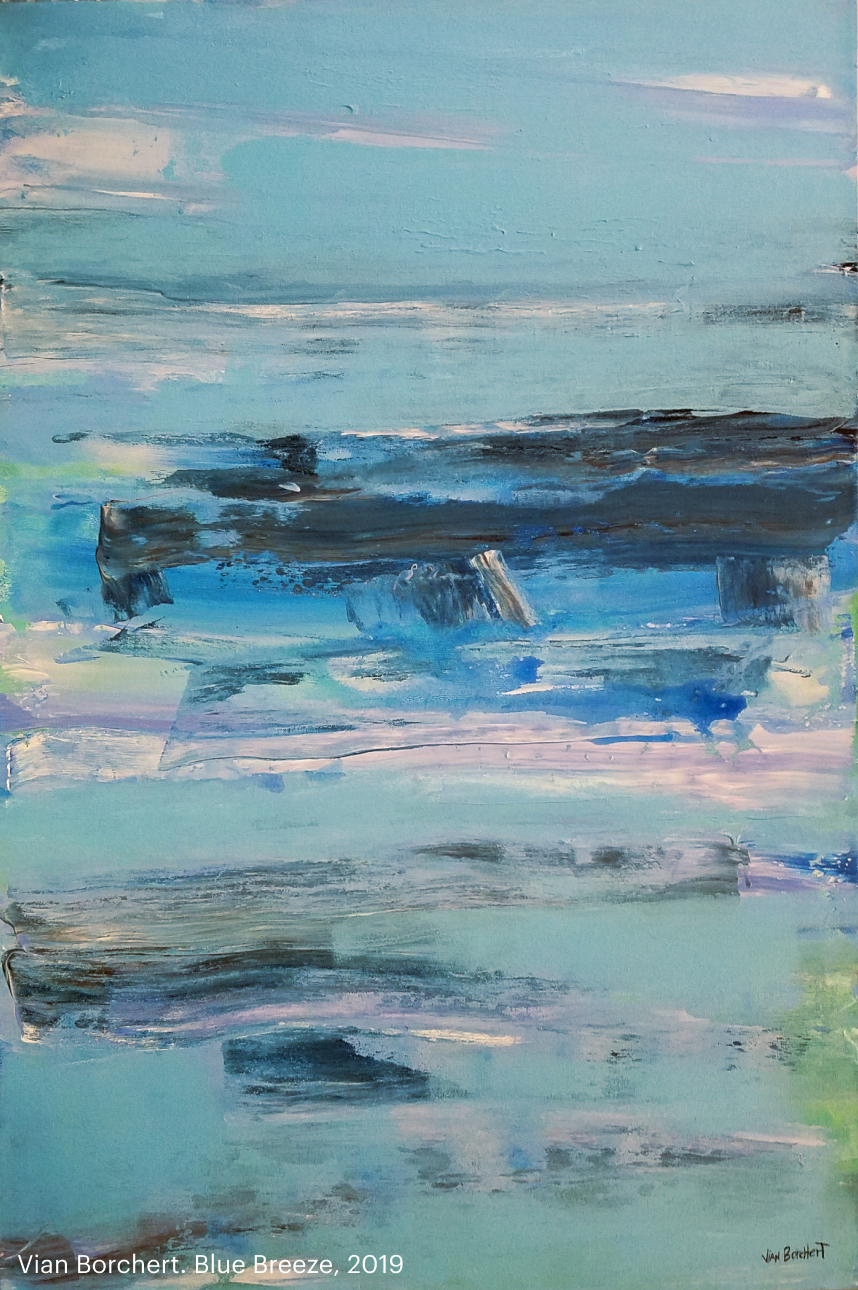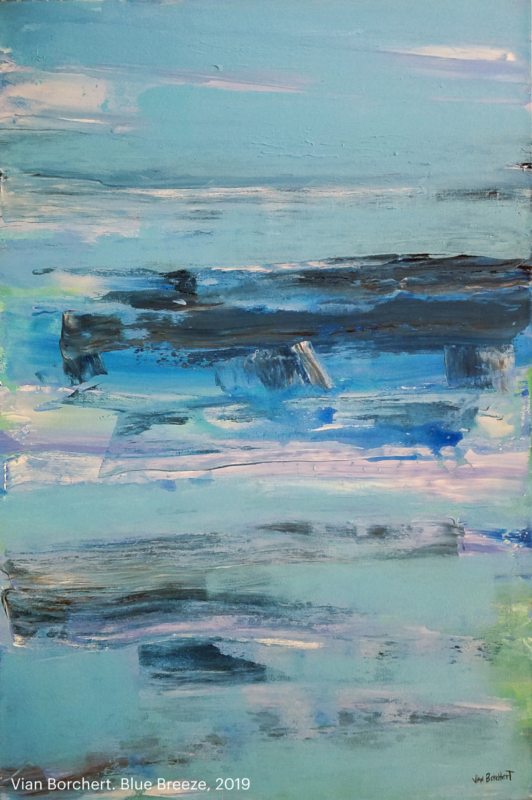 Your artwork "Silver Lining," which has been selected for the Art=Healing exhibition, speaks to the search for light in tough situations. Can you delve deeper into the inspiration behind this piece and your personal connection to its message?
"Silver Lining" is a painting about searching for light in difficult situations. The painting's message emphasizes that staying hopeful even amid dark times will bring out the silver lining that will sail us away to a better place, be it our mindset or even an actual place.
Throughout the latest years, art has been my sanctuary, a medium for problem-solving and reflection. I relate to Carl Jung's well-known proverb, "You have to embrace your shadows" to achieve self-love; it has guided my journey of self-discovery and creativity. As an artist, educator, and graduate of the Corcoran College of Art and Design at George Washington University, I've explored Art Therapy and positive psychology. My goal extends beyond personal growth; I want to spread this knowledge among my students and the community. For me, art is a universal language that transcends boundaries.
Can you tell more about the way art has served as a healing tool for you personally?
I feel that this principle of Art=Healing has been hidden within me as a child. Of course, when I was young I wasn't aware that retreating to art and my world of drawing and painting was a form of self-healing. I grew up in a traditional time where as a young girl, you had to continuously be polite and pleasant and mainly stay in the background. I was a very shy and quiet child. Thus, art was a way for me to self-express in a visual way without being verbal. Looking back, I feel that my love for art and creating artwork as a child and beyond was a form of self-care and self-love. It helped me navigate difficult situations that I faced throughout my journey.
One can say, subconsciously, art made the most sense, since it was the proper tool to transform some of the "pain" I had buried within me throughout my life into "PAINtings." Unfortunately, there have been challenging life experiences I had to endure and go through, where art was the only fortress in which to retreat and escape the pain of the outside world. Such was the case when a close family member was diagnosed with a tumor; life was at such an unbearable point that art had to step in to provide a source of relief. Just this past September 2023, a dear friend of mine committed suicide in the most brutal of ways: he fell from the ninth floor of a construction building. This tragic death of my friend has taken a huge toll on me emotionally… However, art has been a consolation, offering ways to self-comfort, adjust, and carry on with my life. Admittedly, it has been hard; yet one has to find that silver lining and hope to help ease life's journey as we go through the storms.
Another artwork of yours is being exhibited at the BMFA Museum in Texas Can you share some insights about this painting and the story behind its creation?
I'm thrilled that "Over Seas" is being showcased at Texas's Brownsville Museum of Fine Art's 48th International Art Exhibition. Painted in vibrant blue acrylic on canvas, it evokes a deep sense of nostalgia for faraway places and past adventures. Created in my abstract expressionist style, this piece was born during the early days of Covid and captures my contemplations on our changing world. It embodies my longing for adventures once sought after and reminiscences of simpler times in distant lands. Through its abstract nature, the painting hints at our current state of unpredictability and emphasizes the fragility of life. Nature has always held a special place in my heart and art. To me, it's a refuge and a profound source of comfort. This piece, in particular, represents moments of serenity found in nature during challenging times.
You have also been invited to be a part of a group exhibition titled "Undercurrent" at the Community College of Baltimore County / The Gallery Essex. How does your work reflect the exhibition's theme of celebration and concern for the Chesapeake Bay's health?
The "Undercurrent" exhibition in Baltimore is important due to its message about the environment and especially the health of the Chesapeake Bay. I am delighted to have been invited to this compelling exhibition curated by Professor Sharon Trumbull. The exhibit showcases artwork focused on the Chesapeake Bay and its surrounding waterways, where the works explore the area's ecology with a mix of celebration and fear for its continued health. The exhibit stresses the necessity of water in all our lives and how one can better protect and appreciate it. The message is that water is calming and fascinating but also powerful, and dangerous. And most importantly, water needs to be protected.
The exhibition reflects on our relationship with waterways and vistas, and ways of conserving and protecting water. It emphasizes how the artist can contribute through their own personal narrative and approach. To illustrate, my painting "Blue Breeze" depicts the interaction of the human senses and emotions felt when looking at water landscapes. The sense of movement in the air is portrayed in the fresh breeze that one experiences when being by the water. Moreover, the calming blue hues of the ocean evoke a sense of peace, highlighting the tranquility seascapes bring and deepening our appreciation for our waterways.
A number of my blue seascape paintings, including "Blue Breeze," "Dark Waters," "Sea Mirage," and "Sand and Sea," are on display at the ongoing exhibit on view till Dec 1, 2023.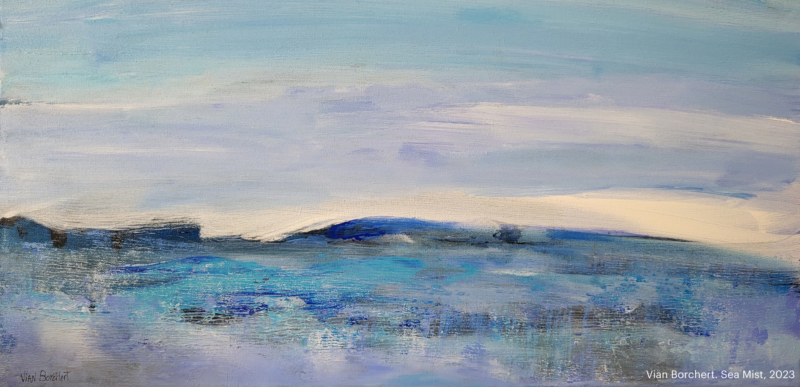 Can you tell us about your ongoing online solo show "Elevation"? How do the new paintings in this exhibit convey the theme?
This exhibit's colors and themes blend skyscapes with landscapes and seascapes, elevating and tranquilizing the viewer's consciousness. My art, which I call visual poetry, is inspired by nature and the environment. I see it as a bridge between the two. This collection embodies my artistic identity, with pieces like "Two Happy Clouds," "Overcast," "A Play in the Clouds," and "Into the Blues," and "Sea Mist." They capture my aspirations, thoughts, and feelings. At their heart, these paintings offer meditative and poetic vibes, inviting deep reflection. As such, I feel the new artwork is intellectually stimulating and similar to capturing the gist of the beliefs of the 17th and 18th centuries during The Age of Enlightenment.
As you mentioned, you engage with themes that touch upon spirituality, meditative practices, and self-awareness. How do you approach integrating these introspections into a visual medium?
These entities of being a long-time practicing artist have led to paths of meditative practices that facilitated the connection to spirituality. They resulted in finding appreciation towards self-care, self-awareness, and ultimately self-love. In a sense, I had these multitudes within me, in my artist soul, for a while. However, it was through meditation that enlightenment, in my case, occurred and opened up a portal to my subconscious mind, where the imagination and creative realm met via the creation of art. Here, art becomes a bridge that connects my conscious mind to my subconscious, allowing the creative soul to appear on the canvas.
This evolution within me didn't happen overnight. It is a making of years and years of exploring the self and my art, delving into the unknown, and solving the puzzle of who I am. It took decades to gain such insights. Lots of journaling, art making, reflecting, learning, and exploring all had to interconnect to bring these components to integrate into a visual tapestry presented through the artwork. The totality of me, my life's experience, my education, my personality, and my identity have to all align and be sparked by meditation to reach a spiritual embrace that allows the universe to run its course.
Interview by Inna Logunova
Photo courtesy of Vian Borchert
To learn more about Vian Borchert and the shows:
www.vianborchert.com
https://www.artsy.net/artist/vian-borchert
If you wish to buy the art of Vian Borchertm visit:
https://www.1stdibs.com/creators/vian-borchert/art/
https://www.artsy.net/partner/emerge-gallery-ny/artists/vian-borchert