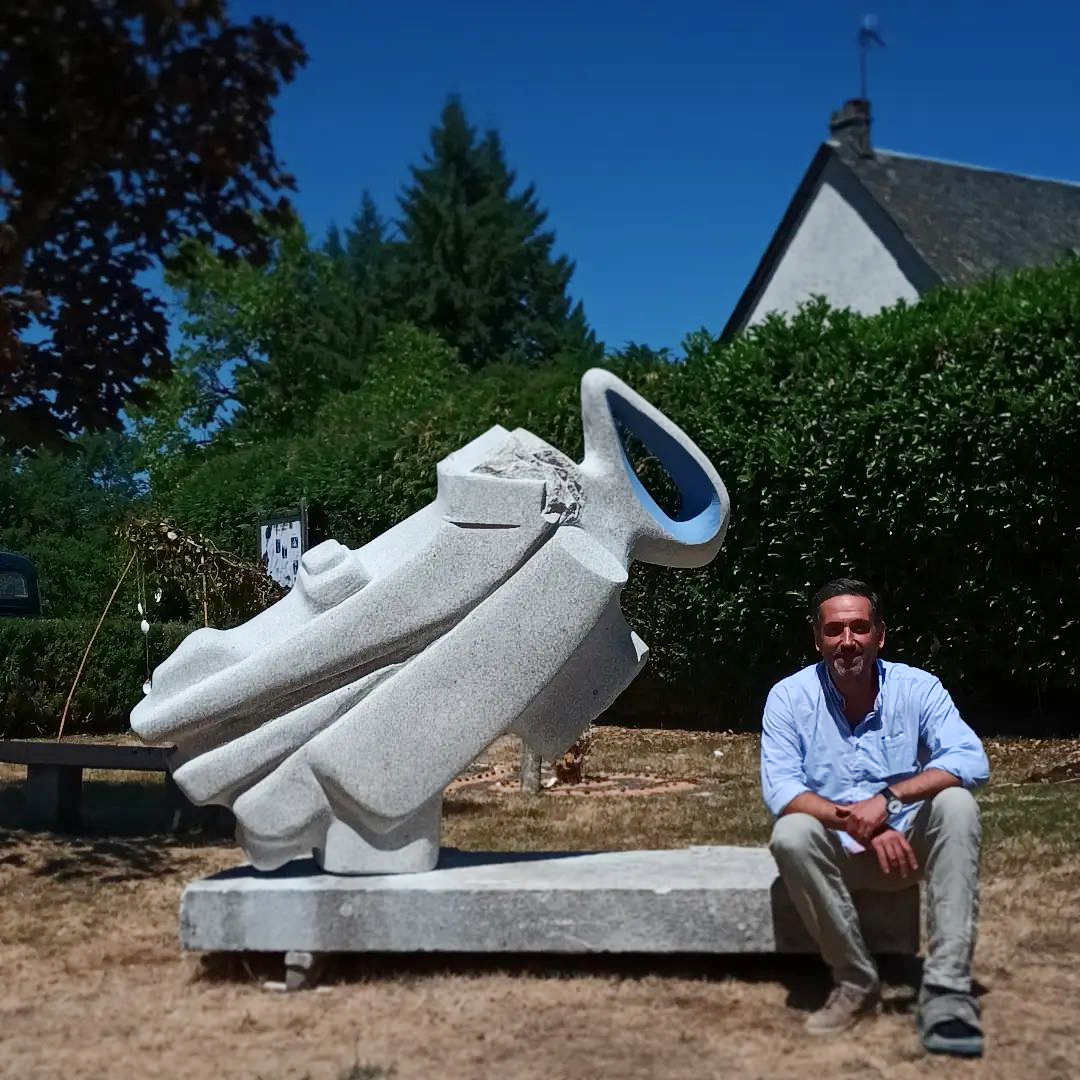 Michael Levchenko is a renowned Ukrainian sculptor, known for his abstract works in stone, granite, and marble. His sculptures have been showcased in many national and international exhibitions. They are also featured in both private and public collections around the world. Some notable places housing his art are the Museum of Contemporary Art in Roldan, Argentina, and the International Sculpture Park in Aya Napa, Cyprus.
Artist Talk: Ukrainian Sculptor Michael Levchenko on Recognition and New Home
You can see Levchenko's large-scale pieces in various public areas in Ukraine, China, Belgium, and many more. In 2019, he contributed to "The Shadow of Dream" exhibit at Giardini della Biennale during the 58th Venice Biennale, representing Ukraine.
When the war in Ukraine began, he left the country and sought refuge in Luxembourg. Over the past year and a half, Michael Levchenko has produced several new pieces and taken part in major art events. He recently arrived in New York, where Fine Art Shippers met up with him to discuss the latest developments in his artistic journey and his plans for the future.
After you left Ukraine due to war, you spent the past year and a half in Europe. How was that experience for you? Can you tell us about some recent events in your work and life?
Michael Levchenko: A few months ago, I was accepted to the Royal Society of Sculptors. It offers members chances to showcase their work, compete, and access grants and artist-in-residencies programs in the UK. While originally it only provided membership to British artists, it has now opened its doors to international participants.
I also visited France, where I was awarded a medal for artistic merit. I participated in sculpture symposiums in Turkey and Slovenia. In the winter of 2023, I joined the ARC, an association dedicated to plastic arts in Luxembourg, and contributed to several of their group exhibitions. One of the most important events was my solo exhibition at the Simoncini Gallery in Luxembourg, featuring sculptures and a selection of paintings. It was my first solo show in Europe, which was of great significance to me.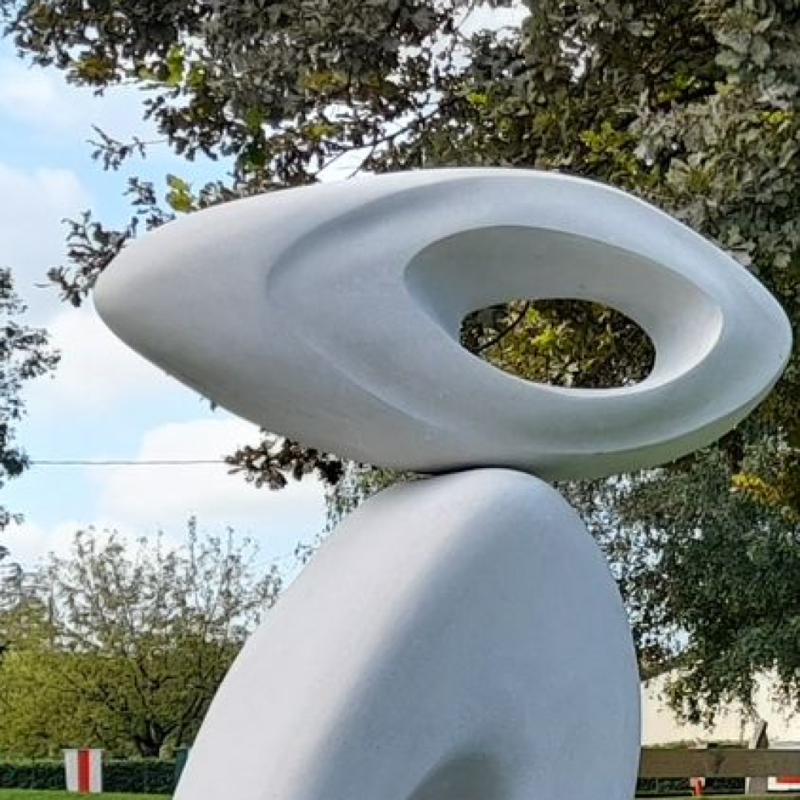 What does recognition mean to you as an artist?
I've always had recognition, even as an emerging artist. What matters most to me is the acknowledgment from professionals — fellow artists, art critics, and experts. The reactions to my art are always motivating, just like life itself, which continually inspires new creative ideas.
What was the concept of this exhibit in Luxembourg?
The exhibition focused on my abstract works in small sizes. Those pieces are between one to one and a half meters, which is unusual for me. However, there was one large piece, a sculpture I made in Belgium. But since it's close to Luxembourg, we were able to ship to the exhibition and back.
Why did you decide to move to the United States?
Luxembourg is small for artists. Many of them live in France, Austria, or Germany. It's a beautiful place, but it's hard to grow there. Artists need an environment, where we can interact with other artists, galleries, and museums. New York is, of course, a leading art center, and I see far more opportunities here.
Have you been to the US before?
Yes, on several occasions. I've been to Chicago, where I had my show as a student. That was my very first encounter with America, back in 1995. Later, I came for festivals and exhibited in places like Atlanta, Wisconsin, and Chicago several times. I also visited New York as a tourist in 2018.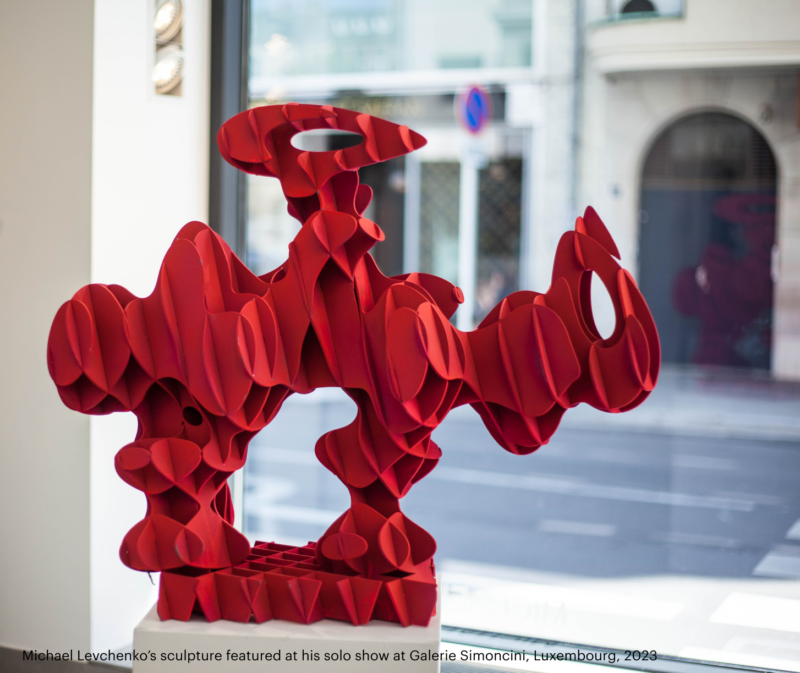 What are your impressions of America?  How are they different from your previous encounters with the United States?
I have very positive impressions since there are people from all over the world here, which contributes to the overall tolerance and easy acceptance of newcomers. There's no snobbery in America, or at least, I haven't experienced it. Being in New York City, a world art center, opens up a lot of new opportunities for me as an artist. It buzzes with almost daily openings of new exhibitions; I have already attended several. With its abundance of museums, thousands of artists, and hundreds of galleries, it's a place that is very stimulating and inspiring for me.
What are your plans in New York? How do you envision your life here?
I'm currently seeking a position in an art company, possibly in sculpture or decor. Together with a painter friend of mine, we're in the process of finding a studio to rent. In fact, we've already spotted a potential place nearby. So I will continue my artistic journey here.
Photo courtesy of Michael Levchenko