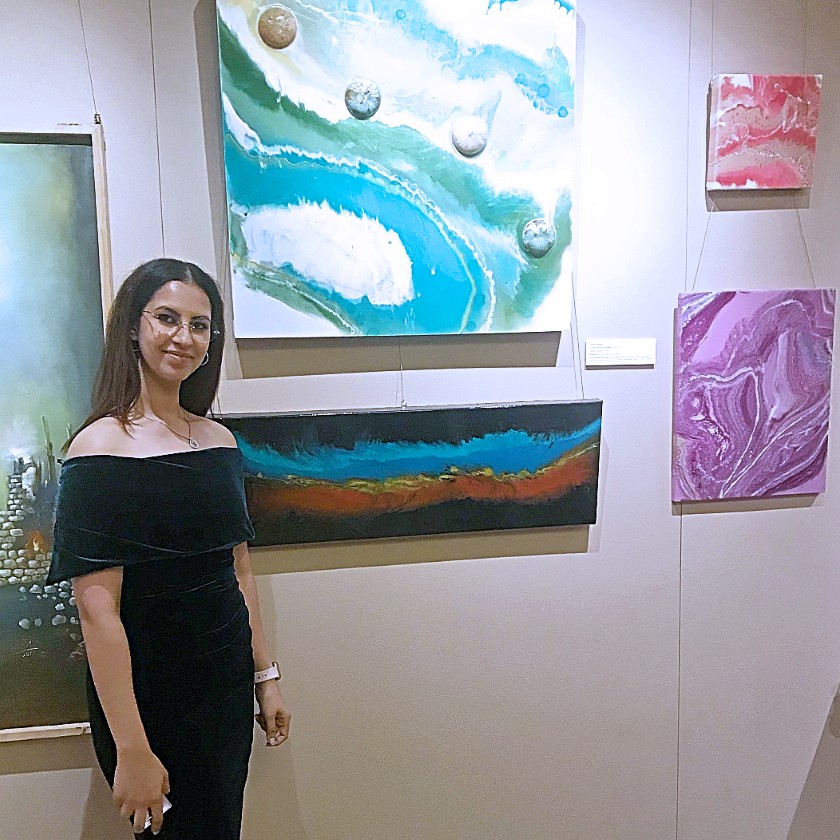 Tina Merkab is a Houston-based artist of Yemeni descent. Fine Art Shippers spoke with her about the local art community, helping others, and her experiments with resin – a medium she has been exploring for several years.
Artist Talk: Tina Merkab on Diversity in Art and Community-Building
You have a fascinating personal journey. Please tell us a little about your background. 
Tina Merkab: I was born in Yemen and spent most of my childhood in Saudi Arabia. Then we moved back to Yemen because Saudi Arabia was not really a comfortable place for a woman to live. After graduating from high school and college, I went to Ethiopia where I worked as a diplomatic interpreter, as I am fluent in English, Arabic, and Amharic. There I met my husband, an Ethiopian-born American citizen, and two years later I landed in Houston, Texas. We lived in the Montrose area. Not only is it culturally and ethnically diverse, but it also has a vibrant arts scene. So in that respect, I was lucky.
What about your journey as an artist? When did it all start? Did you receive any formal training as an artist? 
I have a master's degree in international business, I didn't go to art school. But I've been drawing and painting since early childhood. My mother recognized my interest in art and began to encourage it. For a long time, I did mostly charcoal drawings and sketches. When I came to Houston, I discovered contemporary art. I also got to know so many different ethnicities and artists – for example, some of the artists were engineers, and others were chemists, therapists, or business people like me. It was very inspiring because each of them had a different perspective. It was at this time that I came across resin, the medium I'm working with now.


What is your technique? Do you use resin along with other mediums? 
I do combine it with acrylic paint and other mediums. Sometimes I make my own pigments if I'm not happy with the way some of the colors sit in the resin. I am always experimenting with different shapes and textures, it's more of a trial and error process. I explore the properties of the resin and each time a different effect results.
How are your life experiences and emotional state reflected in your artwork? 
All my paintings convey some kind of emotion, a certain state I am in: anger, excitement, frustration, happiness. I try to capture that and assign a color to it. In Yemen, I felt caged and confined because I did not fit into a society where women were mostly excluded. Now I am in Houston, and I am fortunate to live in a vibrant artistic environment, but there is a lot of black in the paintings as a recollection of a society that is hostile to self-expression and the desire to be creative. Sometimes I do not intentionally insert the black color. I look at the painting and feel something is missing, so I add it.
You also use gold in your works. What does it symbolize for you? 
In the midst of black, which represents the dark side of our lives and society, gold is a sign of human values. I come from an Arab background where gold has always been highly valued. In my paintings, it stands for non-material values, the good that shines through the darkness. That is a universal law of life.
How has your artistic career been developing in the United States? What projects or exhibitions have you participated in?
I would like to tell you how I started exhibiting art in Houston. The YMCA (The Young Men's Christian Association), which I worked for after moving to the U.S., had an annual campaign to help the community. We decided to organize an exhibition of local artists and showcase not only the art but also the diverse backgrounds of the community. It was a great success, we had artists from Iran, Iraq, Nigeria, and El Salvador. I also participated in the show and was very well received and sold some works. 
Sometime later, another YMCA group picked up the idea and invited me to participate in their exhibition, and I have exhibited every year since. Fifty percent of the proceeds always go to the association, which appeals to me. I love the idea of making a difference with my art
What kind of art attracts you?
I could name so many big names. But I would rather mention a few artists from the local community that I know personally and whose art I love. One of them is my former colleague, a refugee from Iraq Ammar. He makes phenomenal abstract art. Another one is an ovarian cancer survivor Nikou, who looks at the world with the eyes of Monet and takes you on an exciting impressionistic ride.
How do you balance your business work and art?
Right now I am a mother of two and do nothing business related. I have a five-year-old girl and a toddler who is 15 months old. But when I think about what I want to do in the future, I think both making and selling art would be the best. My business background would definitely help a lot with that.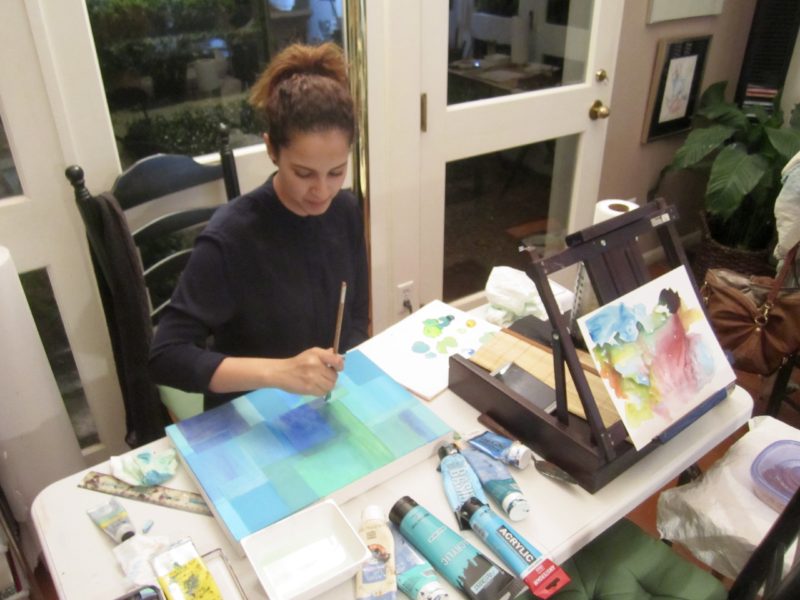 Photo courtesy of Tina Merkab