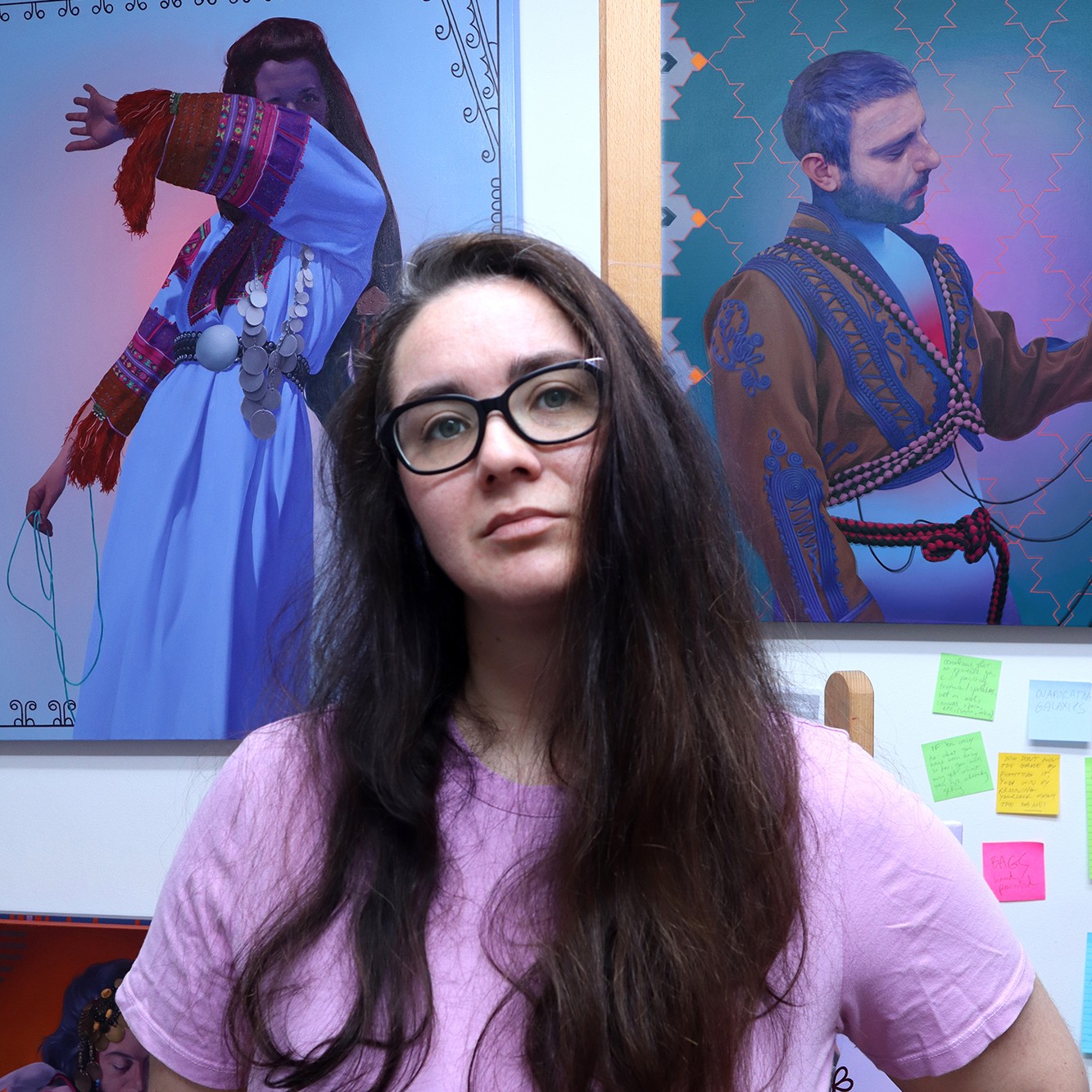 Simona Ruscheva is a Bulgarian artist living and working in the UK.  With a focus on traditional elements like embroidery and ceramics, Simona's work is a stunning blend of past and present and draws inspiration from mythology and folklore, among other things. She discussed with Fine Art Shippers her creative process, the influence of her Bulgarian origin on her work, and her experiences exhibiting internationally.
Artist Talk: Simona Ruscheva on Revisiting Bulgarian Heritage
You use traditional elements and objects from your Bulgarian heritage, such as embroideries and psychedelic ceramics, in your art. How do you decode these elements and incorporate them into your visual language?
Simona Ruscheva: When it comes to embroidery, I choose symbols or motifs from traditional costumes that fit my work's concept, which I then incorporate into the figure's background or other areas. Similarly, I also use traditional ceramic designs as backgrounds that resemble mandalas. I transform existing, significant designs by altering their settings and colors to create new interpretations and meanings.
You are Bulgarian, now living and working in the UK. How does this blend of cultures affect your artistic practice? How do you personally define your cultural identity in light of these experiences?
I used to create vastly different artwork from what I do now. My work gradually shifted towards incorporating Bulgarian culture, maybe because I have been living in the UK for eleven years. Living in a different country has made me feel nostalgic and has pushed me to connect with my roots in a new way.
Although I am not physically present in Bulgaria, I still identify as Bulgarian and try to maintain the same cultural practices and rituals that I have been doing since before I moved to the UK. These experiences heavily influence my artwork and are deeply ingrained in my thinking.
Since I received my training in Bulgaria, my artistic process has been strongly influenced by traditional Bulgarian painting and other cultural practices. It's impossible for me to detach myself from my experiences and training in Bulgaria, which are evident in my work. Someone with little knowledge of Bulgarian culture would probably recognize this influence in my art, but it may not be apparent to those unfamiliar with it.
Can you discuss your creative process: How do you work on your paintings? Where does the inspiration come from?
My inspiration comes from various sources. These may be visual triggers or mythology and traditions. I enjoy researching the meaning behind symbols and incorporating them into my pieces in unconventional ways. 
When I have an idea, I consider composition and explore different ways to make it work. I sometimes use my traditional clothing and jewelry collection for photo shoots. Or, I might create a digital sketch or collage using existing pictures. I prefer to work on multiple pieces simultaneously, as this gives me freedom and creative space.
How do you promote yourself? Are you represented by any galleries? 
I am not currently represented by any galleries, so I mainly promote my art through social media. However, I prefer communicating with people through my mailing list, which I find more personal than other platforms like Instagram or Facebook. I enjoy marketing my art, even though some artists prefer to focus solely on creating. For me, marketing is an essential part of the process, and I have learned to enjoy it over time. To succeed as an artist, you must embrace every aspect of the creative process, including promotion and marketing.
We are living in exciting times because you can connect with everyone: galleries, curators, collectors, or other artists. Thanks to social media platforms, we artists can speak to anyone and everyone. Before social media, this level of access and connectivity was unimaginable, not to say possible.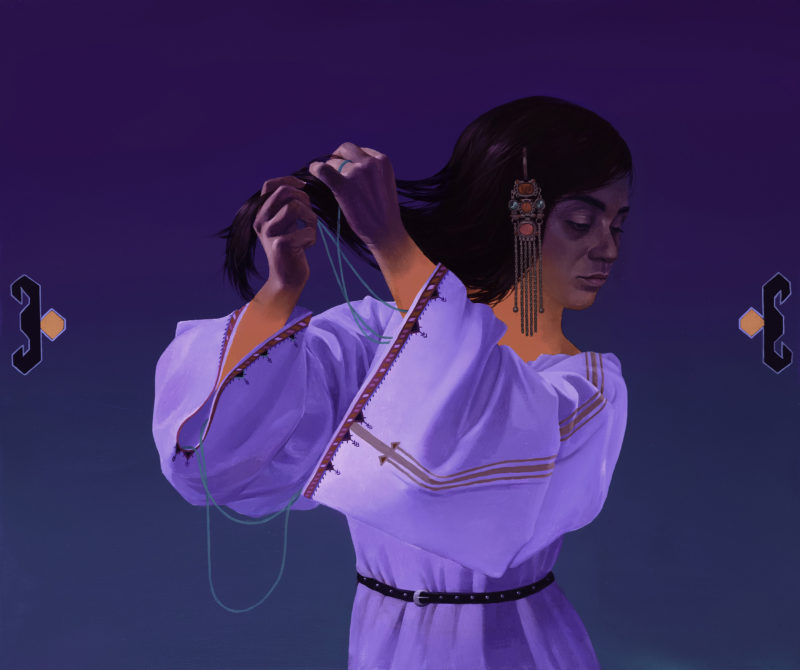 You had your first international solo show at Keep Contemporary Gallery in Santa Fe, USA, in 2021. How did it all come about, and what was your experience? 
I connected with the gallery through Instagram, and they showed interest in my art, which led to them inviting me to showcase my paintings. I accepted their offer, and it turned out to be a wonderful experience. The gallery has been very supportive of my art; we have developed a very positive relationship. They currently have some of my newer works as well.
Your artwork is included in the global art collection of Standard Chartered Bank. How and why were your pieces selected?
I participated in a group show with Galerie OVO in Taiwan, and they introduced my art to the curators of the Standard Chartered Bank global art collection.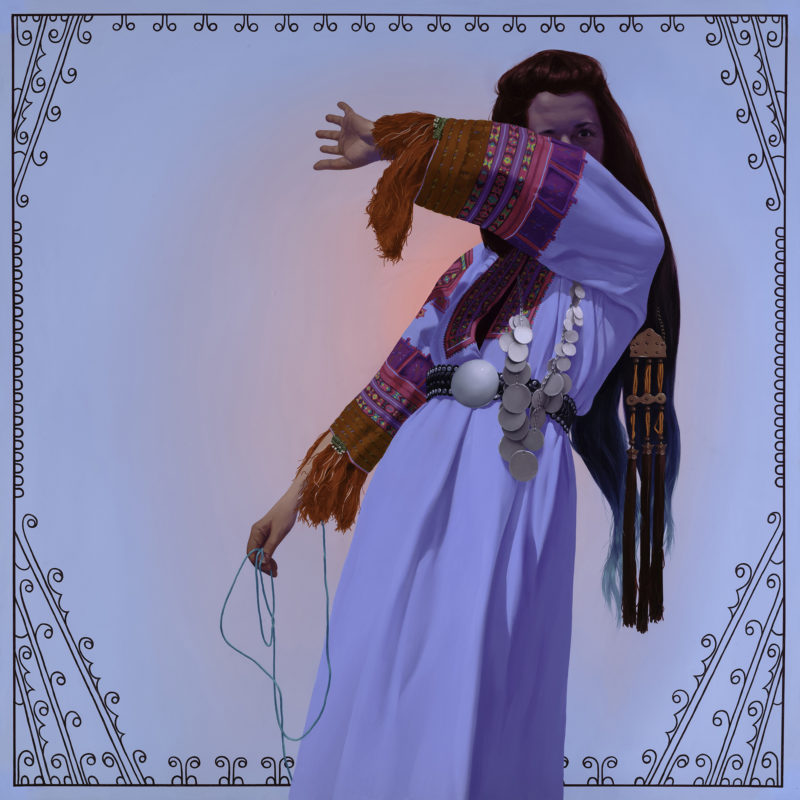 How do you see your work evolving in the future? What themes or mediums would you like to explore more? 
My work constantly evolves, but the overall focus is still the same and relates to Bulgarian culture and heritage. I would like to incorporate more textures and start working on paper again, using different mediums: pencils, watercolors, or pastels. I haven't decided yet, but I want to try different options and see what inspires me. This experimentation will hopefully lead to new ideas and new series.
Finally, can you share some plans for your upcoming projects or exhibitions?
There is a couple of group shows that I am looking forward to, possibly towards the end of the year, but I cannot disclose any information yet. I always encourage people to sign up for my mailing list to be the first to know about my upcoming shows. Once the time is right, I will share more details. These group shows are very promising, and I am excited about them.
Interview by Inna Logunova
Photo courtesy of Simona Ruscheva