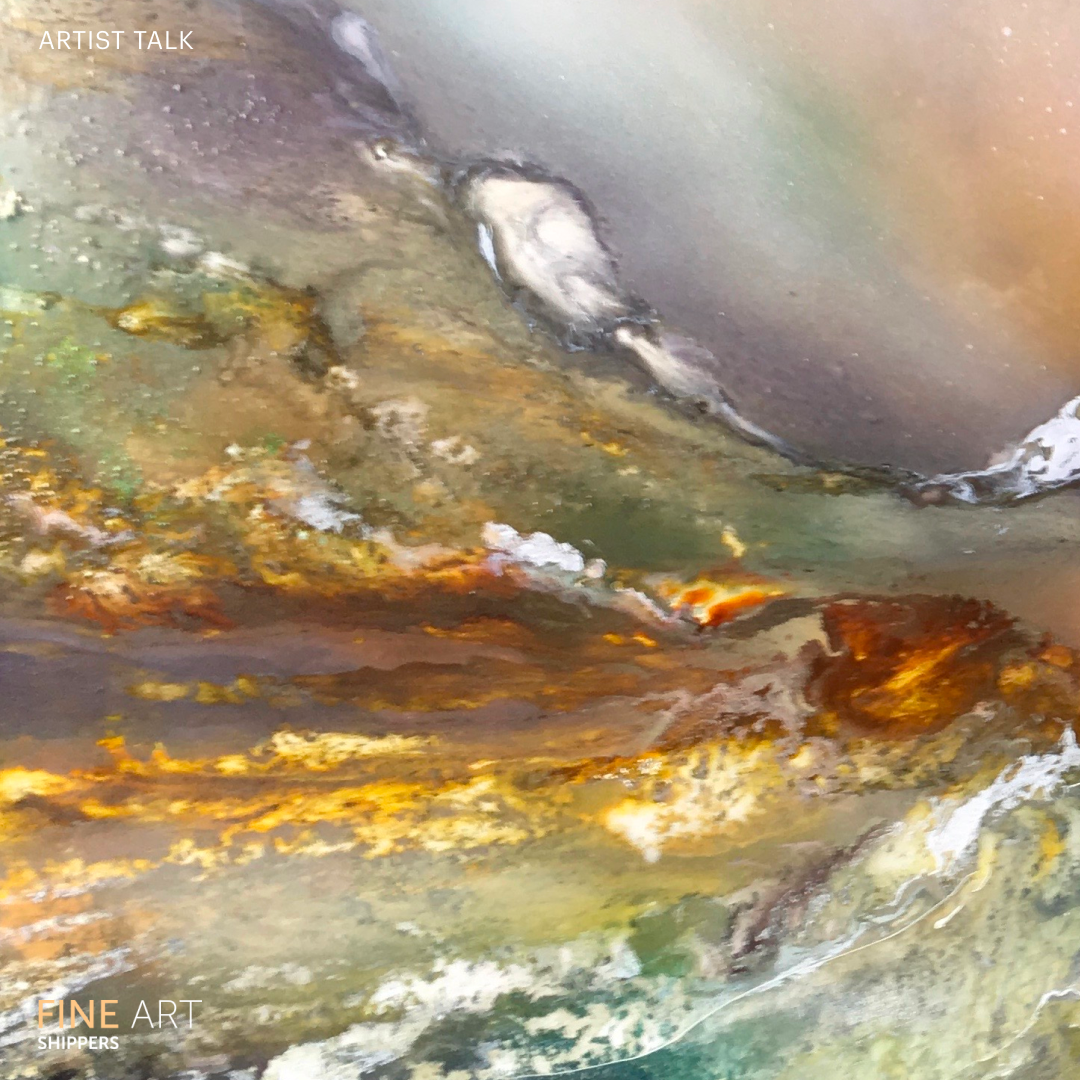 Shane McCoubrey is a British artist whose abstract paintings and landscapes stem from his lifelong fascination with nature and the wonders concealed beneath the Earth's surface. He shared with Fine Art Shippers his childhood memories, his experiences working in fashion, and his methods for restoring antique furniture.
Artist Talk: Shane McCoubrey on the Geology of Painting
I know you grew up close to nature. How did your childhood experiences shape your artistic preferences?
Shane McCoubrey: When I was a child, I often found myself alone; there were no friends to come home to after school. In that solitude, I crafted my own world. I was always deeply connected to the nature around me — water and land, the approaching storms, and the ever-changing weather. I was particularly drawn to the stones. Nearby, there was a chalk mine. Every morning at 6 a.m., a siren would sound to warn of the impending blast. This routine got me thinking about minerals and their purpose. I was outside almost all the time, a habit that persists to this day. I can't paint indoors.
Before turning to fine art, you worked in fashion for a number of years. Please tell us about that part of your career.
From a young age, I had a passion for drawing and painting. Around the age of 10, I knew I wanted to work in design and fashion. No one influenced this decision, it was my deep desire. When I first saw Vogue, I was certain I'd not only work in that industry but also rise to the top, even though I was hopeless at drawing figures at the time. But I was determined to master the necessary skills. I went to the Royal College to study Fashion and Textiles. As a student, I had a part-time job at Harrods and Harvey Nichols, where I designed all the front windows.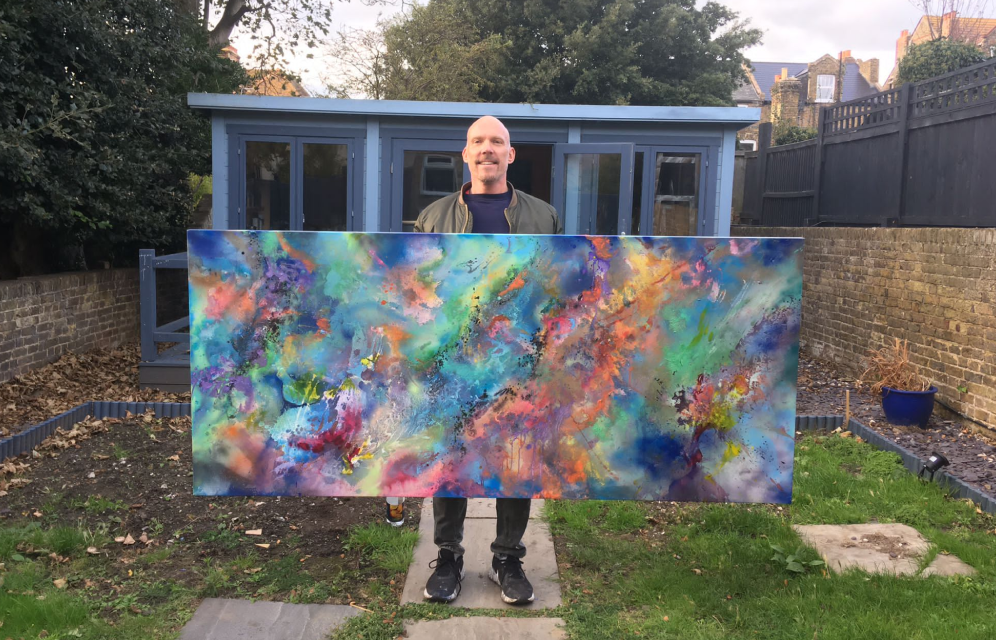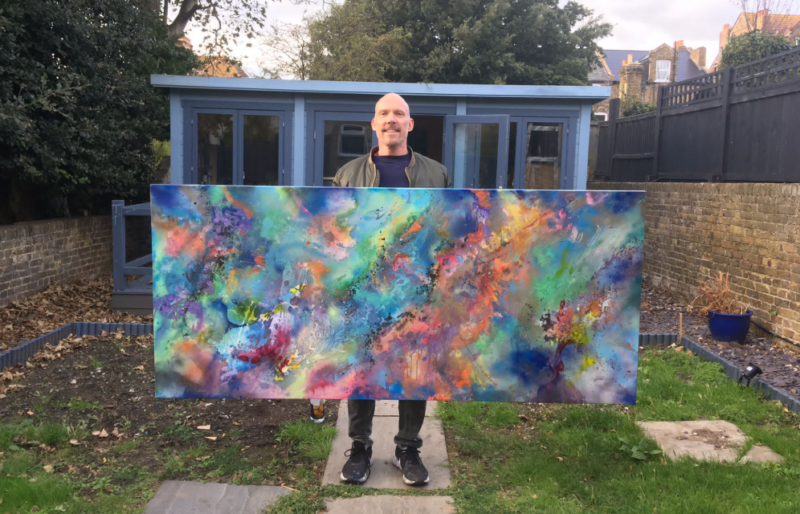 After graduation in 1993, the new owner of Harvey Nichols, Dickson Poon, employed me to go to Hong Kong to create a collection of HN Private Label stores in Hong Kong and China. So I jumped straight into the luxury industry. I later worked for big names like Tom Ford at Gucci, Samsonite and Ferrari in Italy, and LVMH Group in San Fransisco designing men's clothing, leather accessories, and Home Collections of luxurious pieces for VIPs and our worldwide stores. These jobs were great in terms of experience and money, but due to high pressure, I burned out in fifteen years.
In 1994, when I was with the Louis Vuitton Group in San Francisco, I started painting and even selling some of my works. I often visited The San Francisco Museum of Modern Art and was significantly influenced by the artist Clyfford Still and his modernist take on landscapes, especially the Grand Canyon. It inspired me to create my own mixed-media paintings, where I blended landscapes of Ireland with abstractions.
When and how did you actually quit the fashion world and dedicate yourself to art?
After leaving a high-profile position at Gucci in 2002, I found myself working at the Tate Modern's bookshop. Later, I moved to Margate in Kent and began renovating my new home. I reached out to the Channel 4 reality show "Location, Location, Location", which led to them featuring me and documenting the renovation process. Remarkably, after seeing me on the show, Wyecliffe Galleries took an interest in the art from my London flat and approached me with an offer to be my global agent. They represented me for fifteen years.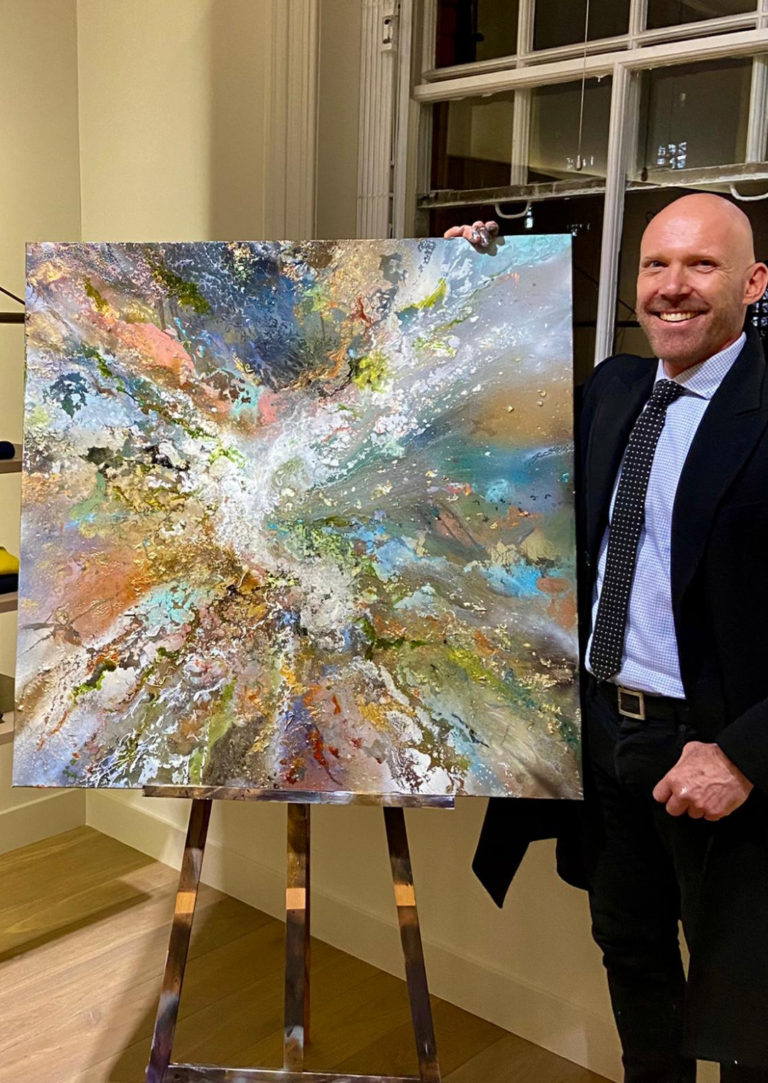 This is an amazing story! Can you tell me more about your technique and the materials you use?
I draw inspiration from the natural world around me, using materials directly from the land: mineral pigments, sand, as well as chalk from my local beach—I'm fortunate enough to live by the coast. I often layer my paintings with plaster to give them texture, allowing viewers to feel the landscape's contours. Having spent time in Asia, I understand the appeal of shiny elements and love to incorporate gold, platinum, and crushed quartz. At the end of the day, all this goes back to my childhood fascination with geology, with what is hidden beneath the earth's surface. At the same time, I use recycled materials, especially resin, which makes the texture more pronounced and tactile.
Alongside painting, you also restore vintage furniture and do upholstery. Can you tell us more about this side of your work?
In England, especially in Margate where I live, there's plenty of neglected old furniture. When I first moved here, the town was in decline, but I was drawn to its melancholic charm. I often find amazing old chairs discarded or cheaply sold, but I can see their beauty, they just need a slight renovation. So I travel to France, where I buy luxury fabrics, which are quite reasonably priced. I then reupholster the chairs with the fabrics I've discovered, giving them both comfort and a modern touch.
This approach is especially relevant today. With the mountains of waste we humans produce, the Earth is struggling to breathe and function properly.
That's true. That's why I'm so fascinated with minerals—to me, they are the embodiments of the times when the Earth was pure and untouched by humans. This message is always present in my art, and I can see that it does resonate with people.
Interview by Inna Logunova
Photo courtesy of Shane McCoubrey
https://shanemccoubreyart.co.uk/