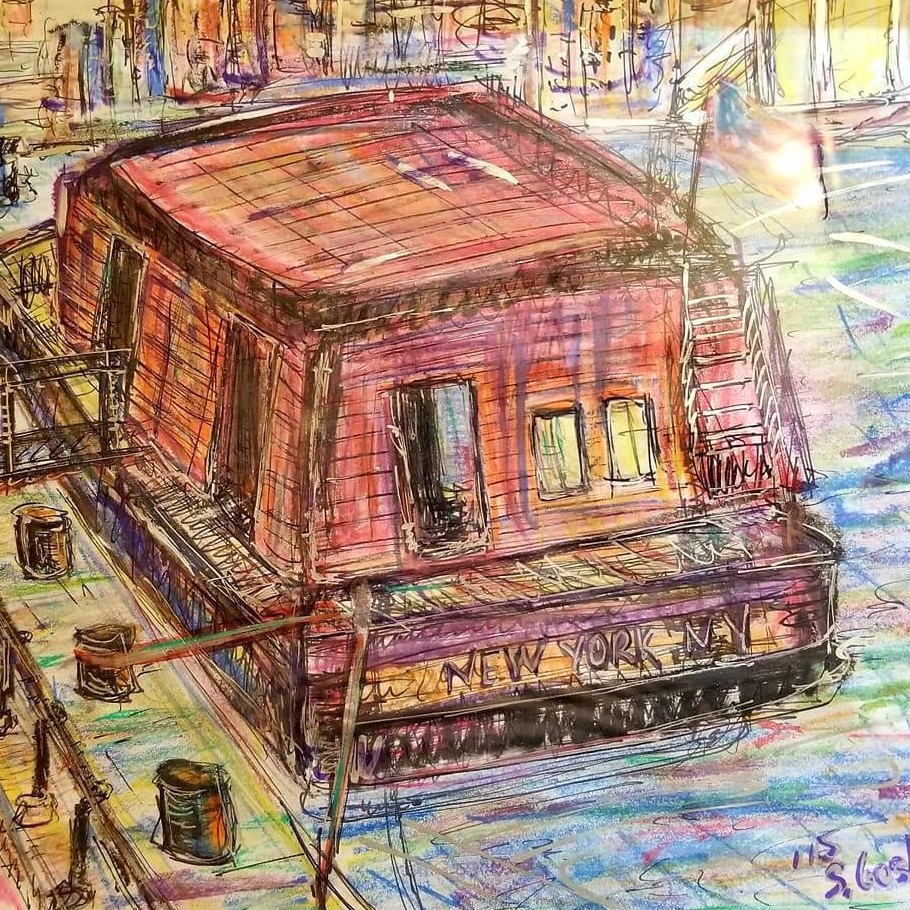 Is one born an artist, or does one become an artist? Ukrainian-born, New York-based Gosha Shif proves that artistry is a person's innate quality. Art is a longing of the soul that you can't ignore. He shared with Fine Art Shippers a story full of exciting twists and turns, immigration experience, and his love of colors.
Artist Talk: Gosha Shif on Being a Professional Immigrant
You initially pursued a different profession and later transitioned into the field of art from another career. I'm curious about how did this transition happen and what motivated you to make the change?
Gosha Shif: Though I was not particularly interested in painting during my youth, I always enjoyed visiting museums and exhibitions. Odessa, where I grew up, was a wonderful breeding ground for this. I also studied and practiced photography for many years. As for how I started in art, it's an interesting story that began around the age of eighteen when I suffered a head injury while helping my sister and her husband repair a garage. Everyone laughs at this, but I genuinely believe that after this incident, around the age of eighteen, I started painting.
After finishing high school, I attended the Odessa Maritime School, majoring in mechanical engineering. However, upon graduation, I only spent about six months working as an engineer before immigrating from Odessa to Israel, where I lived for ten years.
In Israel, I obtained an education in graphic design and then worked in the field for almost five years, creating advertisements and designing covers. Back then, I still didn't consider myself an artist. However, when I shared my work with some people, they loved it. So I thought, why not? Perhaps I can have my own audience who finds what I do interesting.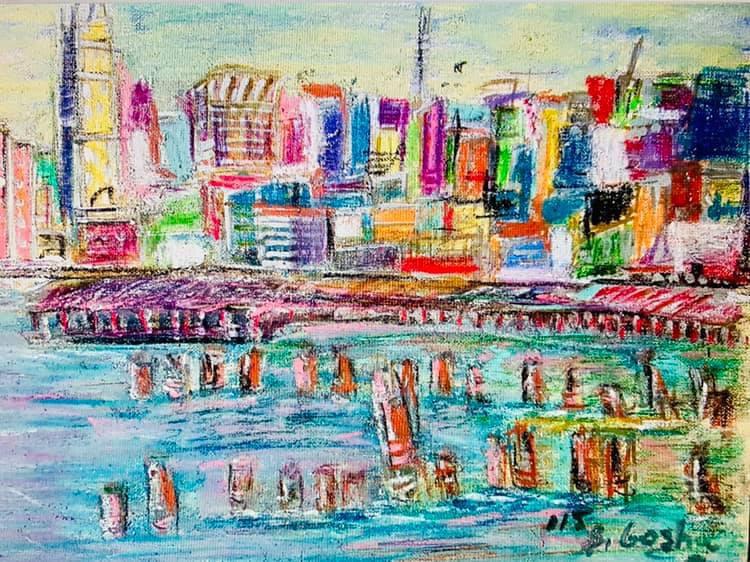 You've also worked as a photographer, what kind of photography do you prefer?
I resonate most with documentary photography. It's what truly interests me; it captures life in its raw form. Of course, I can do staged photo shoots, and it's a way to make money, but I'm not a fan of it.
You have a vibrant palette filled with bright colors. Where does this love for color come from?
I have a deep admiration for several artists, particularly Van Gogh and Monet; their use of color captivates me. Though I've never formally studied painting, I have an innate sense of colors and their interplay on a canvas. I may disregard conventional aspects like proportions, but I paint what and how I feel; this is what ends up on the canvas. I prefer oil and watercolor and rarely create graphic art. Life can often be gray and bleak; colors make it brighter. I want people to see and perceive the vital energy in my paintings.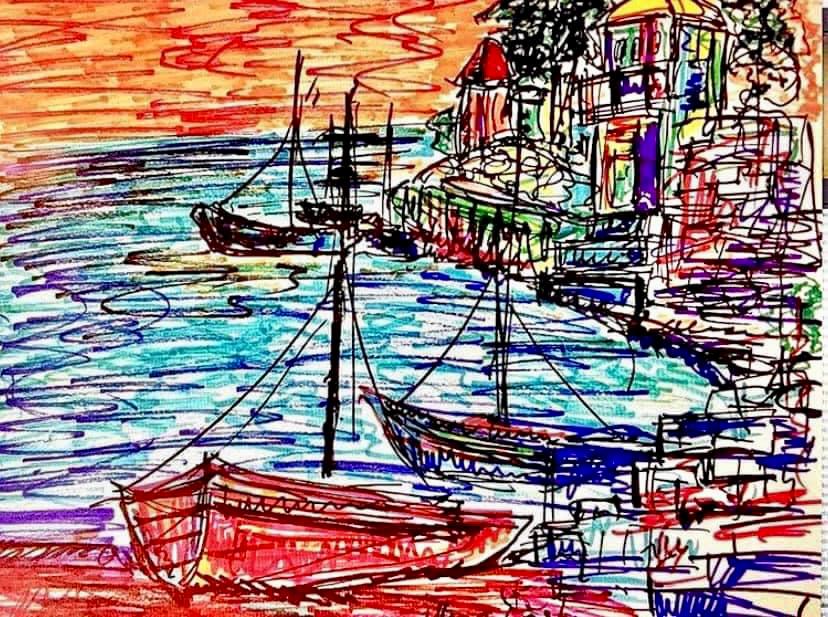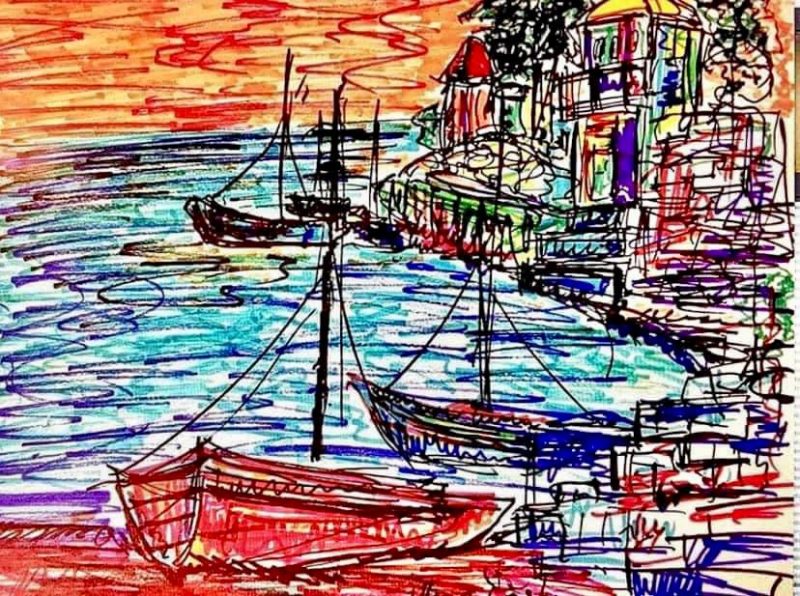 I've noticed urban sketches are a recurrent theme for you. Is this also related to your fascination with impressionism and postimpressionism?
As I mentioned earlier, I was born and raised in Odessa, a city with beautiful architecture. However, it's not just Odessa that inspires me; Kyiv, a city I deeply love, has also left a lasting impression. Both cities boast stunning architecture, and the same can be said for Leningrad, now St. Petersburg, where my second cousin lived.
Architecture intrigues me on a profound level, and it's hard to pinpoint a single reason why. Perhaps it's because it feels alive, especially when there are people within the scene. This combination adds a sense of movement and vitality to the structures. My paintings are always dynamic; they are rarely static. I strive to capture a moment such as when a window opens, the wind blows, or a flower gracefully takes flight. This is the essence I aim to convey in my art: the feeling of a moment frozen in time.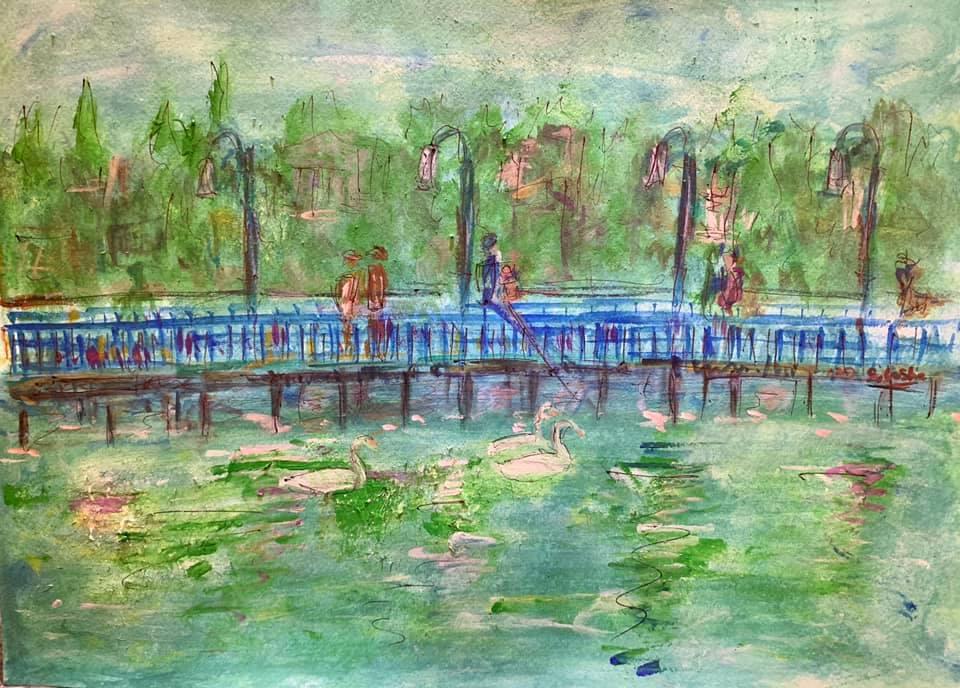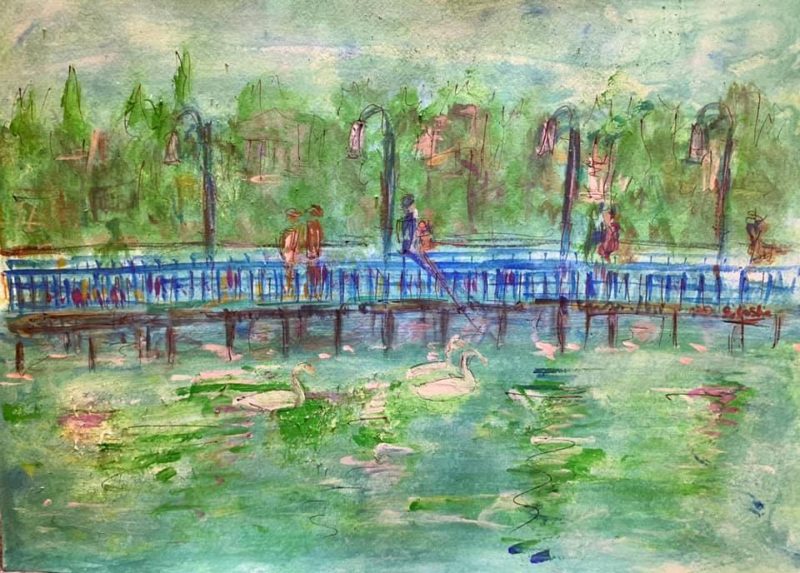 What is your creative process? Do you paint every day?
I'm not someone who has a plan for the day or for the month. I paint when I feel inspired and have the desire. How long the work takes varies; paintings come in different sizes. They can be on a small sheet, for example, or on a large, even massive, canvas. Whatever the work is, I'm most productive when I feel really good.
How would you characterize your perception of the world and yourself?
I remember, on my 35th anniversary, they were going to write an article about me. They asked, 'How would you like the article to be titled?' So I suggested, "Professional Emigrant Gosha Schiff." Why "professional"? Well, I believe my immigrant experience–ten years in Israel and twenty-two in America–has had a profound impact on me. Indeed, that's who I am.
Interview by Inna Logunova 
Photo courtesy of Gosha Shif