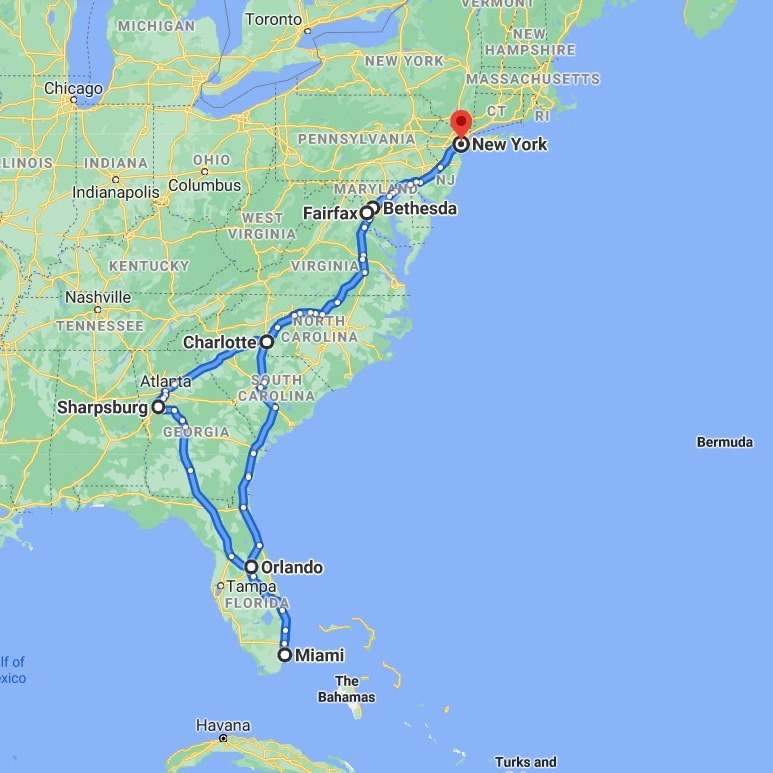 We are going to Florida next week! So if you have some valuable art to ship to Miami or any other location on our route to the Sunshine State and back to New York, here is your chance to do it in the safest and most cost-effective way possible. The art shuttle NYC – Charlotte – Miami is scheduled for August 31, meaning that you can still contact our team to book a pick-up or delivery. Now let's take a closer look at the upcoming shuttle route.
Art Shuttle NYC – Charlotte – Miami
As always, we will start our journey in New York City, the headquarters of Fine Art Shippers. Once all of the items are picked up and ready for the interstate move, our art shuttle NYC – Charlotte – Miami will leave New York heading to Florida.
The first stop will be made in Fairfax, VA, but we will also be able to visit Washington, DC, if needed. From Virginia, the shuttle will head to North Carolina where we will deliver fine art to Charlotte.
On September 3, our team will already be in Florida, driving across the state to pick up and deliver art items for our clients. We are planning to visit Orlando, Wellington, Wilton Manors, Miami, and Hollywood. Other stops are possible as well, but you should contact our team in advance.
From Florida, our team will go to Georgia where we will have a stop in Sharpsburg. We will also be able to visit Atlanta if required. Finally, on the way back to New York, our art shuttle NYC – Charlotte – Miami will make a stop in Bethesda, MD. Art pick-up and delivery can also be made in Washington, DC.
If you want to join our upcoming East Coast art shuttle, be sure to contact Fine Art Shippers as soon as possible. You can also request a shipping quote online. It is free and only takes a moment!