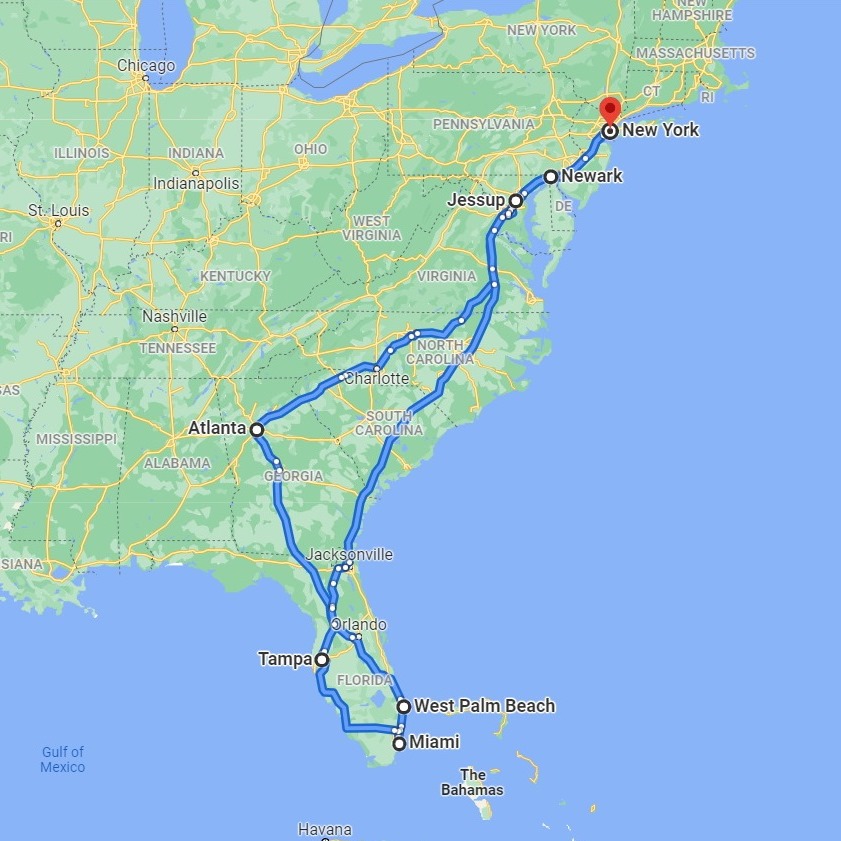 Fine Art Shippers is delighted to invite you to join our art shuttle NYC – Atlanta – Miami – NYC on January 14. It will be our first art shuttle in 2022! We are going to ship fine art, antiques, and other valuables to Florida. Our team will have several stops along the route, so if you have any questions, feel free to contact our managers via email or phone. Below you will find more details about the upcoming shuttle.
Art Shuttle NYC – Atlanta – Miami – NYC Is Scheduled for January 14
The art shuttle will begin from New York City, where we can pack and pick up your art to deliver it further along the route. Our first stop will be not far from the Big Apple – in the city of Newark, Delaware. Then, our truck will go to Jessup in Maryland. After the work is done, the art shuttle will move to Georgia. There, our art handlers will visit Decatur and Atlanta. On January 16, Fine Art Shippers is planning to leave Georgia and go straight ahead to Florida.
In the Sunshine State, you can expect us to stop in West Palm Beach, Boynton Beach, Bal Harbour, Miami, and Doral. On leaving Florida, we will also make our way to Tampa, a city on Tampa Bay, along Florida's Gulf Coast. If you want to join our art shuttle, please note that dates are subject to change. Moreover, in case you need us to stop in any other city or town along the route, be sure to contact us beforehand.
There are only a few days left before we leave New York City, so there is still time to become part of our art shuttle NYC – Atlanta – Miami – NYC. Whether you want to ship framed art and photography, sculptures, or furniture, we will be glad and ready to assist you. Consider requesting a free shipping quote online or contacting us directly.