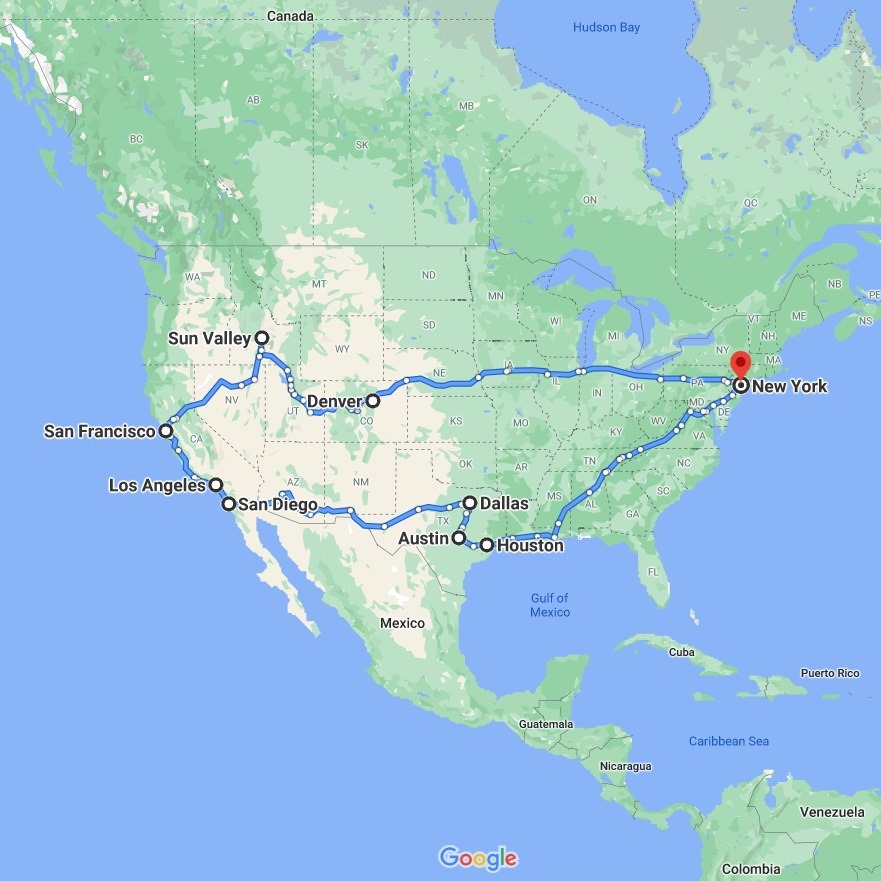 Our next cross-country art shuttle New York – California – Texas – New York is just around the corner, so be sure to book an art pick-up until it is too late! On August 17, our shuttle will leave New York City and set off on a multi-city trip across the United States, delivering fine art to galleries, collectors, artists, and art institutions. We will visit the major cities in Colorado, California, Texas, and other states and then return to New York. Now, let's look at the route in more detail.
Art Shuttle New York – California – Texas
Our art shuttle New York – California – Texas will first visit the great state of Colorado where we will have stops in Denver, Boulder, and Aspen. From Colorado, the shuttle will go to California through Idaho where we will visit Sun Valley, a beautiful resort city in Blaine County.
In California, our team will stay for several days so that we will have enough time to pick up and deliver art across all the major cities. San Francisco, Santa Barbara, Los Angeles, and San Diego, are just some of the destinations on our route. Once the job in California is done, the shuttle will head to Phoenix in Arizona where we will have a short stop, and then straight to Texas.
For approximately two days, our art shuttle van will be driving across Texas, making stops in Dallas, Austin, Houston, and smaller cities to pick up and deliver art items. Artworks from Texas will then be shipped to New York, the headquarters of Fine Art Shippers, where our team will make deliveries all over the city.
If you are looking for a cost-effective and safe way to transport your art across the country, our art shuttle New York – California – Texas is right for you. Request a shipping quote online or call us at +19176585075 for more details.