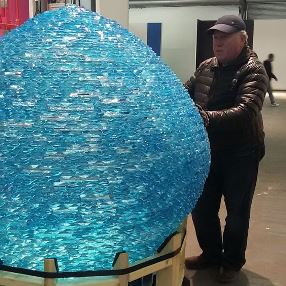 What is the first thing that comes to mind when you think about fine art? Paintings? Prints? Photographs? Yes, they all represent various types of fine art. However, fine art is also sculpture, design, conceptual art, and many other forms of human creativity. Besides, antique and designer furniture is also art that requires special care and handling. Thereby, when it comes to shipping fine art, it is not only about shipping a painting – it is also about shipping massive outdoor sculptures, marble statues, art installations, and various other oversized pieces. So how to ship fine art of this kind? You need specialized art shipping services for large items!
Shipping large and heavy items is a breeze when you have a trusted team of art shippers at hand, who can make the entire transportation process as smooth and hassle-free as possible. Luckily, Fine Art Shippers has been a leader in providing professional art shipping services for large items since 1995, making our company an ideal choice for those who need to ship oversized yet fragile and valuable pieces safely. For example, these may include:
Antique furniture
Grandfather clocks
China cabinets
Pianos and other musical instruments
Sculptures and statues
Art installations
Glass display cases
At Fine Art Shippers, we provide a whole range of art shipping services for large items, no matter their size, weight, and shape. Moreover, this applies not only to local and national transportation but also to shipping art overseas. Our experienced staff can handle literally any shipment, ensuring that every single piece is delivered to the destination in perfect condition.
Besides, our specialized art shipping services for large items are not limited to the transportation process only. At Fine Art Shippers, we also offer in-house art packing and crating services, art storage, and art installation services to meet all our clients' needs. Plus, we can help set up an exhibition of any kind, which allows us to work with galleries and auction houses throughout the United States.
One more important thing that makes Fine Art Shippers stand out from many other art moving companies is that we can also ship a whole range of large and heavy items that are not related to fine art, including different types of vehicles, heavy equipment, appliances, and electronics. Just give us a call, and we will offer the most reliable and cost-effective solution to any shipping problem!