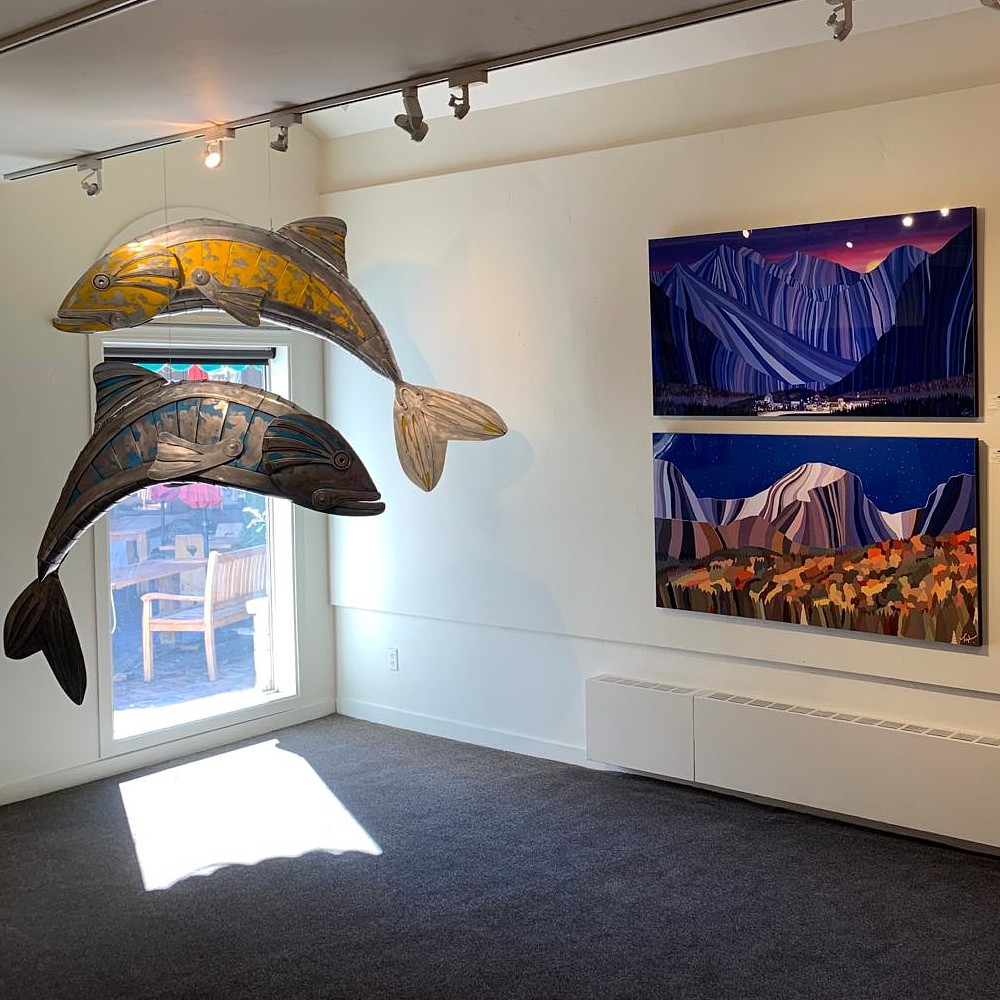 Marc LeVarn is co-owner of the Vail International Gallery. It offers museum-quality art by twentieth-century masters and contemporary artists from the United States and Western and Eastern Europe.
Fine Art Shippers spoke with Marc LeVarn about the gallery business, the artists he works with, and the Colorado art public.
You founded the Vail International Gallery in 2005. What motivated you to open an art gallery? What was your background at the time? 
Marc LeVarn: I moved to Vail, Colorado in 1990, right after college. After graduating from Columbia, I spent a year as a classic American ski bum. I loved the mountains and the environment of a small ski town. Later, when I went to graduate school, I missed Vail a lot.
But I moved back pretty soon and started working at an art gallery in Vail, where I eventually became director. I worked there for about ten years with my brother-in-law Patrick. The gallery had to close because of the redevelopment of the building. That was the turning point when we decided to open our own gallery, which we did in 2005.
What was the original focus of your gallery and how has it evolved over time?
We were working with a range of artists from the United States and around the world, mainly from Europe. That was a reason why we named the gallery Vail International. We also wanted to create a hub where people could see art by Colorado artists and take it anywhere, whether they lived in the U.S. or outside.
Early on, we put an emphasis on art from the former Soviet Union, specifically former members of the Artists Union like Nikolai Timkov, Boris Chetkov, Fedor Zakharov, Andrei Mylnikov, and many others. We were among the first gallerists in the United States who were working with Russian Impressionism.
Why did you decide to work with Russian art? 
Because the paintings were of extremely high quality. We loved this art, and our clients responded to the work. So it was a very natural fit. Today we continue to work with this underrated art.
How do you discover new works and artists? Do you attend art fairs to sell art? 
We've participated in several art fairs, including Intersect Aspen and SCOPE Art Show. We've taken a break since Covid, but we'll continue in the future. Art fairs expose you to a range of different types of art, which is very enriching. Through art fairs, for example, we started working with street art. We have works by famous street artists like Cleon Peterson and Paul Insect. That's a new and exciting field for us because it opens up the Vail International Gallery to younger collectors.
In a recent interview, you mentioned that your sales increased during Covid. How would you explain that? 
We are fortunate to be located in a resort area. When some Covid restrictions were eased, people began traveling again, willing to leave the urban areas. Many were drawn to places like Vail. I think the summer of 2021 was one of the busiest summers our resort has ever seen. More people were coming to the gallery and eventually buying art.
What's the most exciting thing in the life of a gallerist? What do you love most?
I love watching an artist grow and seeing how the audience responds as he or she gets going. It's very rewarding and exciting. We're now working with two Colorado artists. Sarah Winkler is a contemporary landscape painter originally from the UK. She works in acrylics and explores ideas related to geology and the depths of time in her work. She finds collectors all over the world.  Last summer, her art was exhibited in the New York City subway. Another artist is Topher Straus. He creates virtual paintings and then prints them on aluminum using dye sublimation. His works are extremely popular.
What kind of public do you have in Colorado? 
When I first moved to the state, it had a reputation as an oil and gas town. But now Colorado is a tech hub and incredibly diverse. So we have all kinds of people who are very knowledgeable and have lived all over the world. Some collectors are more conservative in their tastes, while others lean toward contemporary art, so there's room for different galleries.
What has been your art shipping experience? What do you look for when choosing a shipper? 
I pay attention to two things. First, it's professionalism and safety, so when the collector receives it, he knows the artwork was sent with care and consideration. Second,  it's the timeframe, so the collector doesn't have to wait for too long. Art shipping is very important to the gallery business. It makes up a large part of our work and is the final piece of the puzzle, so to speak, for a successful and satisfied collector.
Photo courtesy of the Vail International Gallery