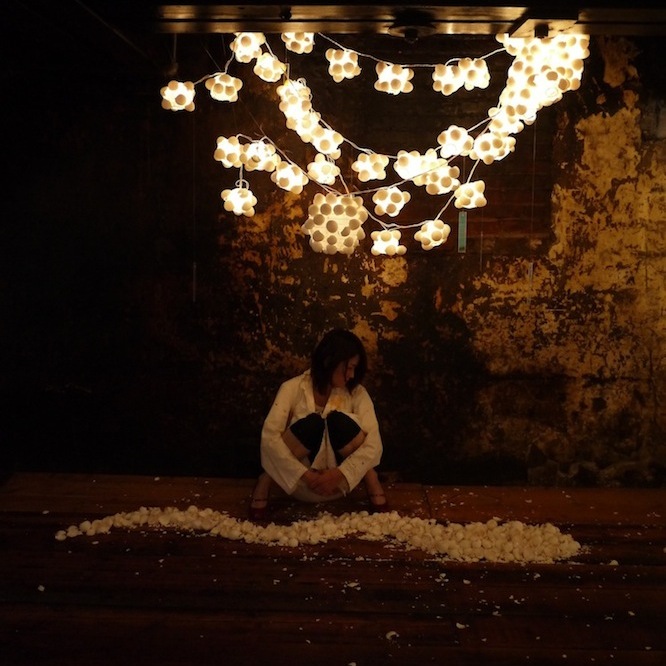 Brooklyn is perhaps the most dynamic and rapidly expanding NYC borough for emerging artists and art. Working in Brooklyn is a pleasure for Fine Art Shippers, and we are delighted to serve and be in contact with so many talented artists based in "the creative capital of the art world." Not so long ago, we were lucky to meet another great talent from Brooklyn – the amazing artist Sophia Chizuco whose abstract and installation art definitely deserves more attention and recognition.
Abstract & Installation Art by Sophia Chizuco
Sophia Chizuco is a Japanese-born multidisciplinary artist living and working in Brooklyn. After receiving her Bachelor of Arts in Art and Education from Tokyo Gakugei University, Chizuco moved to New York where she earned a certificate in painting for her studies at the Art Students League of New York, a prestigious independent art school that has long been shaping America's legacy in the fine arts.
Sophia Chizuco's specialization is abstract paintings, but the artist is also developing her career in performance, mural, sculpture, and installation art. She has been exhibited at Raddison Blu Cebu in Cebu City (Philippines), Tokyo Metropolitan Art Museum in Tokyo (Japan), and also in many venues in New York, such as the Staten Island Museum and the Chelsea Museum. Besides, works by Sophia Chizuco are in many private and public collections worldwide, including the permanent collections of the Osaka Medical Center and Shoko-ji Temple.
Sophia Chizuco is indeed a very talented artist with a great art style. Here are several of her amazing works for you to enjoy.