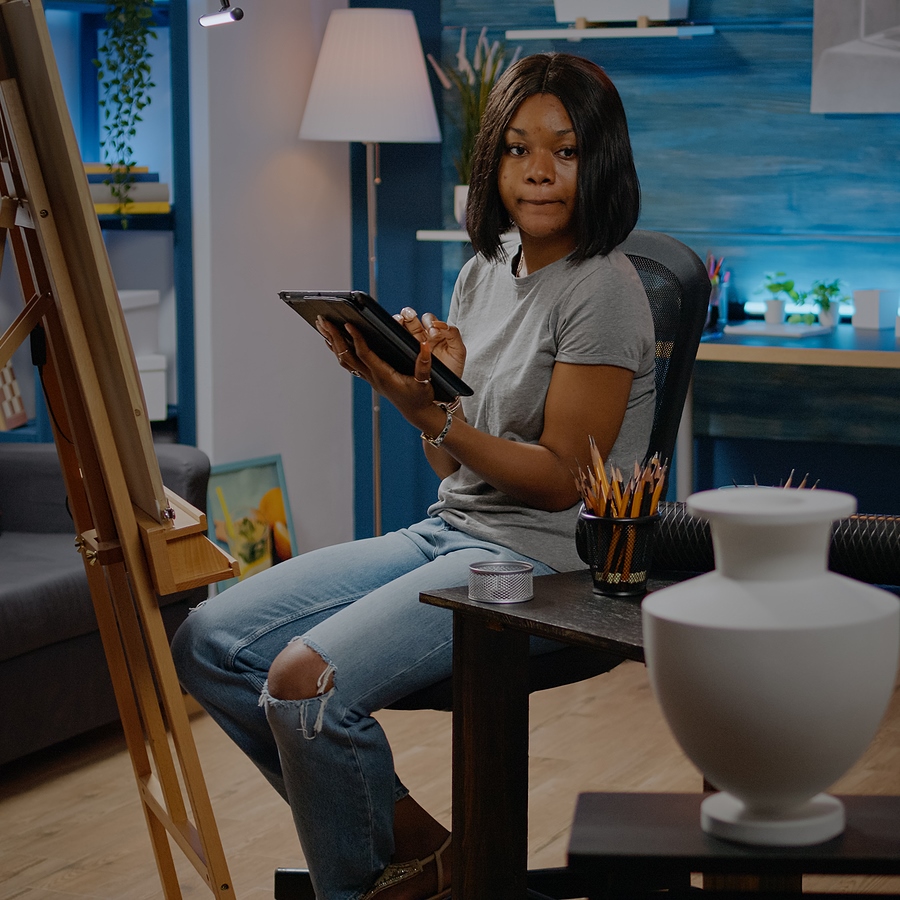 The financial struggles that artists may encounter in pursuit of their passion are quite demotivating. As a society, we should recognize and appreciate the value artists bring to our lives and work toward creating more opportunities and support for their careers.
As an artist, you have a unique gift to create something beautiful that resonates with others. But creating art is just the start. You must approach your art with an entrepreneurial mindset and use various monetization strategies to turn your art into a profitable business.
Whether you are a painter, photographer, sculptor, or any other artist, this article will help you take the first steps toward building a successful art business. So, let's dive in and explore five ways to turn your artistic passion into a profitable income stream.
1. Sell Prints of Your Artwork
This is one of the most popular ways to monetize your art and reach a wider audience. One of the top ways to turn your artistic passion into a profitable income stream is by selling prints of your artwork.
By offering prints, you can reach a wider audience and sell your art at a lower price point, which makes it more accessible to people with different budgets.
To start selling prints, you need to scan or photograph your artwork and then use a printing service to create high-quality prints. You can sell your prints on your website, social media, or online marketplaces like Etsy, Redbubble, or Society6.
You can also offer limited edition prints or signed prints to increase their value and appeal to collectors. And, of course, you must ensure that your prints are delivered to your customers safely and on time.
This is where shipping your artworks becomes crucial. Working with a professional art shipping company like Fine Art Shippers can ensure that your prints are properly packed and shipped to your customers.
2. Create Merchandise with Your Artwork
Merchandise is a great way to showcase your talent and connect with your fans and customers. You can design and sell products such as t-shirts, phone cases, tote bags, mugs, or stickers featuring your art.
Here are the steps to create merchandise with your artwork.
1. Choose your products: Browse hundreds of products on Printify or Canva and pick the ones that suit your style and niche. You can choose from clothing, accessories, home decor, stationery, and more.
2. Upload your artwork: Use the mockup generator on Printify or Canva to upload your artwork and see how it looks on different products. You can adjust your design's size, position, color, and orientation until you're happy with it.
3. Order samples: Before selling your merchandise online, ordering some samples for yourself is a good idea. This way, you can check the quality of the print and the product before offering it to your customers.
4. Add products to your store: Once satisfied with your samples, you can add them to your online store using Printify or Canva's integration features. You can connect with popular platforms like Shopify, Etsy, WooCommerce, and eBay.
5. Sell merchandise online (or offline): Now that you have created excellent merchandise with your artwork, it's time to start selling!
Promote your products on social media, blogs, podcasts, newsletters, or any other channels that reach your target audience. By creating merchandise, you can leverage the power of e-commerce and reach a broader audience.
3. Offer Art Commissions
Art commissions are another lucrative way to monetize your artistic skills. By offering custom-made artworks, you can create personalized pieces that meet the specific needs and preferences of your clients.
Here are some tips to help you succeed.
1. Build a portfolio of your best work
You need to show potential clients what you can do and what kind of art you specialize in. You can create a website, an Instagram account, or an online marketplace where you can display your portfolio and advertise your services.
2. Set fair prices for your work
You need to charge enough to cover your time, materials, shipping costs, and any extras that might come up. You also need to respect yourself and your fellow artists by not undervaluing your work. You can calculate your prices based on the size, complexity, and medium of the artworks, as well as the industry standards.
3. Communicate clearly with your clients
You need to understand what they want and expect from you before you accept a commission. Ask them questions about their preferences, budget, deadline, and feedback process. You also need to explain how you work, how you want to get paid, and what your terms and conditions are by a contract.
4. Share progress with your clients
You need to keep them updated on how the commission is going and ask for their input along the way. This will help you avoid misunderstandings and revisions later on.
5. Keep improving your skills
You need to keep learning new techniques, experimenting with new materials, and challenging yourself creatively. This will help you grow as an artist and offer more value to your clients.
Art commissions can be financially and artistically rewarding if you do them right.
4. Participate in Art Fairs and Exhibitions
Art fairs and exhibitions are excellent opportunities to showcase your art, network with other artists, and sell your artwork directly to potential buyers.
You can apply to participate in local, national, or international art fairs and exhibitions and rent a booth or space to display your artwork by paying a fee.
You can benefit from joining art fairs and exhibitions:
1. Showcasing your art to a large and diverse audience.
2. Networking with other artists and potential collaborators.
3. Selling your artwork without intermediaries or commissions.
4. Promoting your art business with marketing materials such as business cards, flyers, or brochures.
5. Teach Art Classes or Workshops
If you have excellent teaching skills and a passion for sharing your knowledge and skills with others, you can consider teaching art classes or workshops. Online art classes are a great way to reach more students, diversify your income, and work from anywhere.
Here are some tips to help you with art classes or workshops.
1. Choose a topic
You should choose a topic that you are confident and passionate about. You should also consider what your students want to learn and their skill level.
2. Plan your curriculum
You should plan each class as if you were teaching in person. You should have a clear objective for each class and break it down into smaller steps.
3. Set up your equipment
You will need a good camera (either a webcam or a smartphone), a microphone (either built-in or external), a stable Internet connection, good lighting gears and accessories like a tripod, a ring light, etc.
4. Promote your classes
You will need to market your classes to attract students. You can use digital marketing strategies such as creating a website, social media accounts, email lists, blog posts, etc.
5. Engage with your students
One of the challenges of teaching online is maintaining engagement with your students.
However, teaching online art classes can be rewarding and help you grow as an artist and teacher by exposing you to new ideas and perspectives.
Conclusion
Turning your artistic passion into a profitable income stream is possible with the right strategies and tools. You can monetize your art and build a successful art business by selling prints, creating merchandise, offering art commissions, participating in art fairs and exhibitions, and teaching art classes.
Building a successful art business takes time, effort, and persistence. It requires a combination of creativity, business savvy, and marketing skills. But with the tips and resources provided in this article, you can take the first steps toward turning your artistic passion into a profitable stream of income.
So go ahead and start monetizing your art today! With the right mindset and approach, you can achieve your goals and build a fulfilling career as an artist.