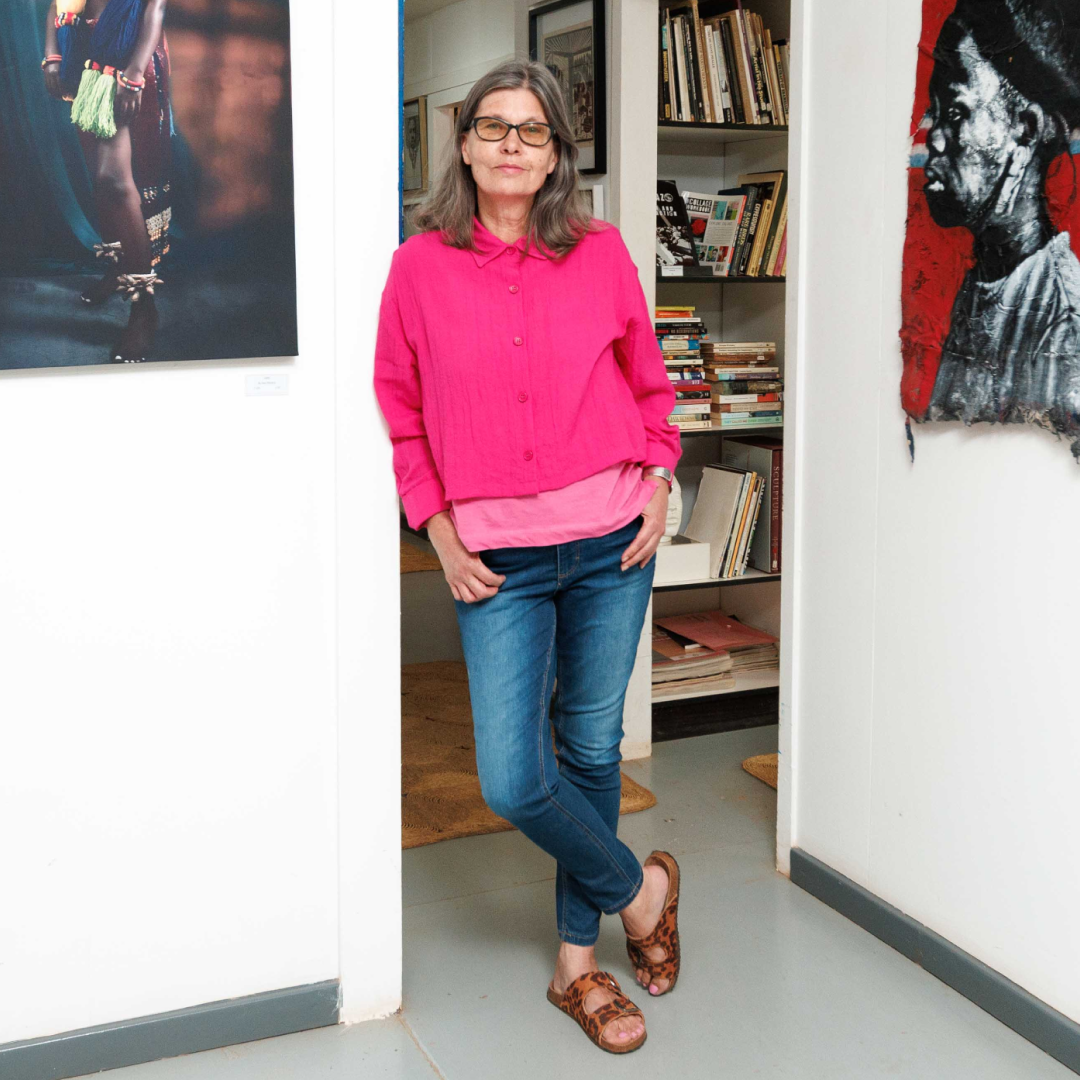 Born in Finland, artist and curator Aleta Armstrong journeyed extensively through Africa and Europe during her childhood with her family. She eventually made her home in Swaziland (now known as the Kingdom of Eswatini). Here, she delved into diverse creative ventures and has managed a contemporary art gallery for many years.
During an interview with Fine Art Shippers, Aleta discussed her versatile experiences, the art scene in Swaziland, and her involvement in community work.
Yebo Art Gallery: Supporting Eswatini Local Art Scene
You had such a rich and diverse upbringing, moving from Helsinki to Tanzania, Malta, Swaziland, Botswana, Finland, the UK, and Denmark. How have these varied cultural experiences influenced your curatorial and artistic vision and approach?
Aleta Armstrong: I think traveling gives you a broad worldview. When I was young, my father's UN job took us to various countries. This lifestyle had its pluses, like seeing the world, but also its minuses, such as constantly uprooting and leaving friends behind. Having grown up in Botswana, Tanzania, and Swaziland, I've always considered Southern Africa my home. Overall, my travels have had such a profound impact on me that I wish other artists could experience it too.
My journey in art and curating has been unconventional as I am self-taught. I briefly attended art college in Copenhagen but dropped out. I spent some time working regular jobs like cleaning and waitressing. Being self-taught has made me more empathetic towards artists who haven't had formal education. In the art world, having degrees is beneficial but not a prerequisite for success. What's more important are passion and talent. The past twelve years of curating and interacting with artists have been about continuous learning. I owe much of what I've learned not just to my experiences but also to my team and the amazing artists I work with.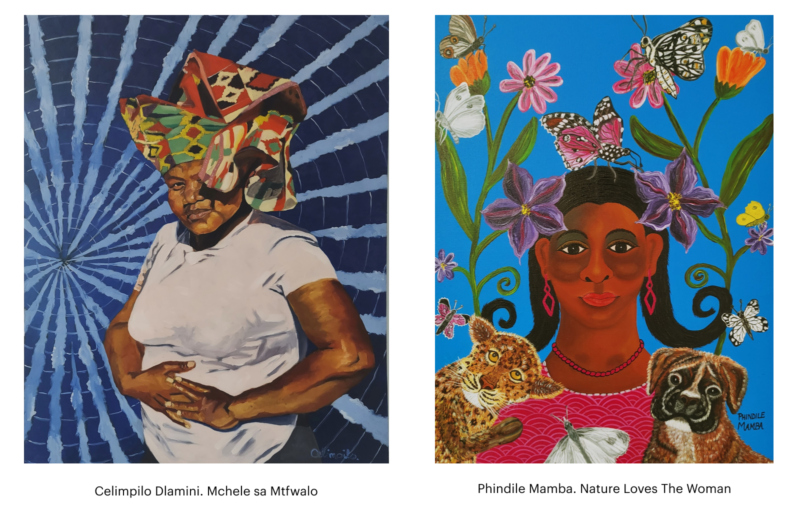 Where does your passion for art come from? Were you into art already as a child?
Yes, my passion for art started in childhood, inspired by my artist grandmother and mother and architect father. I always drew, even without plans for an art career, and my family always supported my creativity.
Can you tell us about how your artistic journey has developed?
In 1984, after settling in Swaziland with my husband, we launched several creative projects that eventually turned into a screen printing company for local companies. We also opened two shops focused on our own range of designs. I designed and Pete printed, together we were a great team. Taking care of two children, Dane and Gia, and running our businesses, there was not much time to also paint—that came later.
By 2010, the idea of opening an art gallery took root. We had wished for someone to open such a place, but when it didn't happen, we took the initiative, with our son as a partner. We wanted to make a friendly gallery where artists, like us, would like to show their work. Our doors are always open to new artists to visit and talk to us, and we are always here to support them in their careers. We began with our artist friends, and more people joined over time. To date, we have worked with over 100 artists. Interestingly, being around so much creativity gave me new ideas and the energy to paint and draw more. Opening the gallery was one of the best times for me as an artist.
Are the artists in Yebo Art Gallery local, or do you also feature individuals from other African countries?
Most of our artists are local, and my main goal is to promote them. Yet, we've featured artists from other countries as well, for example, Mozambique and South Africa, as seen in our current exhibition. Yebo Gallery has been featured in exhibitions like FNB Art Joburg, so we are happy to widen our horizons. But it is vital to assist emerging and professional artists based here in growing their careers so that Eswatini does not have all artists leaving for South Africa. A contemporary art scene is important to nurture in Eswatini. Next year, we wish to launch a new online art gallery so that we can best promote local artists and ship globally. The quality of work by local artists is of a very high standard and needs more international exposure.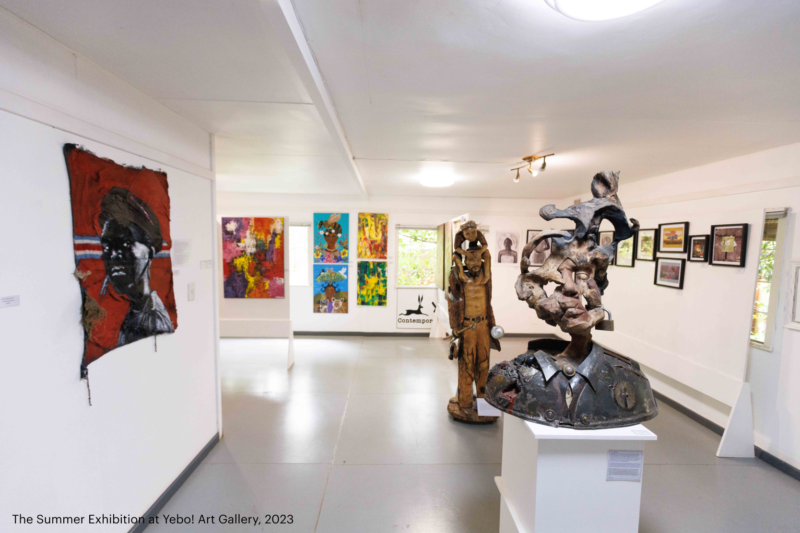 How would you characterize the art scene in Swaziland?
The local art scene is growing and changing a lot, especially in the last two years When we started, there wasn't as much variety in art. Now, with the growth of social media, many young people show more interest in art, trying to make their own. Here in Swaziland, artistic taste with the public, especially older people and the corporate sector, tends to be conservative, most people appreciate the realistic manner. However, there's experimentation as well. Although experimental art might not appeal to everyone, we are committed to supporting and showcasing it. We aim to be an independent hub for such artists.
What is your curatorial approach to exhibitions at Yebo Art Gallery? Do you have any guidelines or reference points?
Our exhibition criteria are quite flexible and ever-changing. I don't want the selection to be solely based on my preferences. For example, we host solo shows where artists curate their displays. In our open calls, anyone can submit their work. I also curate together with artists. Sometimes, newcomers might not meet typical gallery standards, but I prioritize potential over perfection. If I see something special or unique in a piece, I'll provide a space for it, even if it might not match the quality of other works in the exhibition. I create opportunities for artists to experiment. When a piece resonates with me, I know it's right. Our current show reflects this approach.
Let's talk about your Art Fund and the ArtReach nonprofit. Could you give us some details?
The ArtReach initiative, which my son heads, was established as an NGO and is closely connected to our gallery. Through it, we've taken on various projects. One notable project, the Women's Voices, centered on gender-based violence. It gathered women from diverse backgrounds to express themselves, especially through spoken word. An American filmmaker joined us and produced a film on women's rights here. This exhibition then toured the country.
I believe an art gallery shouldn't be an exclusive space for the wealthy. Art should be connected to society, not detached from it. With the help of NGO funding, we've conducted training and initiated community projects, for instance decorating bus stops and creating murals. This is what ArtReach is really about.
You are an artist yourself and have extensively worked as an illustrator. You have created children's books and have collaborated with organizations like the Red Cross and Save the Children. Can you elaborate on your personal projects and how these partnerships were formed?
During Covid, I was approached by some acquaintances from these organizations. They were familiar with my illustration work, so they asked if I could collaborate on some projects. The job involved making illustrations related to mental health and refugees. I also created illustrations for a children's book. That was an interesting challenge: When I draw for someone else, I need to think about what they want and add my own creativity to it. This means a lot of discussions and communication. They can be very emotional, as one identifies with the harsh realities many people face. Every so often, I get jobs like these. I have also done numerous training projects in product development and design with rural artisans with organizations like ITC or ICDF. But in my own time, I design for our shop, from wallhangings and tablecloths to T-shirts and postcards, etc. I also have my studio where I go to paint, that is when I do exactly what I feel like and experiment.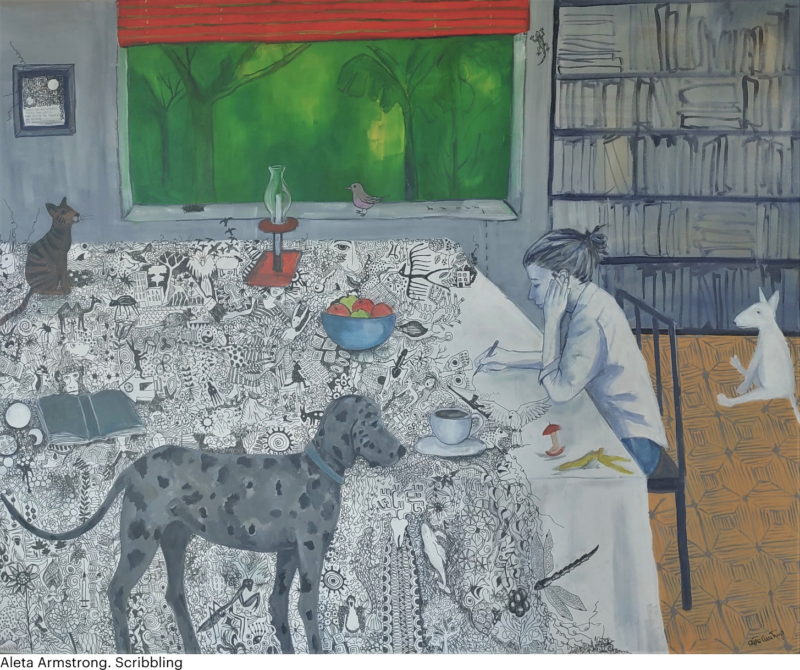 How would you characterize your artistic style? Are there any specific traits you can mention?
My style is quite eclectic and diverse. When I work on illustrations, they tend to be detailed and realistic. In contrast, my textile designs usually consist of patterns. I also make intricate black-and-white drawings that can be both abstract and realistic. While I do have a recognizable drawing style, my paintings might not always be as identifiable. People often comment that my recent painting looks nothing like my previous one. I don't want to be labeled or confined to a certain style. Even if a particular piece is well-received, I'm always eager to try something new, I really enjoy experimenting. But certain themes do continuously emerge, especially of the nature around me and vervet monkeys, who are my muse!
One final question for you: You've shared that you remained in Swaziland due to your love for the country and meeting your husband there. What sets Swaziland apart from other African countries you've experienced?
When you meet someone and choose to stay with them, their country becomes your own. Despite my extensive travels, I found peace in settling down in one place, especially when raising my children. Over the years, I've made numerous friends here and have grown to love and appreciate the country. Like any other place, it has its challenges, but I've been able to realize my dreams here, and I try my best to give back and work hard, helping artists and supporting causes that are close to my heart, such as women's rights, climate change, freedom of expression, and human rights. I'm very thankful for everything Eswatini has given me. I've felt so much support from friends and everyone around. It's a beautiful place, and I'm happy here.
Interview by Inna Logunova
Photo courtesy of Yebo Art Gallery