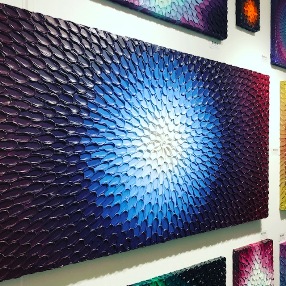 While Fine Art Shippers is based in New York, we are always ready to provide interstate shipping services for art and antiques of any kind. Our art logistics company particularly specializes in the transportation of valuable and fragile items from NYC to Miami and vice versa. We even have a regular art shuttle going between New York and Florida every single week, which allows us to offer affordable interstate shipping solutions to artists, galleries, dealers, and collectors looking for the safe and at the same time cost-effective way to transport their precious art pieces. For example, Fine Art Shippers was pleased to serve both exhibitors and visitors during Miami Art Week 2018, providing them with local and interstate shipping services of the highest quality. Besides, we were really happy to visit the best art shows and fairs happening in Miami and Miami Beach last month.
SCOPE Miami Beach 2018
Our team of professional art handlers had a great time at the amazing SCOPE Miami Beach held on Ocean Drive and 8th Street on December 4-9, 2018. Together with Rommy Schreiber, the founder of Ecopazifico, we were able to view many incredible art pieces by some of the world's most talented emerging contemporary artists and discuss the potential of making more and more curious artworks out of recycled plastics. Overall, the 2018 edition of SCOPE Miami Beach was an outstanding success, with 140 international exhibitors from 25 countries and numerous marvelous works of art for any taste. Here are several highlights from this incredible show for you to enjoy!