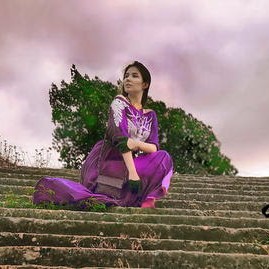 Verita Amare Et is the international name of Russian multimedia artist Veronika Medvedeva. For her, art is a journey aimed to find humans who can feel and talk about the true meaning of things and the world we live in. We spoke with her about the spiritual side of art embodied in material and immaterial objects. 
Verita Amare Et: The Basic Knowledge of Verity and Love
Where does the name Verita Amare Et come from? What significance does it hold for you?
Veronika Medvedeva: Verita Amare Et is a phrase derived from the Latin expression "Ave Veritas et Amare!" which means "Long live verity and love!". I came across this expression, and many memories flooded my mind as if I had encountered it before. As if I had left it once in the past in order to read it through the ages and remember what I should not have forgotten. I changed the expression slightly and adopted it as my artistic and spiritual name. It symbolizes dedication to Verity and Love. This is the meaning of everything that I do.
Verity comes first and the vision of truth only works when there is a vivid sense of inclusive love. In other circumstances, a person or any other intelligent being cannot clearly see the truth.
To see the essence, you need to feel it. This feeling is meant to awaken life itself and bring joy in any moment, whether it be languishing, hard work, or simply resting and admiring the environment. Admiration for all manifestations of life is vital because it is the little things that make up most of our time. 
Observing the beauty among us allows us to access the world's secrets without reading scientific books or philosophical treatises. We can find inspiration, energy, and information in everything, whether a random encounter, the sun reflected in the raindrops, the way air and water create clouds in the sky, the eyes and voices of living beings, the movement of sap in trees, the sound of plants growing, the tones of wind noise, and the shining of stars, in the memories of places that hold the echoes of everything that has happened there. Ultimately, our goal as humans is to attain true happiness and transform the world into the best possible version of itself in all its manifestations. Living among happy people who feel the world this way is true verity bliss.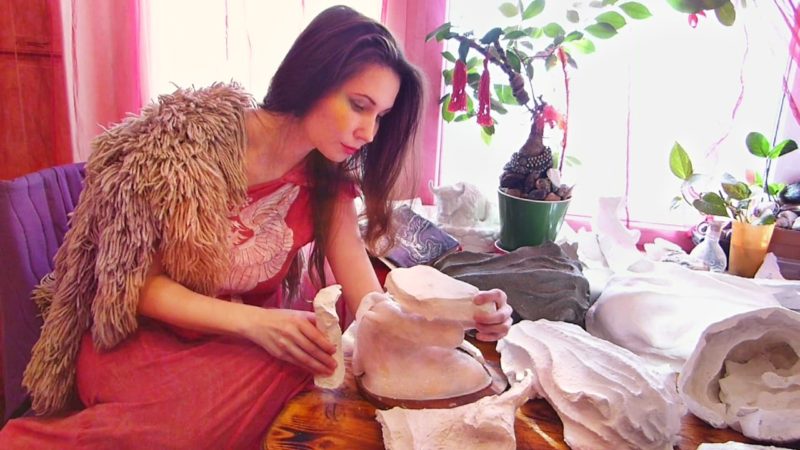 Artists' journeys can be very different. Some are born into artistic families and follow in their parents' footsteps, whereas others discover art by themselves. How was it for you? What stories run in your family? 
In the 18th century, Russian Empress Catherine the Great granted my ancestor vast lands, the noble titles of lords, and money for saving her life during a trip. This allowed him to build the first brick mill and linen paper and a flax textile factory in the central and southern parts of the Russian Empire.  Peasants and Cossacks began to settle on these lands, building houses wherever they wanted; they cultivated untouched arable land and worked at these factories. During the dispossession of kulaks in 1929-1932, the family's properties were expropriated, and all relatives forcibly left and scattered over the country and other countries on wagons, boats, and ships. Lands, homes, industries, and factories were taken away, but sabers, coins, and other family items and artifacts are now kept in museums across Russia. Another curious detail is that my great-grandmother, María, was supposed to have an arranged marriage with a man from her noble estate but chose to marry for love a peasant named Pavel. She fled and settled in an adobe house they built with her husband on the outskirts of Rostov-on-Don. Next to this house, other families began to come and build, and a new settlement was formed. It continues to this day. The adobe house is also preserved by the descendants of the great-grandmother, who built a brick house for themselves nearby. The house has become an essential part of our family's history. One of our family members, the artist Goncharov, painted flowers on the walls of this house with paints he made using his own technology. He also painted frescoes in churches and was an icon painter.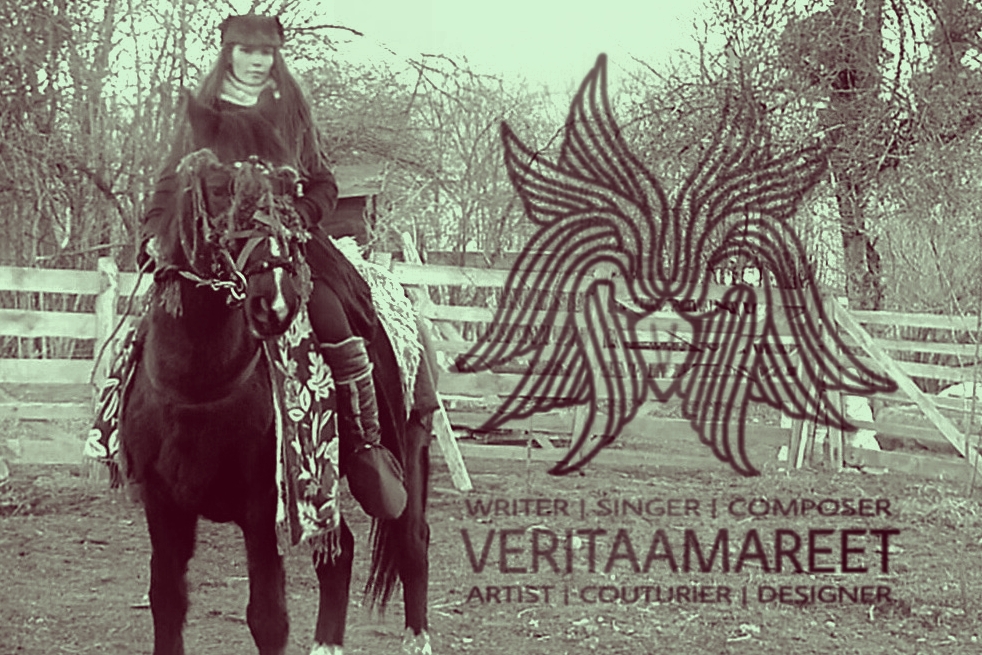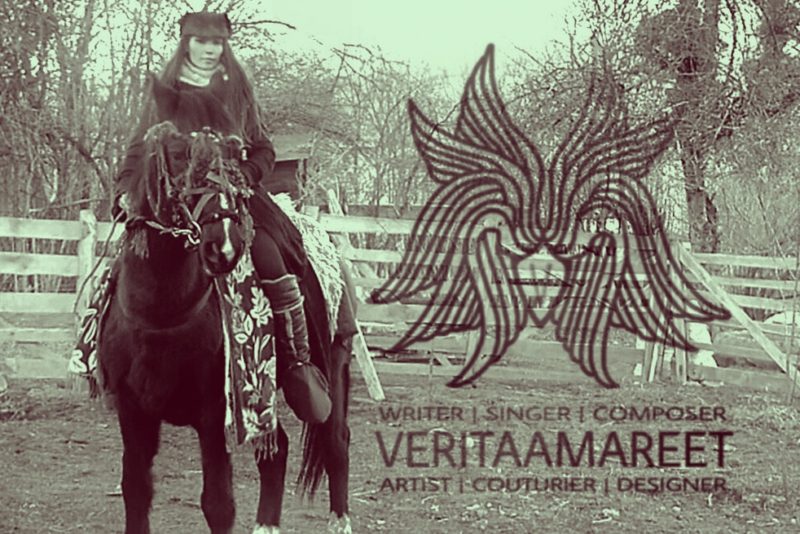 You are such a versatile personality: scientist, inventor, multimedia artist, sculptor, couturier, designer, songwriter, composer, singer, bookbinder, and writer. Do you recall the point in time when you realized yourself as an artist? How have your creative interests been evolving? 
It is useful for a human to be able to create. I remember myself since birth. From a very early age, I looked at people, through the eyes of everyone, and was fascinated by the world around me and strove to consider its versatility to understand everyone. Feeling the pain of many, I sought to find solutions and ways to achieve common happiness. Finding ways for everyone is not easy, you can only suggest and try to identify points that can be corrected and others that can be strengthened, so that a powerful connection arises between everyone, clearing the path to understanding each other. Art for me is simply one of many tools for that. I tried my hand at everything that attracted my attention,  studying the properties of this world and sharing the knowledge I had gained. From drawing and sculpting to metal casting, electronic chip soldering, music composing, writing, and many other things. By the age of nine, I had already had my third art exhibition; at eleven, journalists expressed their admiration for my philosophical texts and stories. Readers called the newspaper's editorial office and claimed that I was an invention and did not actually exist. When I was informed about this, I felt lonely. While I genuinely couldn't understand why they were so excited about this. I've always seen that everyone has the potential for creativity and can see deep under the surface of things.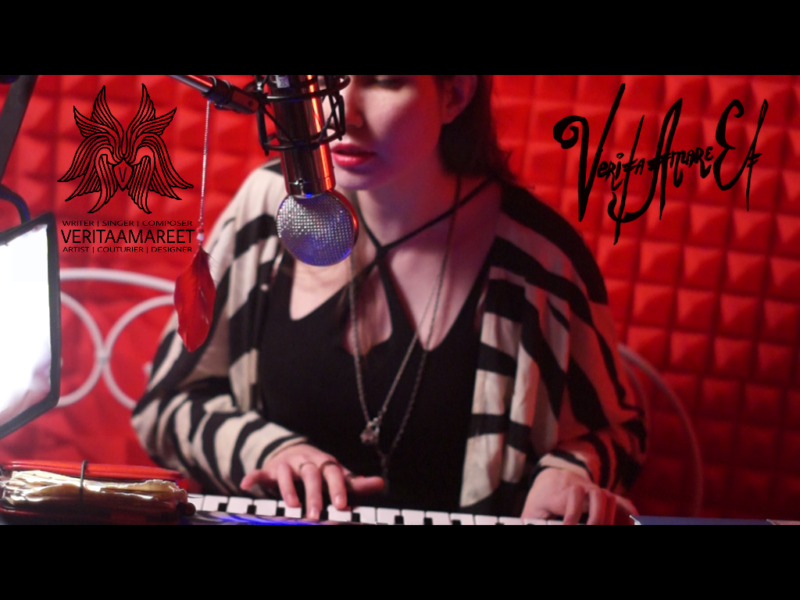 To showcase the spark of creative potential in everyone, I started teaching others everything I know, from art to vision. And for those who never even suspected they could create anything, it became possible to build from scratch everything they dreamed of. To do this, I applied my own energy and passed it on to another person so that they could create. It was nice to see the results, and the feeling of happiness was shared by everyone. Often there is a need to create materials and manuals in order to educate people. For example, in order to make it easier for me to teach composing melodies and lyrics simultaneously, like improvisation, I wrote the "Encyclopedia of Energysinging" and registered it. I also have other works in many different areas.
Everything is part of one whole since each form of art leads to another, be it a simple everyday movement that turns into a dance, choosing colors, or mixing fragrances. Everything has the power to evoke imagination and become an inspiration for something else, allowing you to feel the world deeper and transform yourself. It starts with very simple things. For example, I started by creating threads from wool, fluff, and plant fibers. I began by spinning threads on a raspberry stick, and then progressed to collecting and restoring ancient mechanical wooden spinning wheels and spindles. Along with my four children, we processed raw materials, restored the spinning wheels and spindles, and wove our own textiles. I found how much joy it brings me to see a dying nettle turn into a thread you can then use to create your own healing fabric and clothing. My children are knowledgeable in everything I know, whether it's sculpting, molding, and casting sculptures or the consciousness of equestrian ammunition. At the same time, they show interest and effort in the directions that are closer to their hearts. My eldest daughter, Eva, has been composing music since birth and prefers playing the piano. Mira expresses her feelings through drawing, sewing clothes and toys, and interacting with animals. She's also a great caretaker and leader. My son Ian loves designing mechanisms and taking care of the garden and archery. The youngest son, Kir-Ele, enjoys drawing, modeling natural clay mechanisms, creating music, writing songs, and singing them for me. They deeply feel the world around them and study natural and unnatural objects with great interest. They learned from their parents imperceptibly; we simply lived life together, feeling and doing what our hearts desired.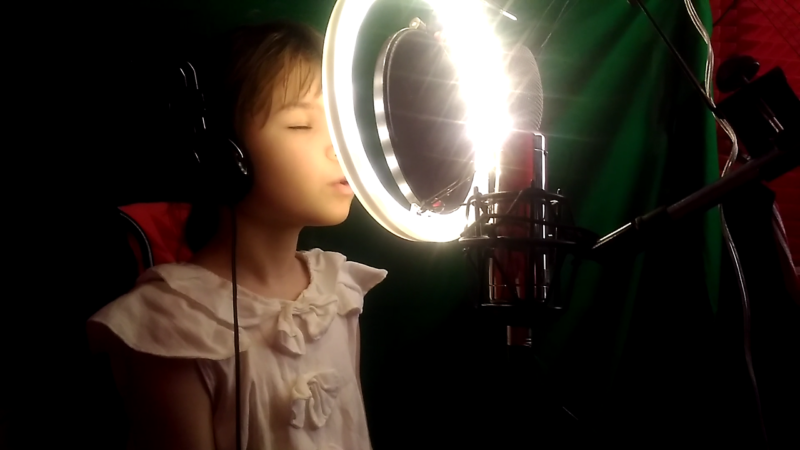 For instance, our family was forced to move from a big metropolis in 2015. We chose to live in the Caucasus Biosphere National Nature Reserve, the land of the ancient highland people, impenetrable mountain forests, inexhaustible waterfalls and rivers, and wild animals such as bison, wolves, owls, giant eagles, and snow leopards. This valley is home to the purest mountainous glacial and underground water sources – healing narzans. This incredible place is a part of the Great Silk Road and is located near the Teberda River, which is translated from Karachaevsky as "God's gift."Our family lived together in a wooden hut on top of Cooper Mount. I am grateful to the owner of this mountain and the noble lords of these lands, who are descendants of the ancient Alans, for helping and saving our family's lives. I have kept everything in my memory, carefully preserving important items such as small paintings, manuscripts, and my personal logbooks with records of events, research, sketches, and dreams. 
In 2018, we moved to another valley where we lived next to the forest on a mountaintop in a Mongolian antique yurt, which we purchased and restored ourselves. We planted a bamboo and fruit orchard with healing trees and herbs around us. We had horses, goats, quails, pheasants, and collie dogs. In addition to attending a regular school, my children studied arts, inventions, and crafts at home. There, we made our own dishes on the antique mechanical wooden potter's wheel, which we restored ourselves. I had found and acquired it in a place called Fox Nose, near Saint Petersburg.
I corrected the mechanical shaft of the potter's wheel to produce clay dishes. I sculpted it myself while my children watched, and soon they were making their own utensils. They also used my old forms, which I made for bas-relief tiles. Even the molds for casting medallions were used, as well as the patterns of lions, bison, horses, and landscapes of mountains and forests. The children became attached to their products, which turned out to be beautiful and interesting. Together, we fired plates, cups, milk jugs, oil jugs, figurines, and candlesticks in a simple berghouse with a glass window. We could look at the fire and follow the process.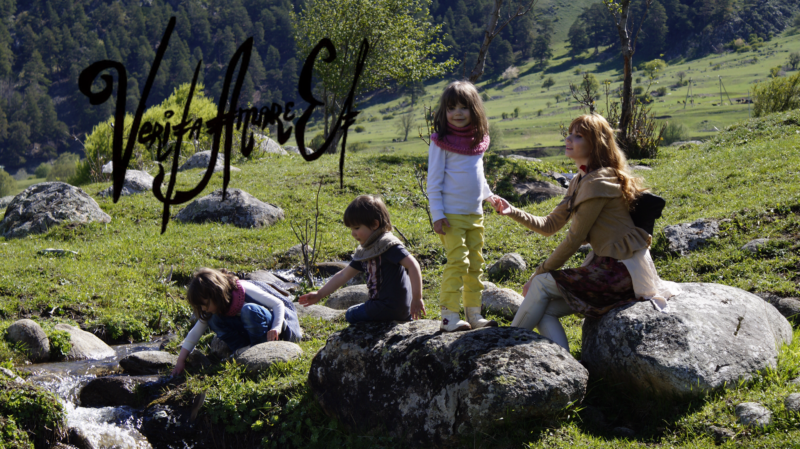 What emotions and thoughts do you seek to convey as an artist?
Verity and Love are the key, and this applies to all forms of art, be it dance, literature, music, sculpture, etc. It's not necessary for the work to have just a positive outlook and knowledge in many different directions. What is important is to capture and convey the thought and show a path toward a new state of the soul. This way, the emotions the work evokes create a sense of continuous movement and make the process of transitioning from one state to another a meaningful experience. I love to observe and be impressed by all possible manifestations of humanity and other intelligent beings, and every moment of the life of the surrounding world. I draw my own conclusions.
I appreciate honesty and sincerity in all expressions, as well as the openness and spark that everyone possesses. I believe that the expressions on the faces of living beings in paintings should either harmonize themselves or have additional elements in the image that can stimulate thoughts and evoke necessary emotions to resolve problems. This process can be compared to the flow of water.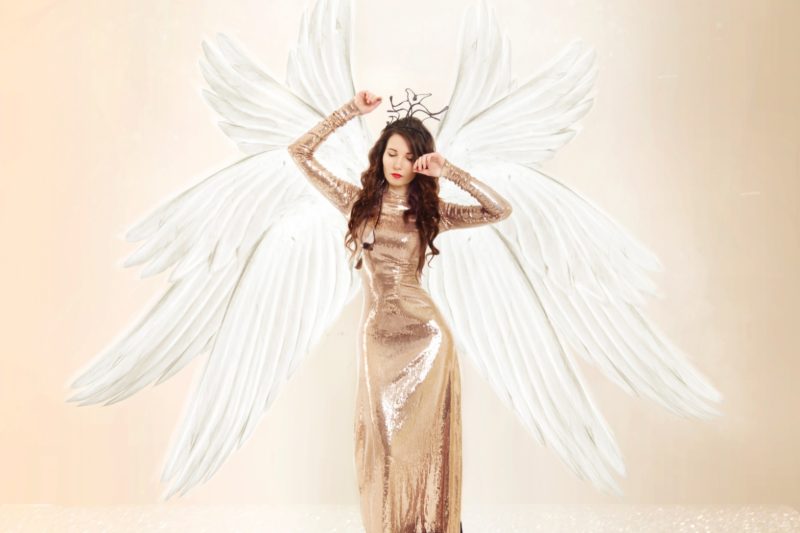 I can see references to Buddhist philosophy in your art. Is that so? What is your philosophy as an artist? 
I refrain from studying philosophical treatises and artistic movements to maintain the uniqueness of my thoughts and ideas. It's not about religion, it's about spirituality. I develop my own judgments about the works of art I observe, regardless of their style. Artists need to make heard their unique voices, which the influence of teachers or artistic currents can hinder. 
During the training of my students to create melodies, I often have to correct the influence of listening to other authors so that they can express themselves as much as possible and develop their own manner of singing and extracting sounds without reference to specific styles. The lyrics for the songs they create have a therapeutic effect to improve future events.
For instance, one of my students wrote a song, and I recorded her singing it and then processed the sound. I sewed a dress and painted it with antique watercolors, which we used in the music video. To shoot the video, we climbed an alpine waterfall that rises from the very glacier on Mount Ali-Beck in the unique Dombai Valley. During the shoot, we improvised, trying to capture the moment's vibe. The video showcases the unique places of the Biosphere Reserve, a wild kestrel that flew to our call, and my horse. I edited the sound and video while at the maternity hospital, waiting to deliver my fourth baby. This clip was later shown at a festival in Australia.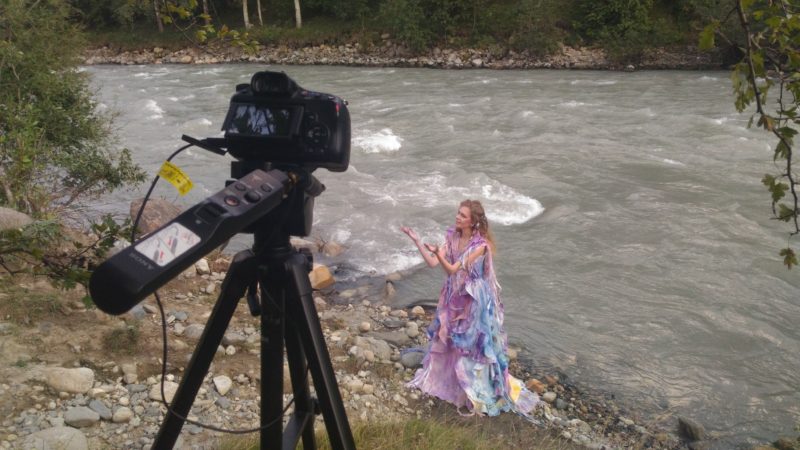 What inspires you?
I enjoy observing all the possible manifestations of humanity and other beings. I take in all moments of life around me and draw my own conclusions. I love to communicate with people from different countries, learn from their thoughts and experiences, and share what I have in return.
I am pleased to admire the color of the fading nettle while it slowly, over many days, becomes ready to become a fiber for threads.
As I wrote in my answer to a similar question in an article for the almanac of the "National Treasure of Russia" award of which I am a laureate, "I want my family, especially my children Jan, Mira, and Eva, to be proud of me and know that my work exists for the good of the Earth. I call on everyone to participate in improving the world. Every day, I observe nature, people, and technology all over the world. I want to share light and give happiness, pleasure, food for thought, and peace to others. From my heart to theirs."
I repeated the same thing when I was persistently invited to participate in competitions in Russia, Ukraine, and America, where I won titles such as "Mrs. Perfection of Europe," "Mrs. Montenegro," "Mrs. Russia," "Mrs. Mother of Europe," and "Mrs. World." However, I do not take them too seriously.
I was also invited to projects and films in Hollywood and Russian cinema studies. However, I found them superficial, so I refused. I also urge everyone to meaningfully approach any proposals and only follow the streams of the Soul.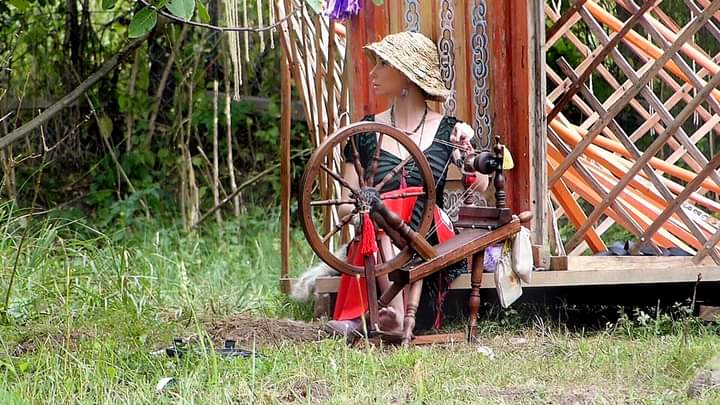 You have designed a clothing collection called "Armor Red Deer." Could you tell us more about it and your work as a designer in general?  
This collection includes armor and lightweight dresses suitable for both performances and everyday wear. I painted some items with watercolors, primers, oils, and vegetable dyes. Both clothing and accessories – bracers, gloves, bags, belts, and jewelry – are handmade. I always make sure my clothes are comfortable and durable. For example, my raincoats are perfect for mountain hikes; I myself have used them for years. My children also love wearing my designs. And they help me, too – I taught them how to spin threads for the fabrics and cast from metal. My clothes have been showcased in various locations, including Odessa, New York, and Moscow. 
At the Theater of the Russian Army in Moscow, during a show, I performed one of my songs, with which I made my debut in New York. There was a funny incident where I was not notified before going on stage, and I only accidentally heard the beginning of the song when I stood next to the front entrance of the hall with my models. However, I managed to fix everything. I entered, gave the models a signal about the beginning, walked through the auditorium to the stage, and corrected the phonogram recording's sound during the song's recording, as it turned out the sound engineer played a low-quality version of the song. The models for the show were girls of different backgrounds, proportions, and professions. There were professional models, as well as the owner of one of the Moscow magazines and friends of the organizers. Before that, I was not familiar with them, but we held a show, improvising. As I walked through the auditorium, I listened to the introduction and calculated my steps and speed before jumping onto the stage. In the end, everything worked out well, and it was a fun experience.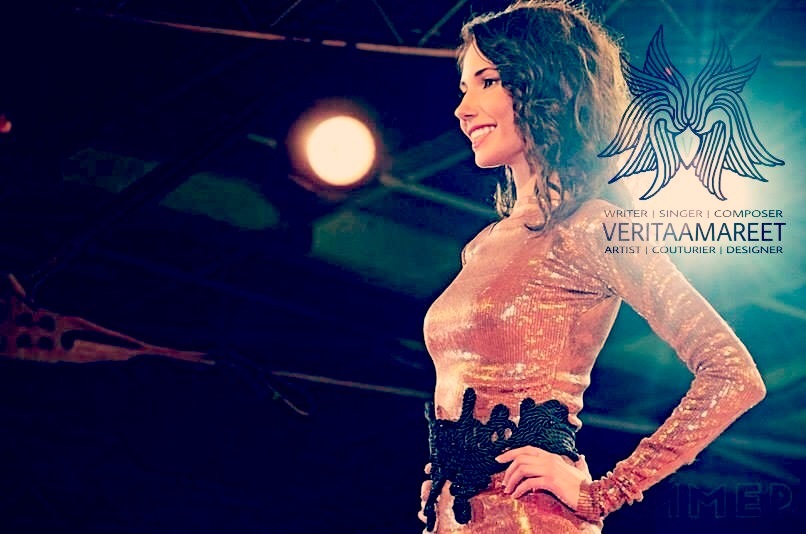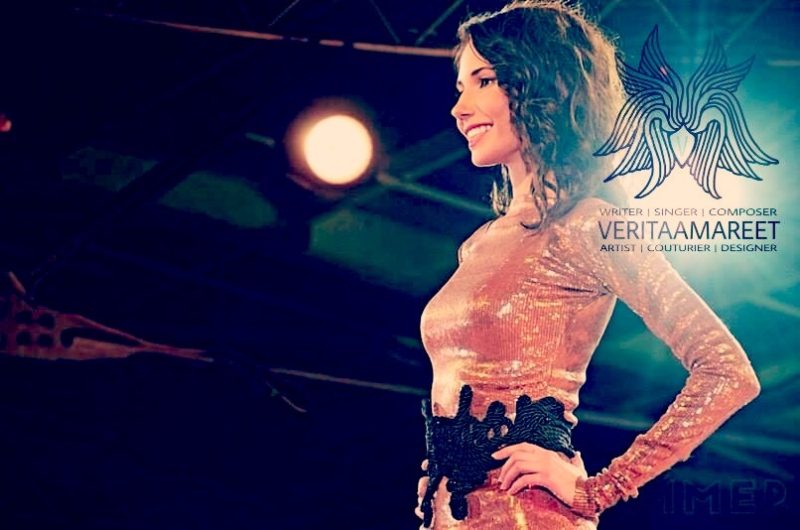 You are also a biochemist and perfumer. What is your fragrance "Aurum" made of, and what does it represent? 
Aurum ("gold" in English) is a fragrance from the "Terraaurummet" medical cosmetics of a hand-made collection. The line's Latin name translates as "All the Gold of the Earth has met." This perfume is composed of natural oils and essences that evoke pleasant sensations and boost the release of endorphins and pheromones in a natural way, maintaining the balance of the body's resources. There are others, solid, liquid, and ethereal, for example, fragrance in the collection called "Warm Grass." It was created specifically for a customer's sister and tailored to her personality, body, and lifestyle and cannot be replicated for anyone else.
All the medical products in my hand-made line called "TERRAAURUMMET" have already become legendary due to their unique fragrance and properties. The perfectly selected composition consists of natural ingredients, minerals, and other gifts of the earth, making each formula perfect. They are not tested on animals but have been personally tested by me and many people who desire more.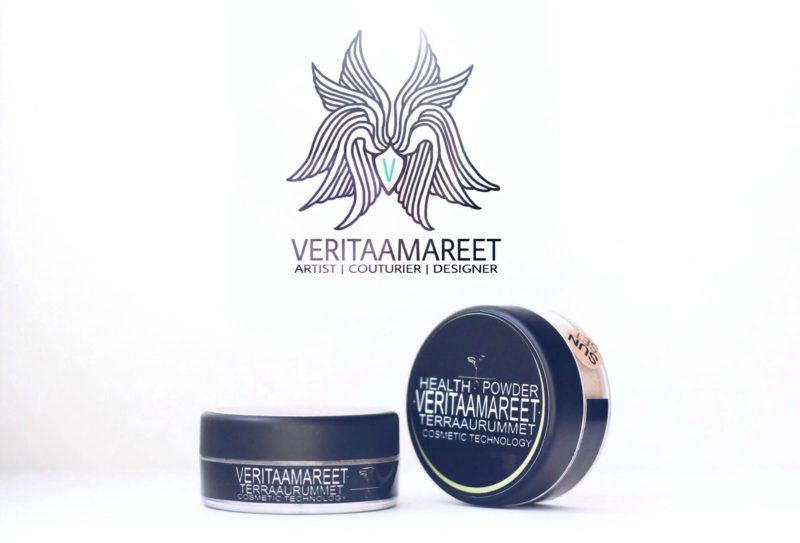 The AROMATIC HEALING POWDER, made from natural ingredients, treats acne and couperosis, eliminates the manifestations of herpes, stimulates the production of natural endorphins and pheromones, and gives a haze and feeling of pleasant freshness even on the hottest day or under soft lights. It is used by professionals for stage makeup, photo shoots, and video filming. It easily and imperceptibly masks possible imperfections in everyday life.
ELIXIR boosts hair growth and awakens new and dormant hair follicles.
The TURPENTINE BALM is made of relict Siberian cedar resin and a mixture of natural oils that work together to boost the immune system.
The TAR WATER is aged and filtered to cleanse the entire body, strengthen the blood vessels and nervous system, and remove toxins and waste. It stimulates immunity in a natural way and can be used both internally and externally to enhance its effects.
My products also include an OINTMENT for warts and moles that helps to eliminate them quickly and painlessly.
ACNE LOTION.
THE TRANSPARENT LIP BALM can be both color and transparent, helping to enlarge and improve the natural contour of the lips.
And many others.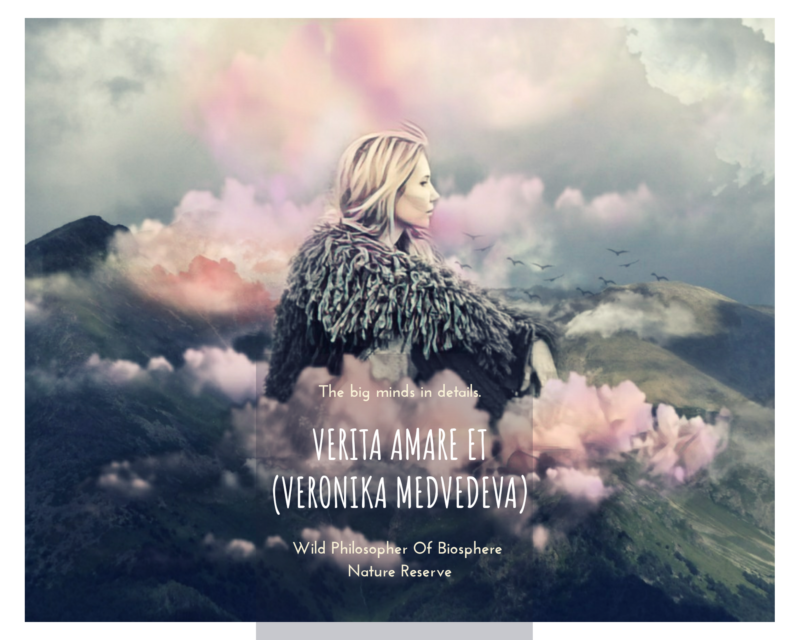 What are you working on now? What new mediums would you like to explore more? 
I currently focus on oil miniatures and medium-sized paintings reflecting events from life and memories, which can serve as examples for sharing knowledge. Each of them is a story about true family values. Through these images, I aim to express the unique features of each person I capture. However, this is a challenging process because it involves the inner work and transformation of those depicted. Along with painting, I enjoy making book bindings, into which I want to incorporate thematically related miniatures of manuscripts, maps, and calligraphic texts. One of my favorite activities is singing songs to my children that I wrote as improvisations at different times. 
Of course, I will continue practicing various art forms: making musical instruments, composing music, and designing household items and clothing. In everything I do, the best thing is to go deep into materials' visible and invisible properties to discover their unique Soul.
I have the desire to organize a space for artists and a collective exhibition based on the topic I first voiced in 2013: "Thirst for Unity." The project will include films and animated cartoons, as well as my project "Reality. Live in Verity Live," which explores the history of people and technologies, where conflicts arise between the desire for natural life and modern methods of existence. This project shows a path towards a harmonious life for everyone.
I plan to continue writing books for children and popular teaching aids for both adults and children. My approach is to let things happen naturally and harmoniously as much as possible. For instance, when I created a magazine about the art of being yourself, I allowed people who were enthusiastic about it to write articles and express themselves on topics that were most important to them. I am grateful to them for showing their personal qualities and bringing attention to hidden, non-standard topics. This magazine included sections on training, pages from my graphic comic novel "Catakula," as well as research texts about travel, arts, and other topics that were deep, funny, and meaningful. I do not rule out the possibility of reviving this project in the future.
Photo courtesy of Verita Amare Et