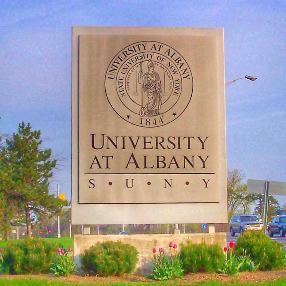 Fine Art Shippers is a New York shipping company focused on the local and international transportation of art, antiques, and other items of exceptional value. For today, we proudly serve a whole range of reputable galleries, auction houses, and cultural centers all over the Tri-State Area and beyond. Besides, Fine Art Shippers is chosen by many museums and art institutions from around the country, for whom we also do much of art handling and art shipping work. For example, our New York shipping company had an amazing experience working with the Brooklyn Museum in NYC, the Mattatuck Museum in Waterbury, and the Hyde Collection in Glens Falls. Plus, we are very happy to be working with the wonderful University Art Museum at the University at Albany.
The University Art Museum in Albany, NY
The University Art Museum located on the campus of the University at Albany, State University of New York, was founded in 1967. Its mission is to foster understanding and advance knowledge in contemporary visual arts through various publications, programs, and certainly art exhibitions. For today, the University Art Museum features more than 3,000 art pieces, including works by such renowned artists as James Rosenquist, Robert Rauschenberg, Edward Ruscha, Ellsworth Kelly, Grace Hartigan, and Willem de Kooning. It is also worth noting that the Museum is housed in a beautiful modernist building designed by the famous 20th-century American architect Edward Durell Stone, making it a piece of art by itself. The University Art Museum is indeed a must-visit place, highly recommended by our New York shipping company!