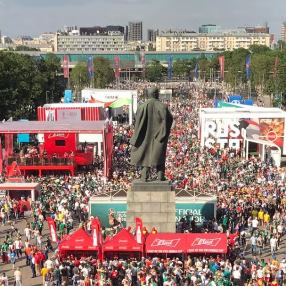 With the experience that dates back to 1995, Fine Art Shippers provides expert packing and crating services for shipping fine art of any type, including oversized sculptures and statues. The fact is that unlike many other art crate and shipping companies in the United States, we do not have any limitations regarding the size and weight of the transported item, even when it comes to international transportation. Our team of trained art handlers can even ship a huge statue of Lenin like the one you can see in the photo. No job is too challenging for Fine Art Shippers! After all, shipping large items overseas has always been an integral part of our work.
Shipping large items overseas is never easy, and this applies not only to sculptures and statues but also to furniture pieces, heavy equipment, various appliances, pianos, and other bulky objects that require special handling. At Fine Art Shippers, we are experts at shipping items like that and know how to ensure that every single piece, no matter its value, shape, size, and weight, is delivered to the destination in its pristine condition.
Our experience, highly competitive rates, and individual approach to every client allow us to work with many artists, auctions houses, and galleries, shipping large items overseas and across the United States. For example, Fine Art Shippers was entrusted with shipping such valuable art and antique pieces as heavy glass sculptures by Henry Richardson and a unique 7th-century Chinese terracotta horse dating from the Tang dynasty. Besides, we have reliable partners in many countries around the world, making the entire process of art transportation even more beneficial and convenient for our clients. So whether it comes to shipping a stainless sculpture from New York City to Basel or a fragile marble statue from London to Hong Kong, Fine Art Shippers can do it for you safely, quickly, and for a reasonable price. Shipping large items overseas is what our team is proficient in, and you can rely on us anytime you need a high-quality freight delivery service!
One more important thing about Fine Art Shippers is that while we are focused on handling and moving fine art and antiques, we can actually help you with the transportation of any large and bulky items, including vehicles of any type. In other words, whatever shipping assistance you need, we are always ready to solve any of your problems!