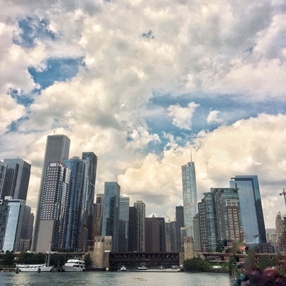 Fine Art Shippers has long been providing a variety of art logistics solutions in the United States and beyond. For today, we offer an impressive range of fine art shipping services, from white glove art delivery to in-house art crating to organizing art exhibitions of any kind. Moreover, we do not stay still and keep expanding our services and offerings according to the needs of our clients. This is particularly true for our fine art shuttles circulating between the main art centers in the United States. For example, not so long ago, we introduced our new bi-weekly fine art shuttle New York – Miami, and now we want to draw your attention to our safe and secure art shuttle Chicago – Miami.
Art shuttle Chicago – Miami
While Chicago is largely known for its many excellent restaurants and great shopping, the "Windy City" also has a vibrant art scene. In fact, art in Chicago can be found everywhere, from street corners and public squares to museums and galleries. As for Miami, this beautiful port city is one of the world's leaders in entertainment, culture, and arts. Besides, it is home to Art Basel Miami, an important international modern and contemporary art fair that has long been a serious marketplace for top collectors, dealers, and gallerists from all over the globe. It is needless to say that both cities are full of art, so it is no wonder that people are looking for the safe and secure art shuttle Chicago – Miami. At Fine Art Shippers, we not only offer this exceptional service once a month but also guarantee the most affordable shipping rates on the market!
Our art shuttle Chicago – Miami gives you an amazing opportunity to ship almost any piece of art in the safest and most cost-effective way possible. Besides, since we offer professional art packing and crating services, you can rest assured that every single artwork transported with Fine Art Shippers is carefully prepared for the long-distance move. We use only high-quality packing materials and build art crates ourselves, taking into account the shipping requirements of each particular piece of art. So whether you need to ship a painting, a sculpture, or any other artwork, our art shuttle Chicago – Miami is your best option! Please, feel free to contact our team to know the schedule and details of our shuttles!